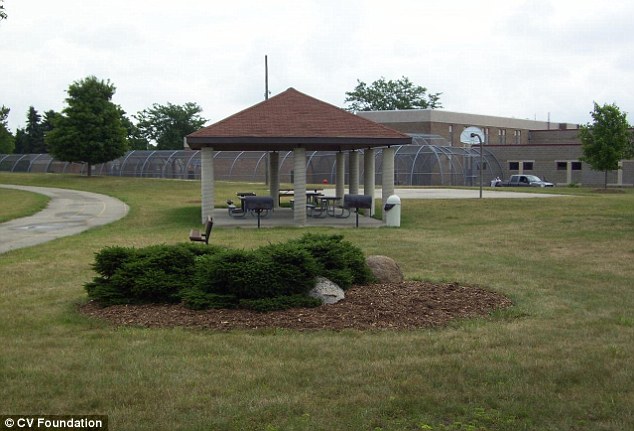 The Observer has been covering the sad and weird case involving the three Tsimhoni children, the Michigan kids who were placed in state facilities when a judge found that their mother and the kids themselves refused to comply with the court's repeated orders to see and engage with their father, Omer Tsimhoni.
After the first story—an interview with Mr. Tsimhoni—appeared, the Observer was contacted by an attorney in New York named Jennifer Hoult. That contact, and several phone calls plus brief email exchanges, resulted in the Observer's second story, which gave further detail about just how absurd it is that the three children have ended up in juvenile facilities, regardless of how badly their parents may have behaved toward one another.
Many divorce cases get nasty and complicated, and the flood of email the Observer has received since covering this one has included sad and strange tales from many readers' personal experience. But in a sign of just how crazy the Tsimhoni case has gotten—remember, it's now been more than two weeks that Liam, Roee, and Natalie, ages 14, 10 and 9 are in juvenile facilities, separated from each other and other family members—there's now even a fight over who represents the children.
Immediately after the Observer's story mentioning Ms. Hoult appeared, a flurry of activity ensued. Mr. Tsimhoni's attorney, Keri Middleditch, emailed the Observer to note that, "This woman, Jennifer Hoult, is not a licensed attorney in the state of Michigan and has absolutely no authority to speak on behalf of the Tsimhoni children."
It is true that Ms. Hoult, who lives in New York, is not licensed to practice in the state of Michigan. But I told Ms. Middleditch that Ms. Hoult had represented to me that she represented the kids' interest in federal proceedings. (I presumed that she had been hired by Ms. Tsimhoni to do so.) According to Ms. Middleditch, Ms. Hoult cannot represent the children in any matters, federal or otherwise, without Mr. Tsimhoni's consent.
Ms. Middleditch told the Observer, "Ms. Hoult has never spoken with my client. My client is the joint legal custodian of the parties' three minor children and he has never consented to her legal representation. Moreover, his consent is required under Michigan law for such representation to be allowed."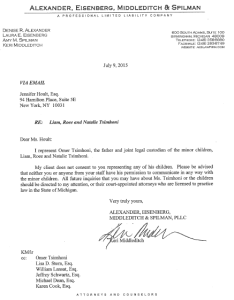 After these objections were raised, the Observer contacted Ms. Hoult again to tell her that Mr. Tsimhoni's representatives had questioned Ms. Hoult's ability to represent the children. I asked her point blank, "Do you represent all three children in the federal action, as I reported?"
Ms. Hoult replied immediately and without wiggle room: "I represent the three children."
Then, last night, Ms. Middleditch sent a letter to Ms. Hoult and cc'd all three of the children's court-appointed lawyers — Karen Cook, Jeffrey Schwartz and Michael Dean — plus the guardian ad litem, William Lansat, as well as Mr. Tsimhoni.
Her letter, dated July 9, 2015, said, "I represent Omer Tsimhoni, the father and joint legal custodian of the minor children, Liam, Roee and Natalie Tsimhoni. My client does not consent to you representing any of his children. Please be advised that neither you of anyone from your staff have his permission to communicate in any way with the minor children." The letter instructs Ms. Hoult to direct further inquiries to the "court-appointed attorneys who are licensed to practice law In the state of Michigan.
It is not surprising that Ms. Hoult would be attracted to this case or that Ms. Tsimhoni would find Ms. Hoult. Ms. Hoult has extensive experience in family law and has written several scholarly articles, including a strongly worded paper in 2006 taking the position that Parental Alienation Syndrome – the idea that one parent (mostly mothers) pathologically alienates the child from then non-custodial parent—should not be admissible as legitimate evidence. In short, she concluded that PAS was BS: "The article concludes that science, law, and policy all support PAS's present and future inadmissibility."
For his part, Mr. Tsimhoni also contacted the Observer to challenge Ms. Hoult's authority to represent the children. He is not a lawyer, but stated, "Unfortunately, I have had to spend close to $500,000 on attorneys and I am familiar with the legal system by now. My kids need help. I am their father and I will help to provide it. This woman (and anyone else new who might contact you) is unauthorized by me or the courts to represent me or my children."
As the only ones tasked with keeping the childrens' best interests as their sold priority, the court-appointed professionals would hopefully be able to shed some light on whether Ms. Hoult is indeed able to represent the children. The Observer has reached out to all three of the childrens' lawyers and the guardian ad litem by phone and email but has yet to hear back on this busy day of motions (this story will be updated when they respond).
Meanwhile, Mr. Tsimhoni's attorney, Keri Middleditch doesn't consider this a gray area. She told the Observer, "The concept of joint legal custody means that the parents have joint decision making authority over important matters concerning the health, education and welfare of the minor children. The hiring of an attorney to represent the children's interests would certainly qualify as a decision that needed to be jointly agreed upon by their parents, or if they do not agree, by order of the court. I can only assume that Ms. Tsimhoni retained Ms. Hoult, however, this is not a decision that she can make without Mr. Tsimhoni's consent and participation.  Moreover, it is not necessary given the Court's actions in appointing counsel pursuant to the Court's statutory authority to do so."
When asked if it was possible that one of the childrens' attorneys had retained Ms. Hoult to help with any federal matters, Ms. Middleditch was equally certain that they had not: "I can assure you that none of those attorneys retained Ms. Hoult for any purpose whatsoever."
So there you have it. Jennifer Hoult says she represents the Tsimhoni children. Their father and his lawyer say she doesn't. And meanwhile, while the adults fight it out, three nice kids have been sitting in juvy for more than two weeks.