This morning, Councilman Ydanis Rodriguez, an outspoken critic of Uber released a flurry of virulently anti-Uber tweets, eventually setting off a Twitter feud between himself and an Uber spokesman.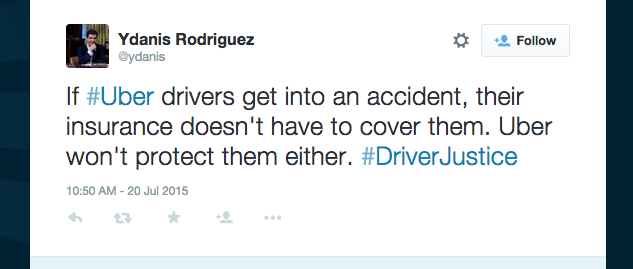 Councilman Rodriguez, who is also Chair of the Transportation Committee for the City Council, was also holding a press conference extolling the recently proposed "Uber cap" legislation at City Hall earlier today. When he claimed in a tweet that Uber drivers are not covered by insurance if they get into an accident, ride sharing app's New York City general manager Josh Mohrer hit back on Twitter, referring to two of Mr. Rodriguez's most scathing Tweets as "a lie."
He later deleted one of the Tweets refuted by Mr. Mohrer.
However, Mr. Rodriguez then re-posted the aforementioned tweet about an hour later. The second tweet criticized by Mr. Mohrer, which cast doubt on Uber's claim that drivers make $90,000 a year, alleging that they take home $3 an hour (about $6 below NY State's minimum wage), was never taken down.
It is no shock that Mr. Rodriguez is so aggressive in his crusade against the ride-sharing app, having been a steadfast friend of the medallion industry. Mr. Mohrer furthered the Twitter feud by directly denouncing the Councilman's tweets, arguing that Uber is in fact regulated by the NYC Taxi and Limousine Commission, a fact Councilman Rodriguez disputed.
When reached for comment, the councilman's office directed the Observer to an article titled 'Hidden Risks of an Uber IPO,' published by Larry Myers, of SeekingAlpha.com, a website geared to stock market insights. Mr. Rodriguez also linked to the same story on his Twitter account.
The Observer will continue to update this article as the twitter spat unfolds.