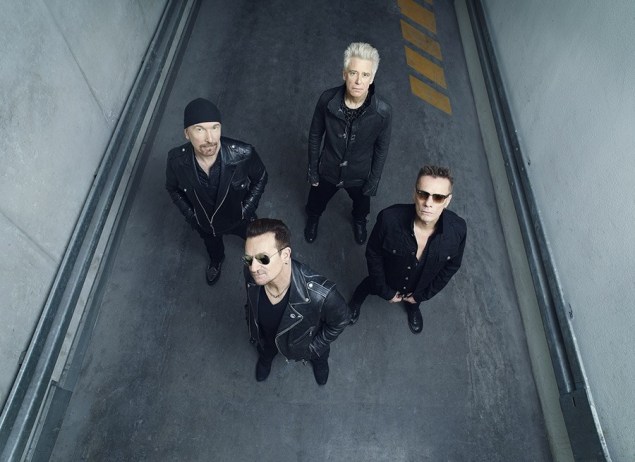 One of the most enduring clichés about rock music is that it's a young person's game.
Rock stardom requires the pursuit of fame at the cost of everything else, a selfish endeavor thriving on the oxygen of ego and the blissful ignorance of boundaries. When it works, it can be thrilling to watch, but, as a general rule, it's a finite chase.
There is a sense the hostile response to Songs of Innocence left U2 feeling as though it has everything to prove on its current tour.
Theoretically, growing older allows an understanding of the world and yourself that makes a singular, intense focus on the self tougher to pull off.
Most rock stars reach a point where, if their careers aren't sad shells of past glories, they accept the passage of time and transition away from upstart rebellion and into something resembling responsible adults, providing a link between the past and the future.
For the better part of the last 15 years, U2 has fought off that transition, in seemingly spectacular denial about its role in modern music.
Now, on the eve of an eight-night run at Madison Square Garden, which begins July 18 (all but the last two nights, July 30 and 31, are sold out), and brings the initial North American leg of its "Innocence + Experience" tour to a close—the band returns to the road in Europe this fall—it's time for U2 to accept reality.
Quit straining for cultural relevance and embrace your role as rock's elder statesmen.
As a band founded in the waning days of the Ford administration, U2 is, by any reasonable definition, a veteran act, and one enduring through the many sea changes in the culture and the music industry over the last four decades.
That is a remarkable achievement.
[youtube https://www.youtube.com/watch?v=iYVEik7Lvc4&w=560&h=315]
But rather than acknowledge they are not the hungry young world-beaters they once were—in two years, U2's Grammy-winning breakthrough album The Joshua Tree turns 30, ready to settle down with a mortgage and kids—Bono and his band mates insist on trying to hang with the kids.
How else to explain the magnificently tone-deaf decision to ram their new album Songs of Innocence down every iTunes user's throat last fall? (Never mind that most statistics indicate streaming is exploding in popularity, as consumption of albums drops off at double-digit rates.)
The alignment with Apple gave U2 the veneer of hipness it desired—there must be a metaphor somewhere in the fact that the last time U2 teamed up with Apple was more than a decade ago, advertising a now all-but-dead product—while helping paper over any shortcomings in the actual music itself.
Indeed, reviews of Innocence were mixed-to-positive (a moment to snort-laugh as we read Rolling Stone's eye-rolling five-star review, please), with many critics torching the band more for the delivery method than the music: In the Observer, Steve Seward likened the album's release to "Guy Fieri showing up at a restaurant and quietly setting a chili dog onto everyone's plate, because who doesn't love free chili dogs?"
Perhaps what we're witnessing is U2 discovering its limits in real time.
But, once the anger subsided, what was most striking about Innocence was its near-obsessive reliance upon youthful memories and formative experiences folded into songs that sounded like U2, even if they didn't feel like it.
In short, U2 skated right up to the edge of self-parody. It was the rock star equivalent of dyeing gray hair and hoping no one noticed how off the color was.
To his credit, Bono didn't dismiss the backlash.
He apologized in a Facebook video interview a month after Innocence's release, calling the stunt a "drop of megalomania, touch of generosity, dash of self-promotion and deep fear that these songs … mightn't be heard."
"As a person who's been a lifelong member of Amnesty International, of all human-rights crimes I think that this kind of unwanted mail, if it's at the top of your list or even halfway up it, your life is really fantastic," he told The New York Times this spring.
So, a mature, measured response with a sprinkling of wit—rather than tell the world to go screw itself, as a younger, less self-aware musician might do, Bono took the high road and admitted overreach.
So, perhaps what we're witnessing is U2 discovering its limits in real time.
Just as mere mortals wake up one day and discover they can't run as far as they once could before getting winded, or touch their toes as easily as they once did, rock stars' own reservoirs begin to dry up. (Again, there must be a metaphor somewhere in the 55-year-old Bono's scary bike crash late last year, which left him unable to play the guitar.)
If being scalded inspired U2, then perhaps it should stumble before every tour.
To slip from a messianic perch must be humbling, particularly as other, younger bands—Imagine Dragons; OneRepublic; Coldplay; Mumford & Sons—seize upon your sound and take it into the 21st century.
But what most long-serving rock bands either ignore or fail to realize is that what makes them more valuable is context. There is a power in drawing upon nostalgia that can energize even the most calcified catalog.
Sensing and highlighting the through line from youth to adulthood—moving from innocence to experience—can be a useful tool, and one which more rock bands of a certain vintage should employ.
And in its own canny way, U2 appears to have realized this.
There is a sense the hostile response to Innocence left U2 feeling as though it has everything to prove on its current tour. (Judging from the rapturous critical response, U2 is, on that front, as commanding as ever.)
If being scalded inspired U2, then perhaps it should stumble before every tour.
Or, hopefully, the lessons learned in the last year will carry forward. After all, growing older brings with it wisdom, and an appreciation for that which has come before.
If not, U2 succumbs to the fate of so many bands before it: Adults trying to act younger than they are, oblivious to their pathetic charade.
Rock music may eternally belong to the young, but perhaps U2 intuited what the rest of us have not—the genre still needs a band to stick around and remind the kids how it's done.
Preston Jones is pop music critic at The Fort Worth Star-Telegram and music critic/culture writer at dfw.com.
[youtube https://www.youtube.com/watch?v=cuqZPx0H7a0&w=560&h=315]