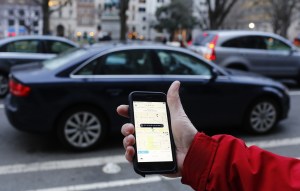 Last Wednesday, July 15, the same day that Uber released a heartthrob-TV ad, Uber also unveiled a 30-second Spanish language commercial as part of its recent media blitz aimed at bucking the de Blasio administration's "Uber cap" bills. The commercial, geared towards New York's Latin American communities encourages people—like the TV ad—to tell the Mayor not to "put taxi donors ahead of jobs."
The radio spot has been playing over NYC airwaves on Spanish stations Univision WXNY-FM and La Mega WSKQ-FM. Uber has prodded its efforts in galvanizing minorities to push back against the Mayor's and others' agenda, as seen in Uber's latest TV appeal, featuring mainly non-whites. Many Uber drivers hail from minority, low-income backgrounds, and the prospect of capping Uber's ability to increase its workforce has many of them fighting in the $50 billion Silicon Valley startup's corner.
Below is the translated text and radio byte obtained from a source at Uber.
Uber doesn't just take people to and from the most under-served communities in this city. It's taking thousands of drivers straight to the middle class.

Providing good jobs and better futures for the families who need it most.

Yet Mayor de Blasio is pushing the agenda of his big taxis donors to limit uber cars and drivers, killing thousands of jobs across the city

Mayor de Blasio promised to end income inequality in this city.

Tell the mayor:

Don't put taxi donors ahead of jobs.

Paid for by Uber
Perhaps this new Spanish-language campaign could help tip the scales in Uber's favor.