Hate Mayor Bill de Blasio for trying to halt Uber's growth? There's an app for that.
David Plouffe, the chief adviser to Uber and formerly the campaign manager for President Barack Obama's 2008 bid, announced a "de Blasio's Uber" option within the popular car-hailing app to mock the Democratic mayor's support for bills that would cap the rapid expansion of ride-sharing services like Uber. Uber's new car option, found alongside more familiar options like uberX, the standard ride offered by Uber, and uberEats, the food delivery service, will "demonstrate what life for NYC riders would be like if de Blasio's plan to limit Uber is passed into law," the company said.
Selecting the de Blasio option yields a blank screen without any cars, with the wait time multiplied by ten, from the current average of two minutes and 25 seconds to a crazy 25 minutes for a ride: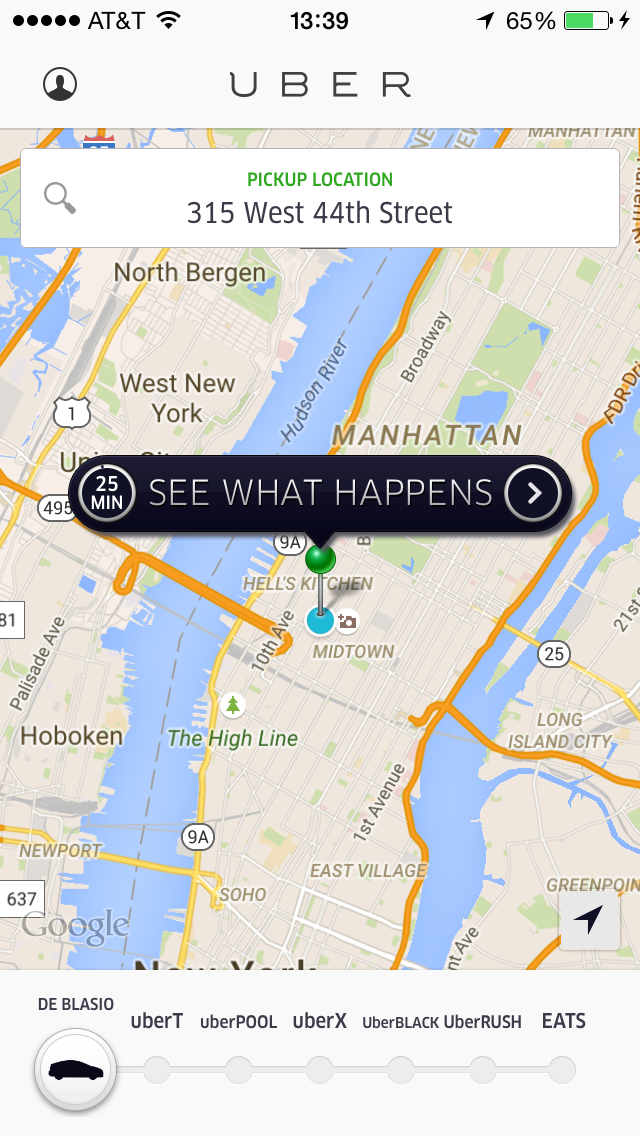 And that's if you're in Manhattan—Uber's press release argues the pair of City Council bills make service beyond the borough "nonexistent."
"Mayor de Blasio's plan to stop Uber will cost 10,000 jobs, hurt underserved areas and make wait times for Uber cars skyrocket," Mr. Plouffe said. "With this view, New York City riders can see for themselves how much time this political payback to big taxi owners will cost them."
Mr. de Blasio's office, meanwhile, said it was no coincidence Republicans like Uber—a reference to Jeb Bush's Uber ride in San Francisco today.
The proposed cap bill, introduced with the mayor's backing by Councilmen Stephen Levin and Ydanis Rodriguez, would require the Taxi and Limousine Commission (TLC) to temporarily limit the issuance of new for-hire vehicle licenses while the city conducts a study on pollution and traffic. While City Hall talks about traffic congestion, Uber only sees a cynical political ploy: the taxi and limousine industry, which faces increased competition from e-hail taxi apps like Uber, has flooded Mr. de Blasio's campaign coffers over the years. Still, Mr. de Blasio is not alone in expressing concern over Uber's growth. The company has faced lawsuits in San Francisco and bans on the app across Spain, as well as roadway-blocking driver protests in London.
Since the introduction of the legislation in late June, Uber has been fighting back—first with a large organized protest, and, now, with today's tactic. If the bill is passed, Uber would only be allowed to add 201 vehicles over the next 14 months. Uber's New York's General Manager Josh Mohrer said at last month's protest that the company expects to add 10,000 cars within the next year. According to a press release issued this afternoon, Uber adds more than 200 vehicles to the platform each week.
In addition to a long wait for a ride, the app's new "de Blasio" option also directs users to a screen that asks you to "Take Action."
"This is what Uber will look like in NYC if Mayor de Blasio's Uber cap bill passes," the screen reads. "Email the Mayor and City Council. Say "NO" to de Blasio's Uber!"
But critics say the company does not offer enough workplace protections for its drivers, even if it's creating new jobs for predominately working class people. On Wednesday, an administrative judge in California recommended that Uber be suspended and fined more than $7 million for failing to comply with local laws.