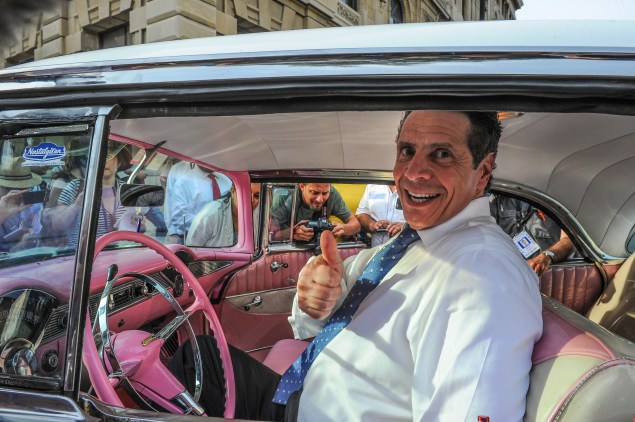 Gov. Andrew Cuomo today told reporters he would not make a trade visit to Iran if the Obama administration-brokered peace deal passes and economic sanctions are dropped—a departure from the trip he took to Cuba in April after the United States renewed relations with the island nation.
The governor briskly brushed off a question from a reporter about whether he would lead a state economic envoy to Iran, with which the Western world hopes to restore contact in exchange for a decade-long pause in the former pariah state's nuclear program. The Islamic theocracy is larger, more populous and more resource-rich than the communist Caribbean isle.
"No," he said quickly after speaking at an unrelated event in Lake George. "We're going to be looking at Italy, China, Israel, I believe are next. I have to run, guys!"
Besides Cuba, the only foreign nation Mr. Cuomo has visited while in office is Israel, where he flew last summer with other state leaders in a show of solidarity with the Jewish state. Israel at the time was engaged in a war with Hamas militants in the Gaza strip.
"Israel is under siege," said Mr. Cuomo. "Our message is clear: we stand with Israel and we support Israel's right to defend itself."
Mr. Cuomo enjoys strong support from New York's conservative religious Jewish community, due to his support for Israel and for state initiatives benefiting private schools. Many leaders in that demographic group have come out against the passage of the agreement.
Congress will be able to vote on whether to accept the deal, but if they reject it, President Barack Obama will be able to veto their decision—and it is unclear if there is sufficient opposition to override the veto.