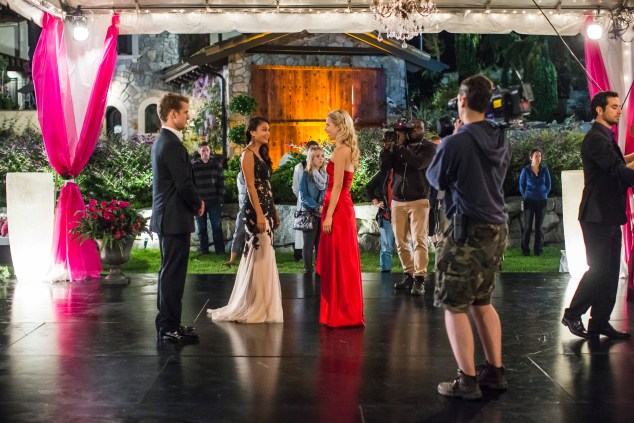 Now that the latest round of The Bachelorette has wrapped up, it's the perfect time to get onboard with Lifetime's breakout hit, UnREAL.
For the uninitiated, the series is a behind the scenes look at a dating competition show, in this case entitled Everlasting. At the center of the production staff is emotionally fragile producer Rachel Goldberg whose job is to 'produce,' (which actually means manipulate) the male suitor and the female contestants in order to create outrageous drama, both on and off screen. Under the direction of  demanding executive producer Quinn King, Rachel is often caught in ethically challenging situations, most of which, no matter what she does, cannot possibly have a good outcome.
Although fictional, UnREAL seems very authentic in its portrayal of the world of 'unscripted' television, which after watching this series, many viewers may realize is a wholly inaccurate description.
'We didn't hold back on anything," admits Sarah Gertrude Shapiro, Co-Creator and Supervising Producer. "We wanted to really just go for it right out of the gate and I think we really did!"
Shapiro's fellow Co-Creator and the series Executive Producer, Marti Noxon agrees, adding, "From the beginning it was our goal to show it all, every appalling variable as it may be, and we wanted to really get in there and show the effects of what's really a sort of bullying style of television, where women are pitted against each other, and everything that results from that. We knew we wanted to go for the extremes and we did."
The series is based on Shapiro's short, Sequin Raze, which was inspired by the three years she spent working as an associate producer on The Bachelor.
"I pitched it because I was Hell bent on making it into a TV show," says Shapiro. "I knew this was the sort of storytelling that people would be into. I just knew that there are so many aspects of reality television to explore, with the main one being the relationships, both on and off camera, that develop when you're putting together a show like this. It's often referred to as a 'relationship show' for a lot of reasons, and I've learned that not all of those reasons have to do with what the audience sees."
Noxon came onboard rather quickly. "When I saw Sarah's short I was blown away and my first reaction was, 'shit, I have to do this.' I felt that if we were going to go after this kind of mindset that sort of grips so much of our culture, well, I have a lot of strong opinions about that. So, the opportunity to make something subversive and juicy and soapy and entertaining was just too good to pass up. We agreed that we didn't want to do a parody or something that had already been done. We wanted to really get into the high cost for all of the people making this kind of show."
Once the concept was in place, the executives at Lifetime asked Shapiro and Noxon to map out exactly where the series would go after the pilot. "We had to pitch the whole season before we wrote anything," explained Noxon. "After some sleepless nights we went in and talked to the network and, rather strangely we felt, they had barely any reaction. As we were describing everything I kept waiting for them to go, 'what?' Nothing. Then we got to something else and nothing. We got all the way to the end and there was this pregnant pause and [one of the executives] leaned back and said, 'I love it!' That was a good moment."
Noxon knew that to attract and keep viewers the writing staff would need to establish a believable tone, even if the plot lines seemed a bit extreme. "This is such a heightened situation and the circumstances are so unique, we knew that the most important thing is that there still had to be a reality to it. We knew we wanted to make sure not to jump the shark, but instead just get right to the shark and not jump it. That's more interesting than not taking those chances."
Shapiro agreed and laughed as she said, "It's like extreme sports for writers!"
To reach this level, Noxon admits that the writers worked under the guise of a rather unconventional motto. "In the [writers] room we would ask ourselves, 'is it despicable enough?'"
To that end, the first season has been a twisty ride where perceived sentiment and action often belie actual intention. The good news is the season finale is no different and doesn't let up in the least.
Not to give too much away, Adam, the suitor on the fictional Everlasting, does make his final choice, but who will it be? And, there may or may not be a proposal (or two!) and there may or may not be a wedding. There are just as many answered questions as there are unanswered ones, and in this case, that's a very good thing.
True to that aforementioned tone, this finale episode zigs just where it might zag and this makes for an often gasp inducing experience and an extremely satisfying conclusion to this first season. At its end, while viewers might be a bit emotionally drained, they will surely want more. Thankfully, a second season is on tap and Shapiro and Noxon assure that there is plenty more story to tell in this world.
The reality of UnREAL is that it's a scripted show about an unscripted series, a situation that seems utterly implausible of being done in a believable manner, but yet, clearly it is given the success of this series.
Each episode may make viewers feel a bit like they've being 'produced,' and in this instance, that's a good thing, a very good thing.
All episodes of UnREAL are available on Lifetime's website here.
The season one finale of the series airs Monday night at 10/9c.