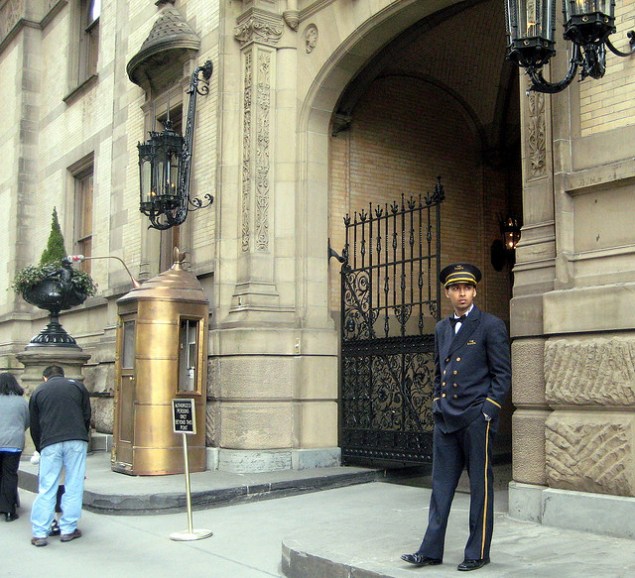 Not everyone has the means to live in a white-glove building, but for those with some means, who long for the assistance of hired help, a virtual doorman company is teaming up with a real-life concierge to create an approximation of the pampered life.
Virtual Doorman, a New York-based service that offers an electronic alternative to a live doorman, announced today it had partnered with luxury concierge Abigail Michaels, to create "Red Hat Concierge".
Virtual Doorman provides doorman services from an off-site center, which one can choose to install in lieu of the expense of a live, full-time doorman… or, as the Virtual Doorman website tells us, if you already have a doorman and for some reason decide you want a "doorman's doorman," because… well, we guess anyone who feels the need for a doorman's doorman knows why.
The Red Hat Concierge Service adds another component to this, in a similar vein to the growing popularity of Postmates and TaskRabbits task-based assistant services, catering to those for whom the idea of actually having to do your own errands evokes some kind of irrational anxiety that we will not pretend we are entirely immune to in any way.
The concierge service provides residents of Virtual Doorman buildings with this "Red Hat Concierge," touted as the same concierge service provided by many of the city's luxurious hotels and condos. Per the website, Red Hat Concierge will assist you for all of your day-to-day needs, ranging from the "marvelous to the mundane."
These services include, to name a few, calling a plumber, booking a massage, pet-sitting, restaurant reservations, and something called "wine cellar management"—yes, this service will aid you in hiring someone to arrange your New York apartment's wine cellar. Other "relevant and useful" services include private charters and someone to help you pick out an engagement ring, because why should you have to recruit an actual friend or relation to do that with you?