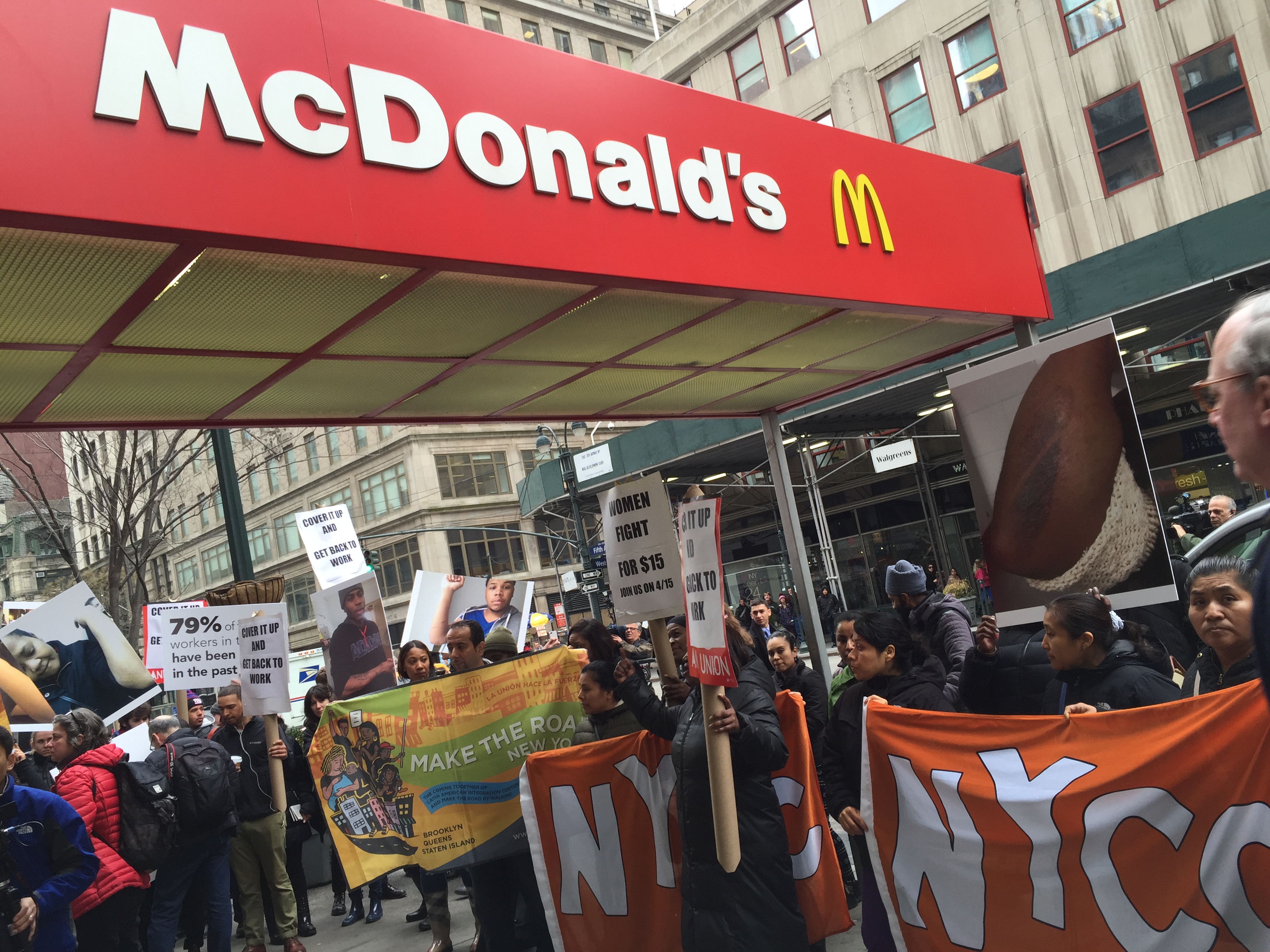 A panel convened by Gov. Andrew Cuomo approved a resolution this afternoon recommending a phased-in minimum wage increase to $15 for workers in the fast food industry.
The decision is a victory for Mr. Cuomo, a Democrat, and one that will earn him the ire of the powerful fast food industry, as well as the business lobby he has traditionally allied himself with. The wage increase would be phased in over time, with a $15 wage kicking in on December 31, 2018. Statewide, the increase doesn't take effect until July 1, 2021.
New York City fast-food workers would see an increase to $10.50 at the end of this year. The wage will grow to $12 at the end of 2016 and increase again to $13.50 at the end of 2017.
Statewide and outside of the city, fast food workers will see a more gradual increase. They will earn $9.75 at the end of this year, $10.75 by the end of 2016, $11.75 in 2017, $12.75 at the end of 2018, $13.75 at the end of 2019 and $14.50 by the end of 2020.
The increase will impact workers at fast-food chains with 30 or more locations and the recommendation must  be approved by the Department of Labor before it can go into effect. The fast food industry is expected to fight the decision in court.
One business leader said Mr. Cuomo is discriminating against the fast food industry because they, and not other organizations, are being targeted for a wage hike.
"Today's New York wage board decision to discriminate against the quick service food industry will cost jobs and potentially cause small businesses to close," said Steve Caldeira, the president of the International Franchise Association. "IFA, along with the Coalition to Save New York Restaurants, will aggressively fight Governor Cuomo's politically-motivated decision to discriminate against local franchise small business simply to satisfy the request of his allies at the Service Employees International Union."
Regardless of the legal outcome, Mr. Cuomo's efforts to boost the wages of fast food workers are being hailed by labor unions and progressive organizations. The more centrist governor has been at odds with both in the past and is expected to seek re-election in 2018, the same year the hike for city fast food workers will reach $15.
The wage board's decision is also a victory for liberal activists and unions who have organized a sustained, nationwide push to force fast food franchises to raise the wages of their employees. Workers, with the assist of organized labor, have held strikes and marches for several years.
"McDonald's, fast food giants and their hedge fund backers better watch their back. This is what happens when workers organize," said Jonathan Westin, the executive director of New York Communities for Change, a liberal group.
Mr. Cuomo will appear at a Manhattan rally this afternoon to celebrate the announcement.