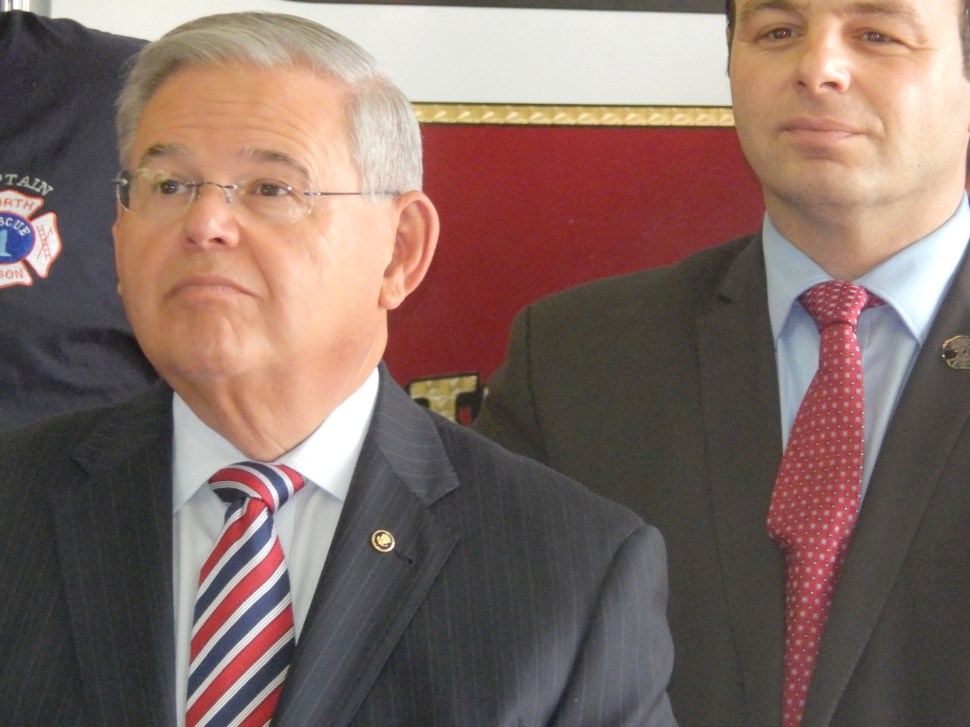 PATERSON – Next year's race for Paterson's 6th Ward is already intensifying as buzz surrounds longtime Democratic Party organizer Al Abdel-aziz and his designs on the seat currently occupied by Councilman Andre Sayegh.
Appearing today at an announcement by U.S. Senator Bob Menendez (D-NJ) and U.S. Rep. Bill Pascrell (D-NJ) of federal funding for the city's hiring of new firefighters, Sayegh responded to a report concerning the fledgling behind-the-scenes candidacy of his friend turned rival.
"Even his family members have come to me and expressed disappointment that he'd want to divide the Arab community," Sayegh told PolitickerNJ. "The rank and file of the local Democratic Party have expressed disappointment.
Last year, Sayegh ran for mayor against Jose "Joey" Torres with the support of Ward 6 ally Abdel-azziz. He lost, and now the ward organizer appears poised to run with the support of the mayor, although he has not made a formal decision about his 2016 intentions.
"This is coming across as disloyal and dishonest and he was quick to jump ship to Team Torres as a consequence of the mayor and his minions stroking his ego," added Sayegh.
PolitickerNJ contacted Abdel-azziz for comment.
"I will work with anyone and any partner who is going to make our city better," he said. "If I do decide to run, my family is 100% behind me. They're ten-thousand percent behind me. The outpouring of support from family and friends has been tremendous. I wish Councilman Sayegh good luck and we'll let the voters decide in May.
"It's not about who or what," Abdel-azziz added. "It's about moving the city forward. I'm embarrassed that Andre Sayegh is making this about himself and his political future when he should be talking about finding solutions to the property taxes, potholes and crime in our city. I have very strong support in the Arab community but i am seeking support from all of the 6th Ward's communities, including the Hispanic, Turkish and Bengali communities."
Sayegh responded.
"His family members were the ones that approached me and he's well aware of the work we're doing: closing eight notorious night clubs, bringing a pre-school to South Paterson to the underserved, a business incubator to the 6th Ward to foster economic growth, and we created a special improvement district on 21st Avenue to bring in new ratables. I'm proud that the commercial curfew ordinance that I introduced and sponsored has reduced crime by 72% in Paterson's hot spots. South Paterson has shown tremendous growth since I was sworn into office as a councilman and that's a record of results that I'm proud to run on."