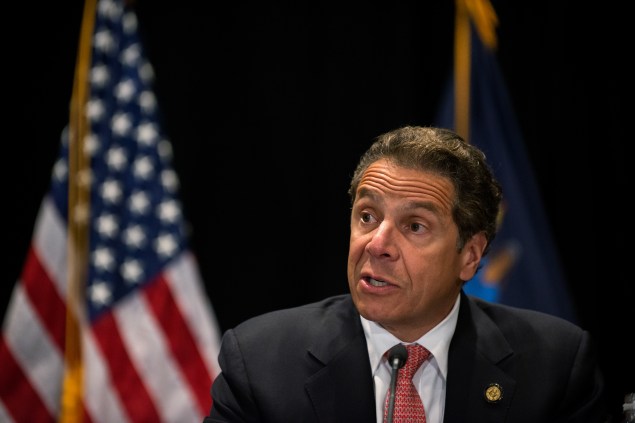 Taking more digs at his erstwhile friend, Mayor Bill de Blasio, Gov. Andrew Cuomo claimed tonight that it was he that made the mayor's signature policy achievement possible.
"Last legislative session we made pre-k possible," Mr. Cuomo, a Democrat, said in a rare appearance on NY1's Inside City Hall. "The mayor had proposed pre-K, universal pre-K with a tax, the tax wouldn't fly in Albany and it wasn't needed so the state came in and said, 'We'll pay for the pre-K.'"
"We had already been doing pre-K and we paid for the New York City pre-K also so that was a big win for the city, for the mayor," Mr. Cuomo added.
After Mr. de Blasio last year proposed a tax on high income earners to fund a universal prekindergarten expansion, Mr. Cuomo and State Senate Republicans shot him down, the first of many disagreements between the liberal mayor and more centrist governor.
Eventually, as Mr. Cuomo said, the State Legislature agreed to fund, with state money, Mr. de Blasio's pre-K program. Assembly Democrats in the past had tried to expand pre-K in New York City and credited Mr. de Blasio's advocacy for making it possible in 2014. But Mr. Cuomo implied today that the mayor's top achievement is as much his own.
Yesterday, Mr. Cuomo also reacted to furious comments Mr. de Blasio made about his deteriorating relationship with the governor, telling reporters that the Democratic mayor was just "frustrated" with Albany. (Mr. de Blasio had said Mr. Cuomo "disappointed" him at "every turn.")
"He chose to publicly vent his frustration. We all have our own styles and our own comportment and we all see our roles in a certain way," Mr. Cuomo said yesterday. "My father had one style, Koch had one style … that's the mayor's style, it's not my style."
Mr. de Blasio's office only offered support for the governor.
"We appreciate the governor and Legislature's continued support of pre-K for all," said Wiley Norvell, a de Blasio spokesman.