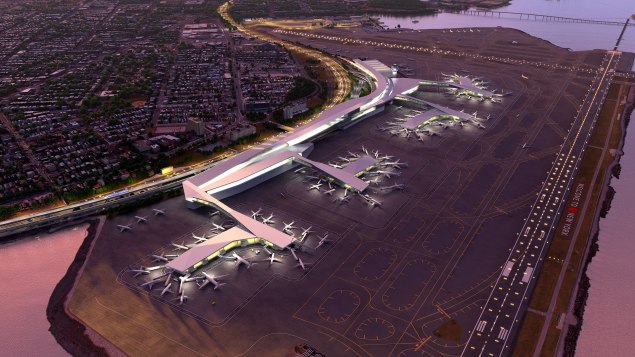 Gov. Andrew Cuomo, accompanied by Vice President Joe Biden, announced bold plans to replace LaGuardia Airport in its entirety on Monday afternoon, tearing down a hodgepodge of dilapidated terminals that Mr. Biden has famously compared to a third-world facility with a single integrated terminal linked to train and ferry service.
Mr. Cuomo, speaking at a lunch in Midtown Manhattan hosted by the Association for a Better New York, said that the new project will be the "first airport built since 9/11" and will incorporate new security protocols as well as train and ferry access, "creating 240 percent more space, which will be transformative."
New York will have the largest, newest airport in the U.S. We're going to go from all the complaints and the years we have endured it to this," the governor continued. "It's not a plan, it's not a sketch, it's not a dream, it's not a vision, it's actually happening."
Construction is expected to begin next year, given that all federal approvals, and the cooperation of Delta Airlines, which owns two of the airport's terminals, have been secured. The new airport is expected to open, in part, in a little over three years, with the entire facility slated to open 18 months after that. Delta anticipates redeveloping its terminals, which were the newer terminals at the Queens airport, in parallel with the Port Authority, moving them closer to the Grand Central Parkway and connecting them to the new Central Arrivals and Departures Hall to create a unified facility.
Mr. Cuomo said that an advisory panel, led by real estate magnate Dan Tishman, studied possible solutions for the beleaguered facility and concluded "there is no way to fix this, we need to tear it down." The new plan had, with the assistance of the Port Authority, come together in a matter of months, he said.
The Port Authority had previously planned a nearly $4 billion overhaul of the Queens airport's Central Terminal Building, angering transit advocates when it put off deciding between two redesign proposals this May. The governor has said in the past that he intended to link the airport to the No. 7 line and the Long Island Railroad.
"LaGuardia is un-New York," the governor said of the current airport, which serves nearly 30 million people a year. "It is slow, it is dated, it has a terrible front entrance way to NY, it is a lost opportunity. It is almost universally decried as a poor representation of a New York airport."
"I wish everything I said that was true but controversial would have turned out this way," Mr. Biden joked. "This is the greatest city in the world and it requires and 21st century infrastructure."
Mr. Biden opined that "like every great achievement in New York architecture, it begins with the constraint of limited space." LaGuardia Airport is only 688 acres to work with, he said; by comparison, Denver Airport has 33,000 acres.
The new airport is expected to add 18,000 new jobs to the region and to cost the Port Authority $4 billion, with more than 50 percent of the cost privately funded. Officials say that it will also create nearly two miles of new taxiway space by relocating the terminals and adding an "island gate" system, in which passengers access their gates via raised pedestrian bridges.
The governor also announced upgrades to area airports, including free trade zones at Stewart Airport in Newburgh and Republic Airport on Long Island. He also rolled out plans for an extensive renovation of JFK's Eero Saarinen-designed TWA Flight Center into a 505-room hotel and promised that a master plan to redesign JFK will be completed within 12 months.
The announcement was attended by a slew of top elected officials—including Comptroller Scott Stringer, Public Advocate Letitia James, and Council Speaker Melissa Mark-Viverito. Conspicuously absent was Mayor Bill de Blasio, who has a strained relationship with Mr. Cuomo and said today he attends ABNY events when he is invited to speak at them.