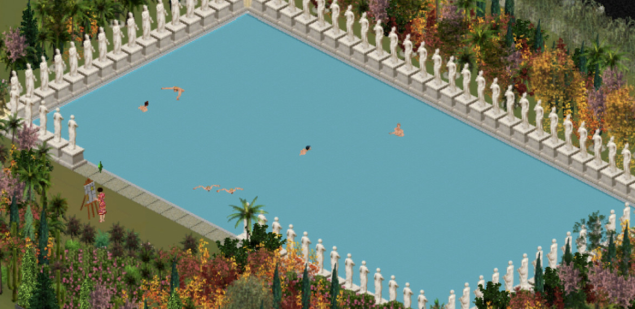 FRIDAY, JULY 10
Opening: "Memory Burn" at Bitforms Gallery
Inspired by a 1940s' novel about man who pursues his love obsession into virtual reality at risk of death, "Memory Burn" presents the work of seven contemporary artists—including Daniel Canogar, Rafael Lozano-Hemmer, and Angela Washko—that use new digital technologies to examine how recording devices, virtuality and electronic networks document our lives while prolonging our memories.
Bitforms Gallery, 131 Allen Street, New York, 6-8 p.m.
Opening: "The Rise of Sneaker Culture" at the Brooklyn Museum
A visual history of one of an urbanites' most-prized accessories, the museum's design show—and Skira Rizzoli's epic tome on the subject, which is available in the museum's store—covers the sneaker's rise in popularity from sports shoe in the 1800s to fashion statement today. Assembled from collections of major shoe museums; the archives of such celebrated manufacturers as Adidas, Converse, Nike, Puma, and Reebok; and private stashes of hip-hop legend Darryl "DMC" McDaniels and sneaker guru Bobbito Garcia—among other high-profile sneakerphiles—this show dynamically mixes design practicality with style.
Brooklyn Museum, 200 Eastern Parkway, Brooklyn, 10 a.m.-5 p.m.
Opening: "NEW INC End of Year Showcase at Red Bull Studios New York"
Part of the New Museum's commitment to what it calls "New Art and New Ideas," NEW INC is a shared workspace and professional development program for creative practitioners from NYC working in the areas of art, technology and design. The "End of the Year Showcase" highlights some of the best projects coming out of the program, including The Principals X Studio Studio's "Snowblind," an ephemeral installation of "cloud architecture" that changes color as visitors pass through it.
Red Bull Studios New York, 220 West 18 Street, New York, 12-7 p.m.
SATURDAY, JULY 11
Opening: "She Sells Seashells By The Seashore" at Eric Firestone Gallery
Although the title of this exhibition is hard to say—and even harder to say quickly—the show promises to be a delight. It's chock full of colorful, amusing work—from Caroline Wells Chandler's crocheted beach bums and Erik Parker's island oasis viewed through binoculars, to Eric Yahnker's painting of a drowning man taking a final selfie. At Firestone, life's a beach!
Eric Firestone Gallery, 4 Newtown Lane, East Hampton, 6-9 p.m.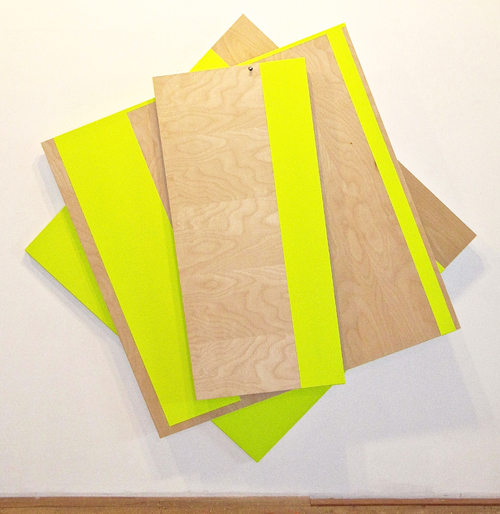 Opening: "Melissa Kretschmer / Russell Maltz: Plywood" at Minus Space
A two-person exhibition, "Plywood" presents new paintings, sculpture, and installation works by Melissa Kretschmer and Russell Maltz, artists that have been using these common construction materials for decades. Ms. Kretschmer abstractly paints and draws on the surface of the plywood while leaving areas of the wood grain exposed. Mr. Maltz, on the other hand, creates casual groupings of pieces of plywood that are painted in Day-Glo colors, to construct geometric sculptures.
Minus Space, 16 Main Street, Brooklyn, 6-9 p.m.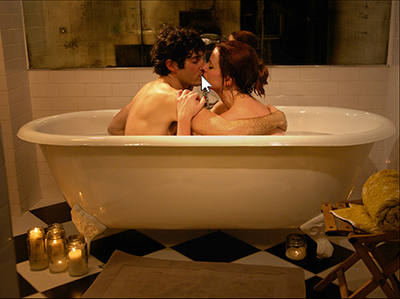 Screening: "Ann Oren: InContact" at Apexart
Oren's 2012 film looks at relationships in the age of digital voyeurism, when hand-held devices and surveillance cameras are recording what we used to consider moments of intimacy. A love triangle, captured through the fictional online platform "InContact," forms the basis for a narrative that explores spectatorship and exhibitionism. Stick around after the screening for a brief Q&A with the filmmaker.
Apexart, 291 Church Street, New York, 4 p.m.
SUNDAY, JULY 12
Event: "Second Sundays" at Pioneer Works
There's no better place to spend a Sunday afternoon in New York than this hot spot in Red Hook, Brooklyn. This Sunday's program features a dynamic exhibition of Hyon Gyon's jumbo canvases of expressionistic beasts, open studios with more than a dozen artists-in-residence, site-specific performances and the lively Latin sounds of Bulla en el Barrio and Supermambo.
Pioneer Works, 159 Pioneer Street, Brooklyn, $10 suggested donation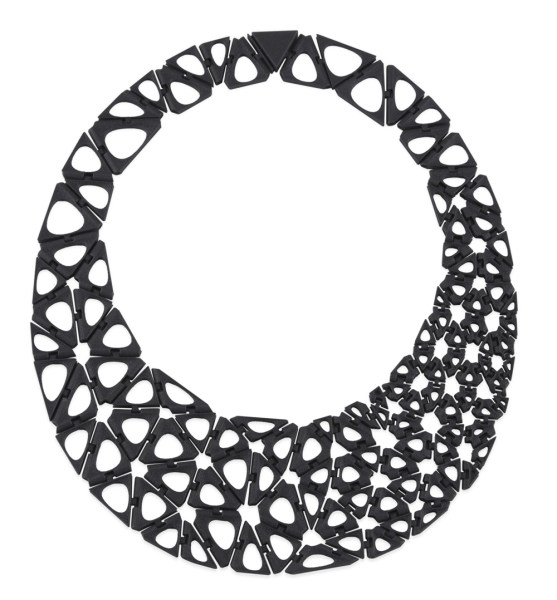 Talk: "Sundays in Soho: Design Jewelry with Nervous System" at MoMA Design Store
Meet "Nervous System" designers Jessica Rosenkrantz and Jesse Louis-Rosenberg and make and purchase your own custom piece of jewelry in diverse colors of 3D-printed nylon and precious metals via Cell Cycle, their app. According to the duo's website, the designers will also be revealing their "latest Kinematics garment, a flowing 3D-printed skirt composed of over 2,100 unique interlocking parts, which were printed as a single piece."
MoMA Design Store, 81 Spring Street, New York, 1-4 p.m.
MONDAY, JULY 13
Opening: "Egress" at K.
A two-person show curated by Sarah Hromack, "Egress" offers Colleen Asper's hyper-realistic paintings of her body and body parts in surreal situations in tandem with Kate Cooper's striking digital photographs, which draw attention to the representation of women in commercial advertisements.
K., 334 Broome Street, New York, 6-8 p.m.
Workshop: "Morbidly Drawn Anatomy: A Night of Drawing and Drinking" at the Morbid Anatomy Museum
Come prepared to draw and drink. Booze, while supplies last, and music, provided by DJ Momento Mori, are free; but you must bring your own drawing supplies (a box of crayons will do). House model—Bridgette—will pose in her sexy wardrobe of latex fetish-ware and corsets or you can sketch some surreal still lifes, based on a selection of bizarre artifacts in the Morbid Anatomy Museum's permanent collection.
Morbid Anatomy Museum, 424 Third Avenue, Brooklyn, 8-10 p.m. $15