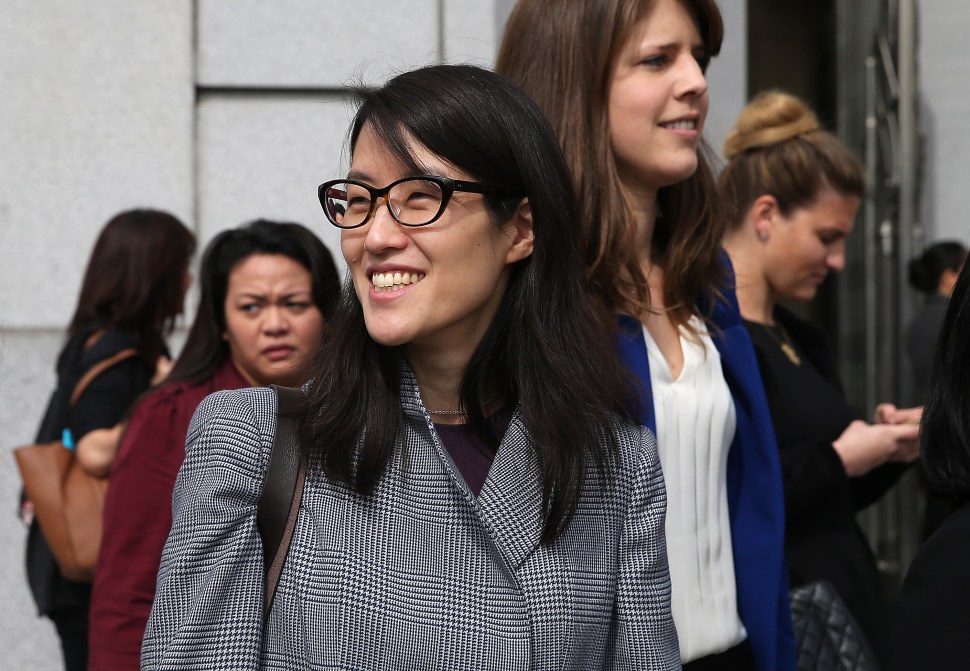 Ellen Pao's resignation from Reddit was announced late in the day Friday, following the controversial firing of Victoria Taylor, the staff member known for overseeing AMA threads on the site. Subsequently, Y Combinator President and Reddit board member Sam Altman conducted his own AMA on the subject.
Throughout Mr. Altman's answers on the thread and in posts from its other leaders, the company maintains that Ms. Pao wasn't fired. But does her departure still send the wrong message?
Mr. Altman's answers also condemned the racism and sexism directed at Ms. Pao and insists the petition for her resignation had nothing to do with personnel decisions. Ms. Pao, for her part, has stated that she left Reddit because she disagreed with the board about the speed at which the site could grow its user base.
According to Mr. Altman, Ms. Pao joined as CEO on an interim basis when former CEO Yishan Wong resigned unexpectedly. "She walked into an incredibly difficult situation and moved the ball a good bit down the field for Reddit," Mr. Altman writes in his post. "She made some mistakes, for sure, but I think she did remarkably well in a very tough situation.
In her farewell post, Ms. Pao writes, "So why am I leaving? Ultimately, the board asked me to demonstrate higher user growth in the next six months than I believe I can deliver while maintaining Reddit's core principles."
What she means by "principles" here could be important. Ms. Pao has crushed some of Reddit's more awful corners, which infuriated some Redditors but might have also laid the groundwork for more regular people to start joining the site once its reputation improved some. That will take time, though, since the site has a bad reputation with some Internet users.
A post from Alexis Ohanian, Reddit Cofounder, corroborates the position that her resignation isn't about the Victoria Taylor dismissal, as Mr. Ohanian very nearly states that it was his decision to fire Ms. Taylor in this post:
It was my decision to change how we work with AMAs and the transition was my failure and I hope we can keep moving forward from that lesson. Today was another step.
This is intriguing in a few ways. Does it mean that Ms. Pao had less control over the site than one might normally infer from the title of CEO? (In other words, was Mr. Ohanian effectively Co-CEO?). Or does it mean that Ms. Pao took the stance that the buck stopped with her as long as she was CEO, forbidding Mr. Ohanian to take the hit for the dismissal of Ms. Taylor because he did it under her watch? Either scenario reflects well on Ms. Pao, but it could be another scenario entirely.
The crux of the matter is this: Reddit needs to figure out how to make money, and as Fortune pointed out, that's going to be tough when your site's mods can shut down your best channels if they don't like something you do. This is, in fact, extremely problematic. If you're a Facebook Oldhead, you may remember that the site didn't start with a newsfeed. (They called it a "Wall" when it was first introduced). The newsfeed is what makes you come back every day now and is probably the smartest thing the company ever did, but when the first iteration of it debuted, users freaked out.
Facebook controls Facebook, so the team took the heat then and rolled with it. If Reddit tried a comparably dramatic shift in its user experience, its mods could wreck the site again. It's hard to see how it iterates to profitability under those conditions.
And letting Ms. Pao walk now sends a very strong message to the worst of Reddit that they really do have the power to maintain the status quo. Even if she and the board really did disagree over the realistic growth path for users, now may not have been the smartest time to sever ties. It sends a bad message, as a redditor who joined the site during Ms. Pao's tenure, @itsfullofgods, points out in the AMA, writing, "I feel that Ellen Pao's resignation has just validated all the misogyny and hate that permeates all the young men on the Internet."
Mr. Altman did not reply to this comment.
In a way, driving up the user base now without a business model only complicates that problem. Reddit Gold is unlikely ever to cut it.