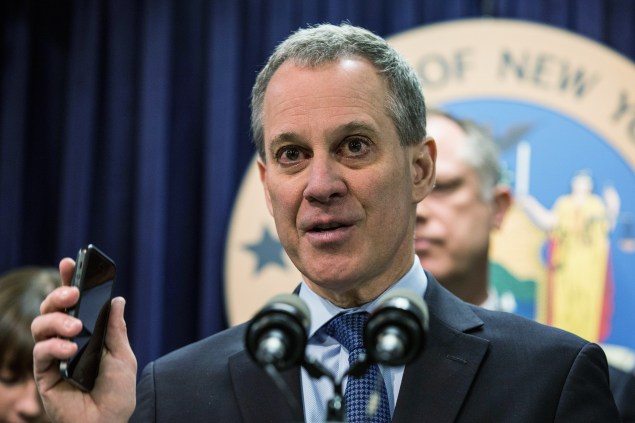 A day after Gov. Andrew Cuomo signed off on an executive order giving him power over cases when a police officer kills a possibly unarmed civilian, Attorney General Eric Schneiderman debuted the new special investigations and prosecutions unit that will handle the job—a task force he said could be deployed anywhere in the state, any time of day or night and with as much funding as they want.
Mr. Schneiderman, who first called for the governor to remand officer homicide cases to his offices last year, named former U.S. Attorney Alvin Bragg the head of the five member division—though he said his office was ready to allocate an unlimited amount of money and personnel to dealing with cases.
"It's a not a huge amount of money in the context of the budget of the State of New York, but we're certainly not going to tell any family 'you're not getting all the resources that you need, because we have a budget problem.' It's not going to happen under my watch," he told reporters in his lower Manhattan office. "We are ready to devote whatever resources necessary to this."
The attorney general echoed Mr. Cuomo's rhetoric about a "crisis of confidence" that the minority community feels toward the criminal justice system—particularly after a Staten Island grand jury declined to indict a white NYPD officer whose apparent chokehold killed Staten Islander Eric Garner, an unarmed black man. Following Garner's death and a Missouri grand jury's decision not to charge a white officer with the killing of unarmed black teen Michael Brown, thousands of demonstrators filled the streets of New York and other cities in protest.
Mr. Schneiderman said his team would be ready to rush to any scene where any officer affiliated with any police department has killed an unarmed person, or where there is dispute over whether the deceased had a weapon. Still, he noted that such such situations are rare, and said he was optimistic that the unit would have few cases to deal with.
"It is my great hope that we have very little work to do," he said.
Besides Mr. Bragg, the team includes former Albany County District Attorney Paul Clyne, former Bronx Assistant District Attorney Wanda Perez-Maldonado, former Buffalo area Assistant District Attorney Diane LaVallee and former Manhattan senior prosecutor Gail Heatherly. Mr. Schneiderman emphasized that all of the attorneys in the unit have experience in local DA offices, and stressed that his appointment as special prosecutor for such cases—which have previously fallen under the purview of district attorneys—is not a mark of disrespect toward the work such offices do.
"Look, the district attorneys in the state of New York are extremely dedicated professionals. We're talking about a group of people, most of them are career prosecutors, who could be making a lot more money in private practice, who really want to do right by the people they represent," he said, adding he would be meeting with a group of DA's later today.
Nonetheless, he said his office would "err on the side of over-inclusion" in deciding which cases it would take over.
The governor's executive order expires in one year, though he has indicated he will re-issue it next year should he and the State Legislature fail to reach a deal on a new law to deal with such cases.
Brooklyn District Attorney Kenneth Thompson, a longtime critic of the proposal to make Mr. Schneiderman special prosecutor, praised the selection of Mr. Bragg to head the unit. He pointed to Mr. Bragg's experience prosecuting law enforcement while a U.S. Attorney
"Alvin Bragg is a fine choice to head Attorney General Eric Schneiderman's newly formed Special Investigations and Prosecutions Unit.," said Mr. Thompson, himself a former federal prosecutor. "I have no doubt he will be diligent in seeking justice for all New Yorkers."