It wasn't the 20-foot rail of Identikit, single-label, every-shade-of-gray suits that surprised me the most. What really tripped me up was the strict list of three brands I was allowed to purchase for my billionaire client's five-day business and charity trip to London. With these three names his exclusive (and highly curated) fashion philosophy was revealed, like a quick-release safety deposit box.
Clothes, shoes and accessories from Tom Ford, Berluti and Brunello Cucinelli were the labels to be carefully folded into his immaculate row of signature, woven leather Bottega Veneta luggage. So far, so super-rich. But this is what left me puzzled: these brands are only a tiny snap shot of the luxury fashion offered for the sort of men who never worry about the price tag.
What of Prada's immaculate wild boar leather shoes, wallets and belts? Or the personally tailored offerings of Italy's Ermenegildo Zegna who will weave a client's name into personalized fabric? And what of the customization of luggage and accessories at Louis Vuitton, Maison Goyard and Tod's? There is nothing more unique than the bespoke suits on London's Savile Row, where each detail—from the style and size of horn buttons on a suit's jacket to the slight dip at the back of the trousers enabling them to touch the heel of the wearer's shoes—is tortuously agonized over. In short, the bespoke, one-off, rare and unique fashion and accessory options for a man with my client's wealth are virtually endless.
So what is it about these specific brands that appeal so exclusively? "With Tom Ford and Brunello Cucinelli, one just knows what one is getting," Ryan Thompson, founder of the online magazine Conversational Style, told the Observer. Mr. Thompson interviews high-end designers and fashion industry creatives about their approach to personal style for his site. "The former creates a very elegant and distinctive style, while the latter has the finest of natural fibers rendered in classic Italian styles with contemporary silhouettes," he added.
However, there must be more to this brand devotion as fine fabrics and elegant cuts are entry-level requirements for men willing to pay upwards of $6,000 for a suit. What else is going on here, according to Mr. Thompson, is that these designers are typically the contemporaries in age to such wealthy customers. "It feels safer to trust your wardrobe to a designer of similar age to oneself than some pimpled visionary, fresh out of design school," he said.
"There is one major drawback to being super-rich," said Tom Stubbs, editor of "The Sharpener" at the Financial Times' How To Spend It Magazine. "This man will lack the hunger to hunt, strive and improve his wardrobe by adding genuine edge or originality. He is more likely to send his stylist to the trusty labels he has been going to for years, removing the sense of adventure and individualism from his fashion choices," he said.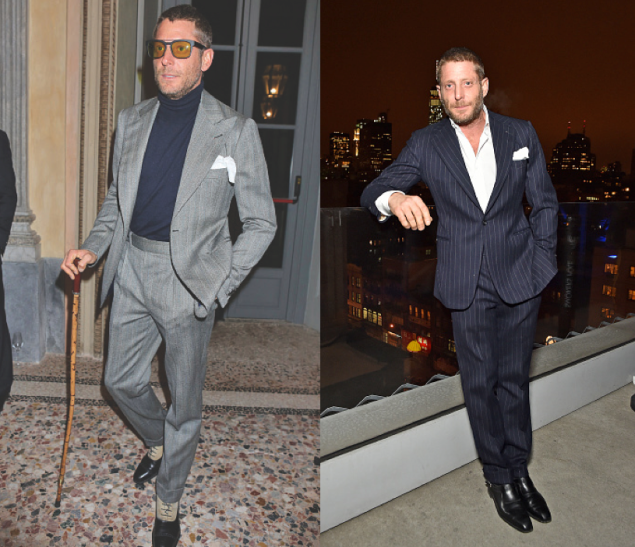 Of course, these trusted labels deliver great design, beautiful cut and luxurious fabrics. For my client I packed the perfect gray marl cashmere sweatpants and sweat top for his on-the-road workouts, box fresh from Tom Ford. And an unpadded two-piece plaid suit in fine wool from Brunello Cucinelli featuring a cut-to-the-body jacket with broad unstructured shoulders and matching narrow, gently cropped pants. This suit is perfect day-to-night tailoring and would be simply dressed up or down with a T-shirt or shirt (Berluti, of course!) in fine cotton corduroy with super-luxe calf-suede trim. Some silk pocket squares in pink and navy would add a nod of dandy individualism while the mirror-like shine of Berluti, Capri Venezia shoes in tan, painstakingly molded from one piece of leather, would stand him out from the crowd at even the most prestigious London cocktail party. In short, he would be perfectly attired for the range of social and business events on his schedule without ever looking like he's trying too hard, or not nearly hard enough.
"There is a new dress rule for the super-rich," said Mr. Thompson. "The most powerful man in the room is usually the one not wearing a tie and one of the least flashy in his attire."
Yet, something could be being lost here, too. "Taking time to build a considered roster of power brands tempered with niche items from smaller labels selected over time, is akin to decorating and furnishing your home slowly and creates depth as well as personal statement," added Mr. Stubbs, "If you get your kitchen, say, kitted out from just one luxe place, right down to the cake spoons, it shows, and runs the risk of looking flat."