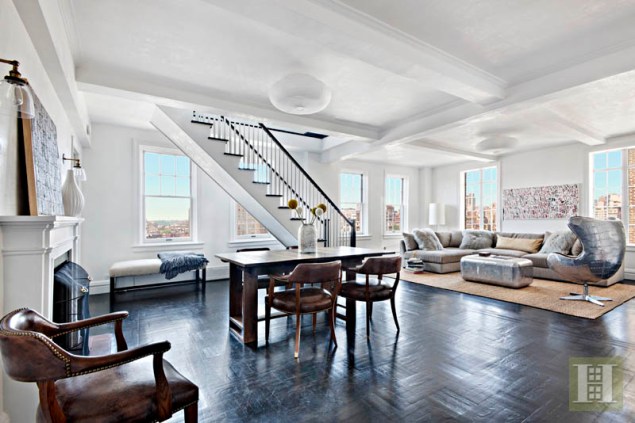 Mary-Louise Parker had a difficult time trying to get rid of her West Village apartment back in 2012, but when she finally sold the five-bedroom, 4.5 bath home in 2013, the broker described the sale as "like a fairy tale, with both the buyers and the seller just delighted by the outcome." Alas, this particular fairy tale doesn't have the kind of happy ending that the buyers, Charles O'Kelley and Elizabeth Rovere, must have had in mind when they spent $7.75 million on the place. They placed the apartment on the market in January for an overly ambitious $9 million, before cutting the price to $7.75 million in June. They are now asking just $6.995 million, raising the question of what could possibly be so bad about this ten-room duplex that its owners are willing to rid themselves of it for a loss?
According to the Times write-up of the sale in 2013, Mr. O'Kelley and Ms. Rovere had decided to leave Manhattan for Brooklyn the year before, but decided that they were "homesick" for the city. Apparently, this 3,000 square foot apartment at 32 Washington Square West didn't do the trick, as Halstead broker Richard Johnson told the Observer that the couple decided to relocate outside of the city once again. (Perhaps they were haunted by flashbacks of the truly frightening puppet house shown in the first listing Ms. Parker put up of the apartment?)
The listing, held by Louise Phillips Forbes, Jonathan D. Schulz, Jason Miller, and Claire Ingrassia at Halstead Property, claims that the co-op "lives and feels more like a Hamptons house in the sky," with 32 windows, a solid wood staircase, and a "spa-like en suite windowed bathroom."
The owners have not made any renovations since purchasing the pad in 2013, but Mr. Johnson told us that he believes the five-bedroom apartment will be especially attractive to large families or those who love to entertain.The great room, he added, is "spectacular" and the two fireplaces make it a desirable home for anyone who wants to feel that they live in a suburban house within an urban environment. From the current listing photos, it does look like the owners have changed their decorating strategy since putting it on the market. Nothing too dramatic, however—fortunately, they don't seem to have the same eclectic taste as Ms. Parker, whose touches included a mural of an underground barbecue with an octopus "brandishing multiple hot dogs."
CORRECTION: Richard Johnson was incorrectly listed as a spokesperson in a previous version of this story; in fact, he is a broker.