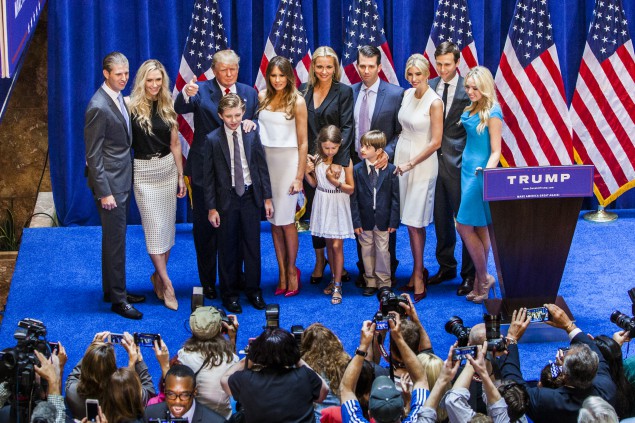 The Observer's owner and publisher, Jared Kushner, is married to Ivanka Trump, the daughter of Donald Trump. This is a well-known fact. Mr. Trump is running for president. This is also a well-known fact. You may have heard about that in other newspapers and websites. But not that much here.
When Mr. Trump first started to run, I talked extensively with the other editors here and with outside journalists whose judgment and ethics I respect. I decided as editor that there wasn't a great way for the Observer to cover him. The appearance of a conflict was unavoidable.
Last week, the Huffington Post contacted me for a story about how the Observer would be covering Mr. Trump's candidacy. The reporter, Michael Calderone, quoted from a memo I had written to the other editors here way back on July 3 when I decided we should run no opinion pieces about him and limit our news stories. I wrote, "As always, we will disclose relationship in the story. And as always, I don't want any "extra" either way — no extra love and no extra toughness. In news stories, we should continue to play it straight, always. I don't mean that we cannot mention his name in an opinion piece. Obviously, he's running for president and in the news. But I want to stay away from pieces that are primarily about Trump. If anyone has ideas on this, I welcome them."
Mr. Calderone wrote a very fair story. It quoted from my memo and then brought up that we had run a tough story on Attorney General Eric Schneiderman more than a year ago that many interpreted as favorable to Mr. Trump. It bugs me that no one has ever written that not a single fact in that 7,000-word story was ever meaningfully challenged, that much of what we maintained was flawed with the lawsuit has been vindicated by the judge throwing out large chunks of it, and also that we've written many positive stories about Mr. Schneiderman when he's earned them, but whatever—this particular story was fair and balanced.
Today, I got an email from Brendan James, the media reporter at the International Business Times. You can see exactly where he's headed with his story, and to me, it underlines precisely why I was right to be reluctant for the Observer to write about Donald Trump, despite how awesome it'd be to benefit from the same Trump traffic spikes other sites are enjoying. Here's the unedited exchange:
From: Brendan James

Date: Wednesday, July 29, 2015 at 9:03 AM

To: Ken Kurson <Kkurson@observer.com>

Subject: Trump coverage

Hi Ken,

Hope you're well. I'm writing a piece on the Observer's Trump coverage, not in regards to its editorial/opinion but just politics coverage. Was hoping to grab a comment.

The last post the Observer mentioning Trump was 2 weeks ago and before that it was similarly sparse. Yet Trump has dominated the news cycle, and these past few days saw explosive headlines elsewhere about possible past sexual assault.

The Observer built its reputation on covering power and personalities dominating NYC, Trump being a prime example. Op-eds aside, how does one cover the current campaign without covering Trump? Will coverage have to change as the campaign proceeds?

thanks in advance for your time,

brendan

On Wed, Jul 29, 2015 at 9:05 AM, Ken Kurson <kkurson@observer.com>

wrote:

I already talked about this for an identical article in the Huffington Post. You can use the quote I gave them.

On 7/29/15, 9:12 AM, "Brendan James" <b.james@ibtimes.com> wrote:

I understand, but Calderone's piece was primarily focused on, as you put it, "an opinion perspective."

Just wondering if, the opinion perspective aside, there's a comment on whether or not the Observer is going to start covering Trump more regularly in its politics/news sections.
At this point, I received an email from another journalist. He told me that he'd received an inquiry from Brendan James asking for dirt about any arrangement the Observer had not to cover Trump's run. It was clear that although Mr. James was presenting himself to me as seeking an objective story, his mind was made up and his story angle had already been determined. And then he simply invented a crazy quote that I never said or implied.
On Wed, Jul 29, 2015 at 9:50 AM, Ken Kurson <kkurson@observer.com> wrote:

Your greasy trolling for Trump clicks by asking other journalists to comment on how the Observer does or does not cover Trump is exactly the reason I'm reluctant to cover Trump more than necessary.

On 7/29/15, 9:54 AM, "Brendan James" <b.james@ibtimes.com> wrote:

So the Observer is refraining from covering Trump not because of any kind of pressure from its publisher but in fact because it finds the subject cheap and not newsworthy?

On Wed, Jul 29, 2015 at 9:57 AM, Ken Kurson <kkurson@observer.com> wrote:

The Observer has had zero pressure from its publisher in our coverage. Zero. You made up the words "cheap and not newsworthy." As I told Huffington Post, we are limiting our coverage because the perception of a conflict is unavoidable. As this unpleasant exchange has proven.

On 7/29/15, 9:59 AM, "Brendan James" <b.james@ibtimes.com> wrote:

Got it, thanks very much.
The Observer will continue to chew this over and discuss it internally and externally, as we've been responsibly doing. We will cover developments as we see fit and to the degree that we can do so without unnecessary conflicts, real or perceived. But the tone of this exchange, from the disingenuous approach to the outright fabrication that I called the campaign "cheap and not newsworthy" proves to me what I knew all along: it's not a simple matter to cover a presidential campaign that's generating this much intensity. The Observer will take its time to try to get it right and present coverage that is thoughtful and relevant, as we have always tried to do.