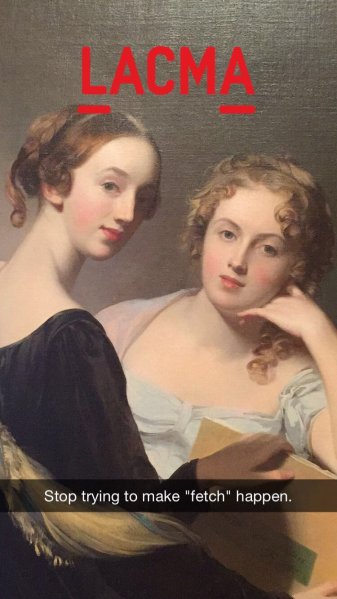 The Los Angeles County Museum of Art (LACMA) has been killing it on social media with its teenage audience, thanks to its clever use of the conversational, emoji-oriented app Snapchat.
According to a report from Business Insider, the museum's social media manager, Lucy Redoglia, has been hard at work filling the cloud with images from the museum's collection overlaid with memes.
With the app, users can share customized photos with added text with followers instantly. Photos disappear after they've been shared, unless users take a screenshot, but the ephemeral quality of the experience encourages fast responses and allows brands to share more content than they might on other platforms.
A 2014 article from Forbes places Snapchat's median user at 18 years old. For museums, that audience can be tough to reach—a fact that Guardian writer Mar Dixon reminded readers of in 2011 with her 2011 article "Why Have Museums Forgotten the Teens?"
LACMA may be doing the best job of reaching that elusive demographic. It was the first museum to join Snapchat, back in 2014.
Ms. Redoglia's memes use inside jokes from cult teen movies like Mean Girls, trending hashtags and lingo like the newly coined phrase "dadbod," and quotes from hit pop songs, paired with 19th century paintings, ancient artifacts, and contemporary works from the collection.
LACMA invited used to submit their own captions and memes for artwork from the collection using Snapchat's new Discover feature. According to BI, the museum received over 1,000 entries.
Other museums that have recently doubled down on their social media use include the Metropolitan Museum of Art and the Brooklyn Museum, who were both profiled by The New York Times for jumping in on social media efforts early.