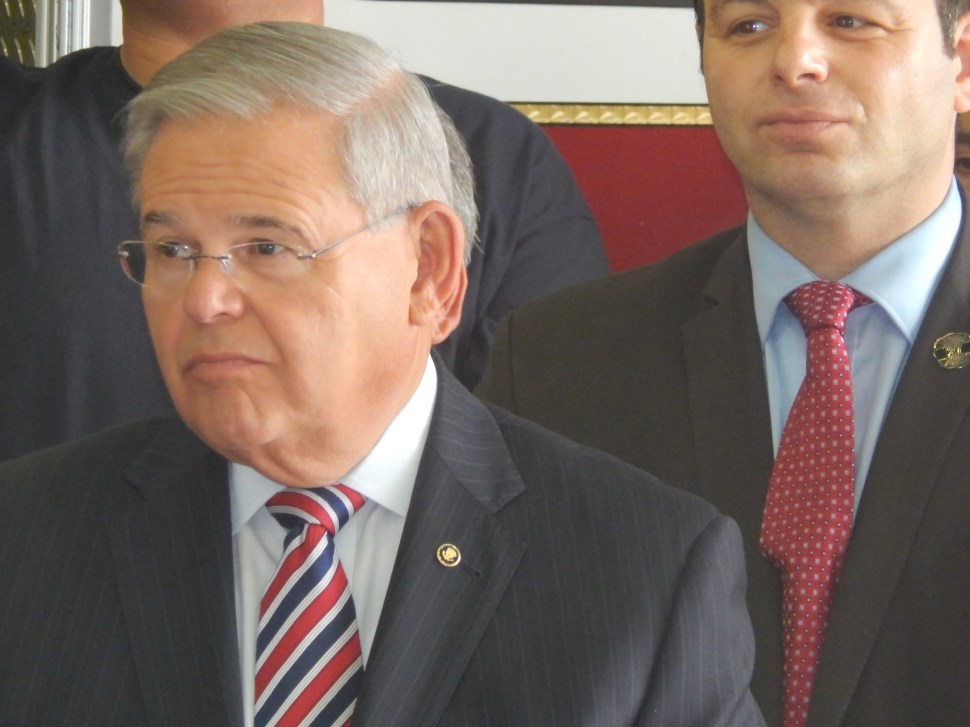 It wasn't a good news-week for three powerful New Jersey democrats. Whose lousy week "wins?" Decide for yourselves!
Chairman Jones, please report to the Principal's office!
As Chairman of the Essex County Democratic Committee, Leroy Jones chooses who gets the much-coveted ballot "party line" on election day. This gives Chairman Jones outsized influence over Democratic party politics, especially during a statewide primary election when whoever gets the line wins.
Last week, a
disturbing video emerged
showing what appears to be Jones punching a 71-year-old Army veteran who was volunteering at the polls during last month's primary election in East Orange. Did I mention that the guy getting punched was blind?
Maybe there's some context that'll make the situation less awful than it looks. I mean, even the best of us feel the urge clock someone every so often. Right? But we resist such impulses because punching someone is assault. And assault is a crime.
It's been a week since
Essex County Politics
leaked that video. And so far, not a peep from local democrats about Jones' viral encounter. Nothing from Essex Executive Joe DiVincenzo or Senator Cory Booker. Not a peep from NJ State Party Chairman John Curry. The Essex Democratic Committee's 
homepage
 still contains no less than 7 images of the chairman. Jones' lobbying firm, 1868 Public Affairs, features him prominently on their
website
as well.
Which suggest there's no shame in punching and old blind man in the head anymore.
Sweeney Tactics
NJ Senate President Steve Sweeney's relatively late embrace of social media was, 
by most accounts
, 
underwhelming
. Echoes of Sweeney's Twitter rollout continue to reverberate and those reverberations aren't doing Sweeney any favors.
A summary: after mocking social media for years ("anybody who tweets, to be honest, I don't pay attention to them") Sweeney finally hopped on the bandwagon in December 2013. He did so (probably) because he wants to be Governor and also because, as he puts it, "Twitter is a great way for elected officials to stay directly in touch with the people."
Unfortunately for Sweeney, he had absolutely no idea how to drive the Twitter-mobille and immediately became ensnared in an (increasingly) nasty spat with right-wing gun enthusiasts. During Sweeney's first online Q-n-A, they bombarded him about their desire for (what else?) more and bigger guns. But instead of engaging meaningfully with his detractors Sweeney ignored them (a move that has clearly backfired.)
Nobody likes to be ignored, not even the gun fetishists who accidentally revealed Sweeney's communications deficiencies. Before long, Sweeney's gun-loving pals began circulating petitions to have him recalled from office. Any recall effort faces crazy-long odds, but Sweeney created this headache for himself by mismanaging his social media message. And the press promptly 
ate it up
, which is hardly the narrative Sweeney's boosters hope for.
More recently, Sweeney's trigger-happy frenemies showed their true (boorish) colors with
Sunday
protests on the sidewalk in front of Sweeney's West Deptford home. In retrospect, this was a missed opportunity for the Senate President. Think about it: a bunch of gun nuts show up at your house to raise hell and in the process freak out your wife and disabled daughter. But instead of transforming the occasion into a self-serving YouTube moment (á al Chris Christie)
Sweeney turned the

sprinkler system

on the protesters
.
Sweeney had several occasions to level his detractors by highlighting 1) their out-of-the-mainstream views on guns and 2) their unsympathetic tactics. You can be a free speech purist while recognizing that protesting in front of someone's house on a
Sunday
is obnoxious. But instead of owning the situation, Sweeney ignored them. Then he opened the sprinklers on them.
And if that weren't enough, West Deptford town council promptly voted to ban protests on public property within 100 feet of private residents. Needless to say, a very Big Boss approach to constituent affairs. Imagine a scenario where the NJEA showed up at Governor Chris Christie's Mendham home on a weekend and acted like a bunch of jackasses. Christie would have feasted on the situation and made the very most of the whole encounter.
That contrast highlights how halting Steve Sweeney's political instincts are in comparison.
Menendez' Legal Bills
When Senator Bob Menendez was charged with 14 counts of federal corruption in April, his legal defense fund kicked into high gear. Good lawyers aren't cheap. Menendez has denied all charges that he traded political favors for lavish vacations and campaign cash. For the record, they always say that.
Federal Elections Commission (FEC) filings were released this week so political junkies will spend the weekend scouring financial reports of federal candidates in New Jersey and beyond. It was a good three months for Menendez' legal defense fund which raked in over $1,500,000 in the second quarter (bringing his yearly total to over $3m.)
We now know that between April 1-June 30, Menendez shelled out an eye-popping $867,000 on lawyers to convince the courts he's not a crook. Another $30k went on PR, presumably to convince the rest of us that he's not guilty either. A spokesperson for Menendez said the fundraising "represents the depth and breadth of support for him in New Jersey and across the country," but I'm not buying it. The only things these figures represent is an ethically-challenged politician leaning on rich friends to stay out of jail. No matter how Menendez' handlers spin this, shelling out $292,000/month in legal bills is never a good sign.
Menendez spent much of his career fighting to maintain antagonistic diplomatic relations with Cuba and Iran. With President Obama's historic (potential) nuclear deal with Iran coming on the heels of warmer relations with Havana, both of Menendez' political priorities are a shambles.
And judging from this mounting legal issues, Menendez' career could soon be a shambles too.
Jay Lassiter is a liberal activist from Cherry Hill, NJ. He's on Twitter

@Jay_Lass

.