With her bowler hat, white gloves, long pleated dress and black Oxfords, she might be mistaken for Mary Poppins come to life.
The adorable baby Princess Charlotte was obviously the center of attention at her christening this past weekend, but there was another member of the celebratory bunch who caught spectators' eyes: namely, the royal nanny, whose impeccably-assembled costume recalled something from turn-of-the-century England. Who was this mystery woman, dressed so differently from Kate Middleton in her festive summer whites?
She is Maria Teresa Turrion Borrallo, the nanny Will and Kate hired to care for Prince George and—since her birth in April—Princess Charlotte. She dresses that way because she's a Norland Nanny—i.e., a caretaker produced by the century-old Norland College, England's most prestigious nannying training school.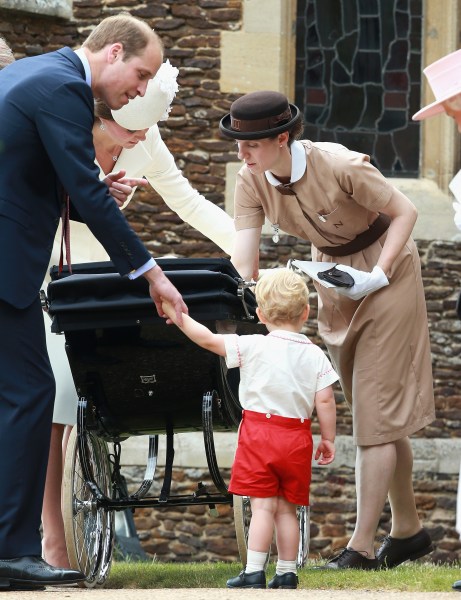 As befits Ms. Borrallo's royal charges, Norland Nannies are lightyears beyond that 16-year-old girl on your block who is willing to babysit for $20 an hour and free reign over the contents of your fridge. They train for three years in a myriad of child-rearing skills, are expected to uphold a lengthy list of professional responsibilities, and often earn yearly salaries in the £60,500 range—or close to $100,000 per year.
Will and Kate first hired Ms. Borrallo, who hails from Spain, to care for Prince George. She reportedly developed such a close bond with the family, the couple didn't feel rushed to hire an additional nanny.
"William and Kate are not intending to hire a new nanny for their new baby," royal commentator Victoria Murphy told ABC News in May. "Instead, they're going to have Maria take care of the two of them."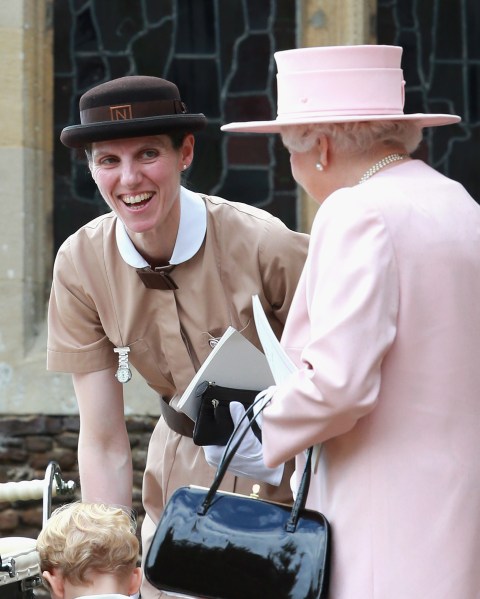 "We know that she has become very close to Kate since she started working with her," Ms. Murphy continued. "They spent a lot of time together. Other than his parents, Prince George's nanny is the person who knows him best in the whole world and who's closest to him. And she has a lovely bond with George."
Ms. Borrallo's close relationship with the royal family was evident at the Sunday christening at the Church of St Mary Magdalene on the Sandringham Estate. She was photographed adjusting something in Princess Charlotte's pram and sharing a laugh with Queen Elizabeth.
It's a good thing Ms. Borrallo endured the extensive, rigorous training at Norland College. Who else would be able to summon the strength to deal, on a daily basis, with this?