As more skyward-reaching spirals populate the cityscape and the lust for panoramic views informs the building decisions of high-end developers, buyers on the bubble of affordability may want to lower their expectations—literally.
"Our research shows ground-floor apartments tend to be 10 percent to 15 percent less than the second-floor units, all things being equal," Jonathan Miller, the president and CEO and president of appraisal firm Miller Samuel, told the Observer. If a first-floor unit is actually a few feet or even a half-story above, the price discrepancy may only be around 5 to 10 percent. Throw a garden into the mix, and calculations shift again. If it comes with a 50-square-foot garden, it could add on as much as $15,000 to the aforementioned example.
Mr. Miller says that the lower value for first-floor homes has reflected traditional market concerns about street noise, privacy and security. But a red-hot sellers' market has buyers re-evaluating their priorities.
The reasons are numerous, and they often relate not just to price (though that is key) but size. "We're currently living in our second ground-floor apartment on East End Avenue," a noted hotelier told the Observer. "Our first ground-floor apartment was a two-bedroom unit on East End Avenue, but with a growing family, we sought out three-bedroom [units], again on the first floor and also located on East End Avenue."
Those who live on the first floor also have advantages like never having to wait for an elevator (and thus never having to engage in small talk or deal with over-enthusiastic dogs); less chance of being blasted with heat by the radiator; and no downstairs neighbors complaining about children running laps in the hallway. And for those who want (or didn't realize they wanted) a specific but perhaps heretofore unrealistic address, a ground-floor unit can provide the perfect entrée.
"A couple of years ago, my buyers, who were relocating from the Midwest for a high powered position were really focused on large units on either the Upper West or Upper East Sides, especially penthouses," recalled Gea Elika, president of Elika Real Estate, a Manhattan-based buyer's brokerage. "But, I soon learned that a two-bedroom plus maid's room was available on the ground floor of 740 Park Avenue, and successfully convinced them to at least take a looksee at it because the layout was marvelous, and offered nearly 2,000 square feet of living space priced at $7 million."
A very exclusive address where availability is rare and the board members are among the toughest in town, 740 Park was built in 1929 by Jacqueline Kennedy Onassis' grandfather and designed by Rosario Candela.
"Though hesitant at first, they were ready to move forward and start the paperwork," said Mr. Elika. Unfortunately, Mr. Elika added, his clients lost the place when the husband lost his job before it even started.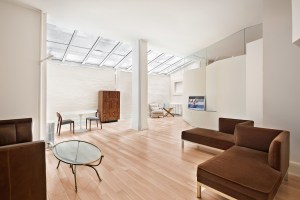 Price appreciation for ground-floor units closely follows that of the market as a whole. Halstead broker Amelia Gewirtz lived in a fifth-floor apartment with her husband on the Upper West Side and had not considered moving until they were invited to dinner at a friend's ground-floor apartment near 96th Street and Columbus Avenue. The couple raved about the friend's apartment so much that their friend mentioned a unit about to become available across the hall. "Made up of about 1,150 square feet, the three-bedroom home faced south, which provided loads of light, and it came with a washer and dryer," recalled Ms. Gewirtz. "My husband and I fell in love at first sight and decided to purchase it immediately. We probably paid $50,000 more than the owners might have actually gotten had it come to market, but we recently had it appraised and its value was twice what we paid some years back." 
Interestingly, the traditional price discount on ground-floor units has never been tied to supply. In fact, for many years such units, even in primarily residential buildings, were occupied by commercial or professional spaces. Now many of those same spaces are being developed for residential use because of they command higher prices (both resale and rental).
Buyers considering a ground-floor unit but hesitant about resale would do well to pay special heed to the real estate mantra "location, location, location" when considering a purchase. A specific building (such as 740 Park) or street, avenue or neighborhood may hold appeal to a broad cross-section of buyers like Mr. Elika's, thus helping ensure value when the time comes to sell. For a family dead set on sending their children to, say P.S. 321 in Park Slope, ground-floor apartments can seem like a gift.
For our hotelier, the East End Avenue search ended happily. "We found [a three-bedroom] and now have 1,800 square feet, morning sun and plenty of sky in the back because it faces a row of mostly four-floor townhouses," he noted. "We also loved the idea of landscaping a large patch of cement behind us and we didn't have to pay more for the extra square footage."