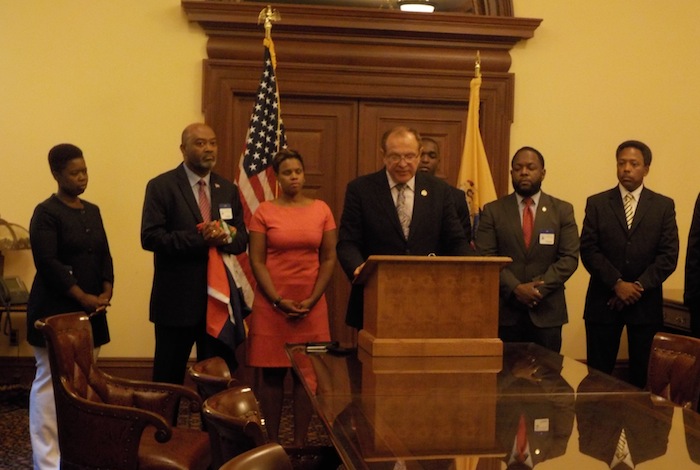 TRENTON – Members of New Jersey Haitian organizations joined legislatures in Trenton today to call for justice to those born in the Dominican Republic of Haitian descent who were stripped of their citizenship due to the Dominican tribunal court ruling No. 168-13 and Naturalization Law No. 169-14. The laws retroactively withdraw citizenship for anyone born to illegal immigrants in the Dominican Republic after 1929.
A conference room in Trenton's New Jersey Statehouse was filled with notable NJ leaders of Haitian descent along with state Senator Raymond Lesniak (D-20), who delayed the SR-164 vote in the New Jersey Senate until August 13. Lesniak said he held the bill today in order to allow some other Dominican and human rights organizations to weigh in and help with the bill's tone. Assemblywoman Shavonda Sumter (D-35), who was also present, is a sponsor of a similar resolution in the Assembly, AR-25, along with Assemblywoman L. Grace Spencer.
Though Spencer was unable to attend the announcement, she says that she hopes that the work of her and her fellow legislatures will help bring these issues to light for New Jersey residents.
"Many residents of New Jersey go to the Dominican Republic for recreation purposes," she said. "I hope that residents of New Jersey will take a second look at whether the Dominican Republic is a place they want to travel considering how they are treating their own people."
According to Spencer, focusing on issues such as these does not detract from any focus on the issues in New Jersey.
"If people want to talk about the budget or similar issues, that is fine," she said. "The budget is always going to be here. This should not and will not take away from anything. This is about how we treat people. Similar things go on right here in New Jersey."
Linden Mayor Derek Armstead also does not believe that a focus on the international takes away from anything in New Jersey or his municipality.
"This issue is going on in my town, because of the large Haitian base that cares very much about this," said Armstead, whose wife is Haitian. "This gets talked about at my dinner table. For me and for a lot of other people, this issue is very close to home."
Other notable attendees in Trenton included Hudson County Freeholder Gerry Balmir, Roselle Councilman Yves Aubourg, President of the Roselle Board of Education Archange Antoine, Pastor Jean Maurice of the Haitian Pastors Association, President of the Haitian Lawyers Association of NJ Wilson Antoine, and Executive Director of the Haitian American Committee Marthelle Guervil.