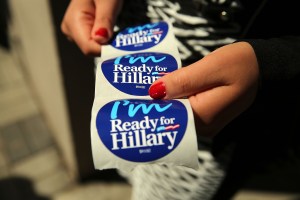 Hillary Clinton's nomination to the Democratic ticket would be historic. That she would be the first woman major party contender for the U.S. presidency is important and fascinating to the punditry and observers interested in politics. But what about everyone else?
Right now it is not clear that the historic aspects of Clinton's potential nomination are salient to ordinary voters. This is a product of both deliberate campaign strategies and several recent "unplanned" deviations from a budding campaign narrative. Lately, the Clinton campaign is starting to embrace that its candidate is a woman, putting her gender front and center in recent interviews and in the official announcement of her candidacy. This is probably the right strategic decision for her candidacy, but in some ways may not be a great exemplar for other women candidates.
Historically, the core challenge facing women candidates for executive offices is the need to combat gender stereotypes by demonstrating leadership, competence, and experience in politics. Women candidates are said to face a "double-bind," characterized by the need to appear tough enough to demonstrate leadership and competence, but not so tough that they violate gender stereotypes. Secretary Clinton's qualifications ostensibly make her well poised to successfully downplay her sex in lieu of political experience–which conventional wisdom might advise to a woman running for the highest executive office in American politics. So, despite numerous criticisms of earlier iterations of the Clinton campaign, it is not surprising that until now we've only seen intermittent attempts to play up her candidacy's historical aspects.
But Secretary Clinton is no ordinary candidate and these are not ordinary times. Her ambition for the White House is complicated by the fact that she is more than a typical woman Democratic candidate. She is a former first lady, a former Secretary of Defense, a former Senator, and an experienced political candidate. Most of these seem like traits and experiences that would make her a supremely viable contender for the presidency, but the current political context and Ms. Clinton's unique constellation of experiences present an especially complex set of strategic considerations for the campaign, one that pushes toward capitalizing on Clinton's sex rather than hiding from it.
First, there is the dynasty problem. Jeb Bush's emergence as a GOP contender naturally raised speculation about living through another Bush v. Clinton election and talk of political dynasties. In a time with historically low levels of confidence in government and a thirst for change unquenched by President Obama, the dynasty narrative doesn't help anyone named Bush or Clinton.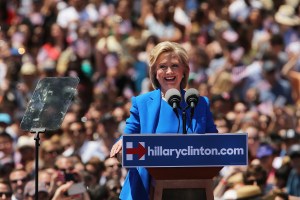 Then there are the myriad uproars emerging from Clinton's time as Secretary of State: Benghazi, "Emailgate," and various questionable financial transactions by the Clinton Foundation. And now the campaign is being criticized for its handling of the press—most recently cordoning off reporters with a rope during an Independence Day parade in New Hampshire. From the Clinton camp's perspective these are not ideal stories for the campaign narrative. But, they are especially problematic because they allege calculating, secretive behavior aimed at political gain.
A recent Gallup report reveals that confidence in U.S. governing institutions remains well below historic averages. In 2015, only 33 percent of Americans profess "a great deal" or "quite a lot" of confidence in the presidency, relative to a historic average of 43 percent. For Congress, the drop is expectedly lower: only 8 percent express confidence relative to a historical average of 24 percent. Data from the last two years reveals confidence in our governing institutions is at the lowest levels since systematic recording began in the early 1990s. And despite the incumbency advantage, the mistrust and lack of confidence extends to individual candidates and officeholders as well.
This context and the recent flurry of bad headlines means the Clinton campaign needs to emphasize traits and characteristics that combat the idea that she is a prototype of the overly ambitious calculating politician. What better way to do this than to play to the unique and historic aspects of her candidacy and the stereotypical perceived strengths of women? If her campaign continues with this strategy, Ms. Clinton will certainly not be the first woman to capitalize on gender to differentiate her candidacy from the stereotypical politician, but she may be the first to leverage it against her own former image rather than that of an opponent.
The campaign is making a smart turn toward talking about historic "firsts" and grandmothers, but if Ms. Clinton wins, future campaigns for women seeking office should be cautious about interpreting hers as a winning strategy. Women candidates can be helped or hurt by decisions about whether to emphasize or downplay their sex. Recent evidence suggests that women running for office are not penalized for appearing too tough in violation of gender stereotypes and that strategies emphasizing toughness actually play well to voters. At the same time, women candidates often appeal to sex stereotypes in their political ads in an effort to capitalize on perceptions of issue expertise. Women's campaign strategies (gendered or not) should be carefully considered in light of the political context in which they run and their own strengths and experiences. The Clinton campaign is not the first to struggle with the so-called "double bind," but the set of strategic considerations they are considering is quite unique to Hillary Clinton.
Johanna Dunaway is a professor of political science and mass communication at Louisiana State University.