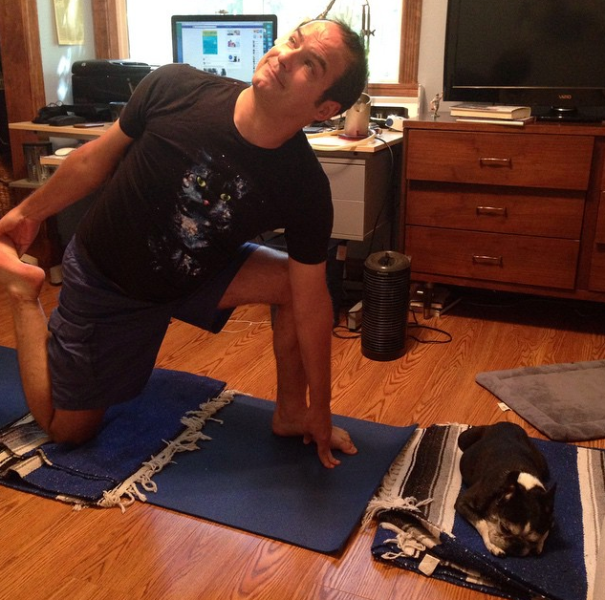 I went on Instagram, to look at Instagram yoga photos. All the yoga people are on Instagram now, I kept hearing. There they balanced, the Instagram yoga people, by the thousands. Most of them were young, most of them were women, many of them were absolutely gorgeous, and none of them seemed to have any trouble dipping back into camel pose while wearing as little clothing as possible. I certainly saw the appeal.
There were also plenty of photos of normal people practicing yoga in apartments, but those were harder to find and less visually compelling. This being the Internet, it kept drawing me toward the weird and phony, the big-ticket accounts. I had a hard time understanding why a disproportionate number of the Ipopular nstagram yogis were doing handstands on paddleboards in a mountain lake. One of them, Rachel Brathen, called herself "Yoga Girl" even though she was not a girl, she was a beautiful Swedish woman who just loved doing yoga on the beach in Aruba. She had more than a million followers, had published a book, and led a yoga class for more than 600 people in Los Angeles. Jim Jones barely drew that many people in Guyana.
I noticed another genre of Instagram yoga photos, the ones about alternative body image. In particular, an overweight black lesbian appeared to be very popular. While I understood and politically agreed with the reason behind her account—I didn't want to look at it every day. Her expressions were just as smug as the skinny straight white women peacocking at the beach. Posing professionally, no matter the body type or background, seemed contrived and self-promotional. Then there were the couples doing yoga, many of whom were kissing while balanced on each other's ass cheeks or some such narcissistic garbage. They made me want to barf.
People go on Instagram to look for yoga poses. I get it. But what was with the #yogaeverydamnday? That just sounded like a slogan for coconut water.
Many of the posts contained inspirational sayings. Even more featured winky faces. Some of them had thirty or forty hashtags, spattered about in an absurd imitation of written language. Here's one representative that I pulled up at random, accompanied by a photo of a young woman doing some crazy thing on her toes in what appears to be a Balinese treehouse: "#afternoon #backyard #style #yoga #practice #butterflypose #variation #yogaeverydamnday #fortheloveofyoga #yogabum #yogamomma #yogabliss." There are 20 others, including "#beautiful #day."
I can understand hashtagging the word yoga. People go on Instagram to look for yoga poses. I get it. But what was with the #yogaeverydamnday? That just sounded like a slogan for coconut water. The #yogabliss formulation made me feel the opposite of blissful. It made my testicles retreat into my body. And what possible benefit could there be to hashtagging regular words? Were they looking to gain followers who love afternoons and backyards? Can't they just write, "It was a beautiful day doing yoga in my backyard"?
#Why?
But instead of being a total #yogagrump, I figured I should at least experience this culture a little before I started mocking it openly. Yoga has taught me not to be so judgmental. I'm still extremely judgmental, of course, but at least I understand that I'm not supposed to be. So I became an Instagram yogi.
In the past, I'd taken schticky photos of myself doing a headstand at a racetrack, or pretending to meditate in front of a large Buddha in the mountains. I had the necessary pretension for the activity. But I made a decision: I wasn't going to go hiking and get a picture of me doing warrior pose on a rock, or go to bars for a snapshot of me crowing it up in a horseshoe pit. That's not what my yoga life is like.

I practice anywhere between 30 and 90 minutes a day, five days a week, alone in a small room in my house, usually under the guidance of a video from a streaming site for which I pay $18 a month. Often, it's just me lying down and trying to open up my lower back. If there's an audience on Instagram for pictures of balding middle-aged men doing supine hip stretches in their underwear, it must be a very small one.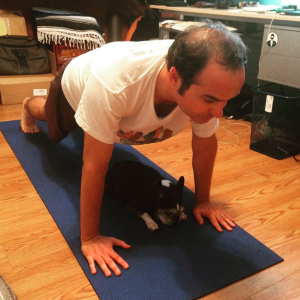 For Instagram, I made the concession of wearing shorts and a T-shirt when I practiced. And then I started posing, which my wife dutifully snapped. It was very ordinary stuff, chairs and planks and downward dogs and the occasional headstand. I used #yoga with the posts, and also #yogaeverydamnday and #yogabliss, as well as deliberately unappealing hashtags like #fatmendoingyoga and #yogaschmoga and then the occasional celebrity hashtag, like #tombrady, to parody the idea of trolling for followers. I got very few.
Then one day, someone commented on one of my photos.
"Cute dog," she said.
I looked at the photo. While I was pretending to appear reasonably happy in extended side angle or some such nonsense, my elderly Boston Terrier, Hercules, slept calmly on his mat in front of my dresser. Then I went back and looked at my other yoga photos. Hercules was in almost all of them as well. In some, he actually was sitting or lying on my mat. In fact, Hercules was almost always in the room when I practiced. Some days, if I had the door closed, he'd scratch at it and whine until I let him in. And that's when I realized:
I do yoga with my dog.
Suddenly, my Instagram had a purpose.
I started posting photos of Hercules and I doing yoga every day. Sometimes, Hercules would move before my wife could capture the fact that he was trying to lick me while I was in shoulder stand. But we got some good shots, and they proved vaguely popular, at least compared with my other shots. While I still used #yoga, I also used #bostonterrier. People started responding, not in vast numbers, but if Hercules was doing something particularly cute, I could get up to 40 hearts. Dog people love Instagram.
It worked because it lacked artifice, at least as much as anything on Instagram does. Other than the occasional one where I'd bust into pinchamayarasana in the living room just because Hercules was there, usually I was just documenting the boring reality of my days spent doing extended side angle pose while a geriatric dog farted and had mini-seizures underneath me.
Hercules definitely starred, just by being himself. He didn't fake it. He couldn't. He was too old and too tired and tender and cute and gassy and relaxed. For a while, I chronicled that. Then I got bored. Also, he peed on my mat a couple of times, so I banned him for a while.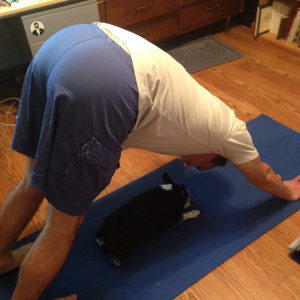 My Instagram enthusiasm dissolved after some months.
I'm tired of everyone inspiring everyone else all the time, and I want no part in that parade. Also, I'm not trying to sell anything, except maybe books. But if you're trying to sell books by posting Instagram photos of yourself doing yoga with your dog, then something has gone very wrong.
Stiil, there they are, all the photos of me doing yoga with my dog, gathered for posterity, and I'm glad. Hercules will die within a year or two. I don't want this to happen, but it's going to happen, because he is ancient. He's been my friend for a long time, but never more so than now. People do yoga for many reasons, but the ability to connect to other beings ranks high on the list, at least for me, which is partly why I find Instagram yoga so frustrating. I personally know several lovely people who regularly posts nice yoga photos of themselves. But I don't relate to them through Instagram. It's just not my medium. But because of it, I have vast gratitude toward this weird little animal, the only member of my family who will do yoga with me, for keeping me company and shining a light of love into a lonely period of my life. Maybe he could even teach me to be a little less grumpy. I will try to follow his loving example, then, and say to the yogis of Instagram, even the annoying ones: #namaste