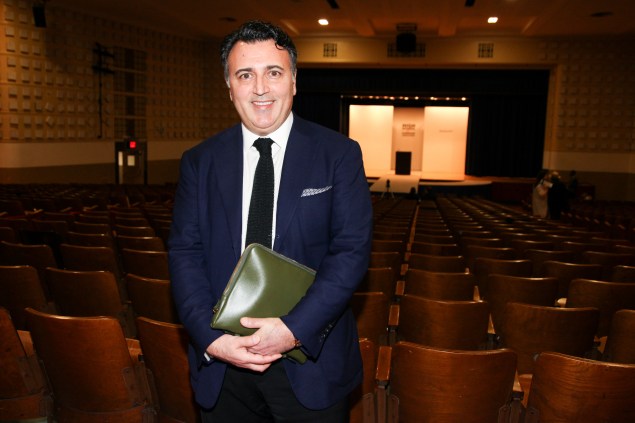 It's about to rain men: Beginning today, New York City will host its very own menswear week in New York Fashion Week: Men's. Four days of shows and presentations featuring emerging brands like the Brooklyn-based Cadet to American staples like Tommy Hilfiger and Ralph Lauren are set to take the city (well, mostly just Skylight Clarkson Square) by storm. Organized by the Council of Fashion Designers of America, the event counts Amazon, Dreamworks, Cadillac, Shinola, Axe and more as sponsors. And of course what is a fashion week without celebrities? Joe Jonas, Victor Cruz, Dwyane Wade and Andy Cohen are just four of this year's ambassadors for the event.
To commemorate it all, we chatted up Tom Kalenderian, the executive vice president and general merchandiser for Men's & Chelsea Passage at Barneys New York. Mr. Kalenderian discusses everything from memorable men's shows from the pre-NYFW:M era, to exactly why yet another fashion week was needed.
"You know John Varvatos used to show in New York religiously. I remember when he did a show downtown where it was at the top of a skyscraper with spectacular views. It was quite beautiful and at night. Sometimes when you have a venue like that it's distracting from the product but honestly it wasn't at all. The show was lit with chandeliers and I think the ambiance of the room was really balanced by the spectacular view.
But John always does beautiful shows. His show last fall, in Milan, was equally as beautiful where he covered everything with a very autumnal feel with these auburn colored leaves. It was just a very, very handsome presentation. You know, designers that have a strong creative and artistic point of view, they are going to show you things that are done in a very special way. I think that show John did downtown really stood out amongst all the women's shows.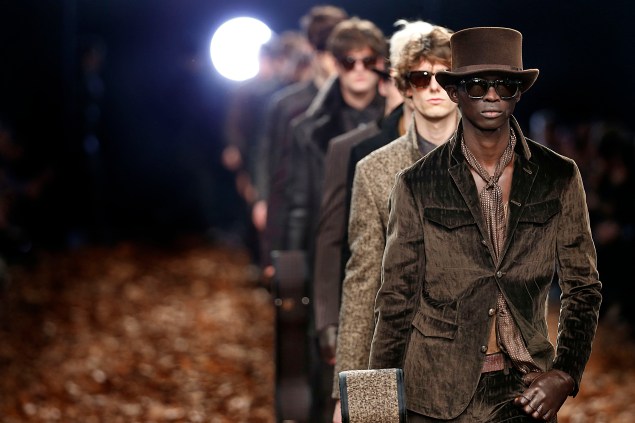 I remember going to Rag & Bone's first menswear show and it was shown with women's. That show was a very very great moment and a very cool show. It wasn't so much about the atmosphere and the environment but more about the energy of how chic the women look mixed in with the men's show. It wasn't a men's show with women or a women's show men, it was more about a continuous brand concept that was really clear. I thought it was so well executed that it sticks out in my mind.
New York Fashion Week was a woman's fashion week. That's not about slighting the men's industry, it's just the reality that there were so many women's shows across so many days. Men's weeks in London, Milan and Paris are three to four days. The majority of it happens over those days and there might be a few shows tacked on to the beginning or end, and they are all consecutive: London, Milan and then Paris. [Before this season] the presentation in New York was happening much much later—that was one of the bigger issues—you were showing the merchandise in September that was already purchased [by retailers]. If it was a brand that you didn't know about, you were learning about it long after you were done purchasing as a retail buyer. So the timing of it was off in terms of the industry and sales.
The single biggest change here is that they made a conscious effort to focus on menswear and think about menswear growth. I think that's the overarching statement. To focus on menswear for one minute, with complete undivided attention, I think there will be change, I think there will be a benefit to this. When New York Fashion Week was covered by public television like News One, NYFW became a household name. Honestly, do you really think every taxi driver and secretary flipping the channels thought about New York Fashion Week before that? I would say probably not. So this level of communication—the fact that it's separated, the fact that it's organized—speaks volumes about the growth in the menswear industry right now.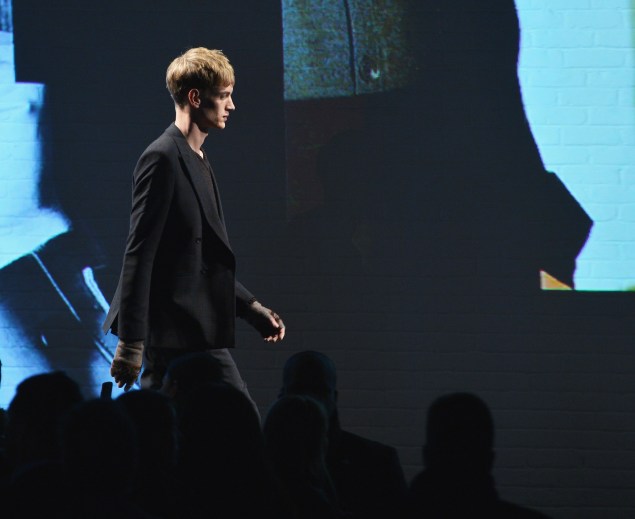 I don't think you're going to see a dramatic difference from what happened six months ago, but I think you're just going to see the simple gesture of separating and focusing on menswear. When the men's shows were scheduled with the womenswear shows you couldn't expect every editor and every brand to go to every show because they were scheduled on top of one another. Now they don't have to choose between those shows.
I think that the decision for John Varvatos to move his show back to New York after building up such an international clientele was a big decision and extremely admirable. In some ways, it probably gave cause for most other designers to think whether they should or they shouldn't. From that point you know that Thom Browne and others like Ralph Lauren decided to hold presentations here as well.
To make this week a success I think each designer has to use this moment carefully and focus on being very unique and avoid sameness. If every show you go to has a very exclusive and rare statement, we'll all turn around and say that was an amazing fashion week."