Long before she was named a regional final for the US at last night's International Woolmark Prize, Tanya Taylor has been a force to reckon with. Labeled as a designer to watch years ago, she competed in the CFDA/Vogue Fashion Fund in 2014, which catapulted her further into the must-follow category. Now that she's been chosen for this Woolmark honor, by a panel that included InStyle's Ariel Foxman, Calvin Klein's Francisco Costa, John Varvatos, W's Stefano Tonchi, Ralph Lauren's Malcolm Carfrae and a handful of other notable names, Ms. Taylor's playful and cheeky approach has finally been formally recognized. SIKI IM was also a winner last night, where his menswear collection was fêted alongside Ms. Taylor's, at the penthouse of Milk Studios.
The women's creative director at Calvin Klein Collection, Francisco Costa announced Ms. Taylor's victory, noting: "Innovation was evident in all aspects of the collection – from fabric choices to overall creativity. It was free-spirited, happy and playful. I especially loved the prints and the variety of knits."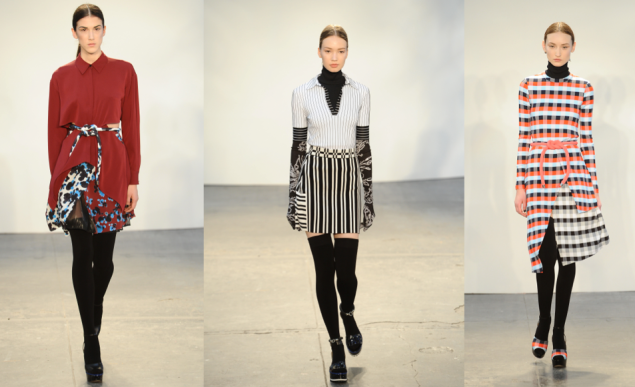 This much was clear at the designer's past runway show in February, when she stated that the inspiration for her collection started with a simple fishing lure. This resulted in bright prints swirled on fit and flare dresses and ropes tied with a fisherman knot at the waist. There were also holographic fish splattered on black frocks, proving the designer's penchant, and total mastery, of playful styles that are still easily wearable.
Beyond the fashion industry, celebs have taken notice of the Toronto-born designer's creations too. As it turns out, her cheerful color palettes and careful silhouettes translate very well on the red carpet. Let's take a look at some of the recent looks that starlets of all types have opted for.