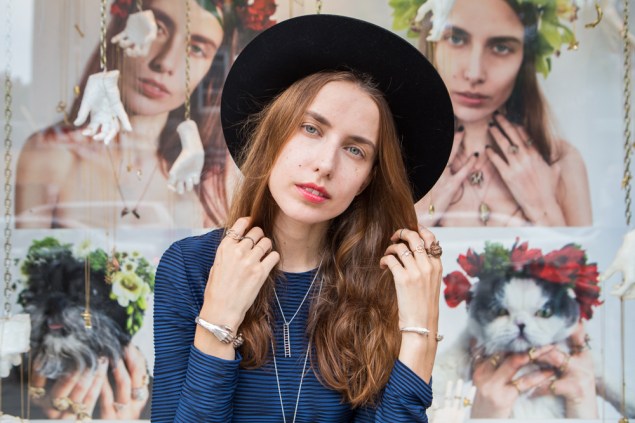 I am not going to pretend this is an objective style story, because it's not. As someone whose jewel accessories consisted of only her wedding and engagement rings, in the last year I've become firmly entrenched in the cult of Verameat jewelry. Now I can recognize a designer piece from across a boat: at the Riverhead Book Expo party this year, I nearly tackled an author to the ground to find out where she had acquired a retired piece I had seen on Instagram. Verameat, whose accessories range from the morbid—a delicate gold femur currently resides on the first knuckle of my ring finger—to downright nightmarish (Freddy Krueger claw, anyone?), tends to have that effect on people.
"I want my pieces to be a tiny memory, a story about someone's past or future," Verameat's creator, Vera Balyura told me from beneath a wide-brimmed hat as we sipped coffee egg creams across the street from her Brooklyn store on Bedford and Wythe. (Her first shop, on Ninth Street in the East Village, just expanded to include clothing as well.) "I want each piece to be a story, to say something about you, so that if your kids or family looked at it one day, it would remind them of you."
"Before [Verameat] I was never much of an accessories person," confessed Marc Rabinowitz, a senior UX designer at Code And Theory, a digital design firm. "I owned one necklace. Once I discovered her jewelry, I just kept finding more. Now, as my wife points out, I'm 'that guy' with lots of man jewelry." Mr. Rabinowitz owns eight necklaces and four rings, two of which are the dinosaur claws he exchanged with his wife as their wedding rings. (A silver one is kept on a chain, the gold version he wears as an everyday wedding band.) His wife, Alison, owns six necklaces and 12 rings, ranging from a twistedbrass rendition of one of Edward Scissorhands' hands, to a discreet gold snake that coils up a finger.
We're not alone in our obsession: once your eyes are opened, you'll see Verameats everywhere: The girls of GIRLS can be seen rocking smaller statement pieces on the show, like a "spine bracelet" cuff, a gold ladder necklace and the femur ring. Mena Suvari has a wishbone. Khloe Kardashian, a "knuckle duster," a feminine equivalent of brass knuckles. Anna Kendrick wears the ladder in bracelet form. Chloë Sevigny and Greta Gerwig have digits encased in a bony-clawed "mystery hug" of sterling silver. Karen O from the Yeah Yeah Yeahs is partial to layering her Verameat necklaces—a stingray, a brain—while a small silver "yogi" finger encircles her own. Tilda Swinton, an early adopter, bought the nautical Ship Wheel Ring.
Ms. Balyura is certainly the more fascinating the closer you look. Originally from the Ukraine, her family moved to the United States when she was six years old: first, New York for nine months, than to Salt Lake City. This Westward expansion had been prophesied after a three-day meditation when her great-grandmother had lain in bed, after which she got up, then told Ms. Balyura's mother that she was going to move to another country and have three daughters. "She meditated in a psychic way that told her family future," Ms. Balyura said. Ms. Balyura's great-grandmother then told her family she was going to die in seven days. A week later, she had passed.
Growing up in Salt Lake City wasn't easy for the Jewish Ms. Balyura. She was 5'2"—short—read Jules Verne, frequently fell asleep in class and had a crush on George Burns. "I didn't understand boyfriends as romantic," she said. "I thought you just hung out and told jokes." A class clown, she was less tomboy,  more tom-man, coming to school in a tweed jacket with leather patches, suspenders and a bow tie.
"I was the girl version of Rushmore," she shrugged. It's hard to believe, when you look at Vera's Instagram (22,700) or check out her website, where she's both the designer and the model. If I had been confused into thinking that the tall, thin woman with the high cheekbones, Manson-chic straight hair and intense gaze was not the creator of the pieces but the international model chosen to show them off, I'd only be half wrong. At 14, Ms. Balyura grew five inches, stopped dressing like the nutty professor, and was discovered by a (and what I assume was the only) modeling scout in Salt Lake. Ms. Balyura wasn't immediately sold, but her mother felt differently. "Well, if you model, you get to travel the world," the former Ukrainian pianist told her daughter, convincing her to test out of the rest of high school. (Which she did, handily.)
She spent four years as a fashion model for DNA, which meant relocating back to New York, then Paris, and eventually, settling down in Italy for a year. By the time she was 18, Mario Testino had discovered her, and she was featured in a Vogue Italia spread. Soon, she was fielding two major brand offers: Calvin Klein and Armani. So she did what any reasonable teenager would do and quit the business entirely.
"For better or for worse, I've always had a very independent spirit. I didn't like authority," she said of her decision to turn down two of the biggest names in the business. Back in New York, she had begun taking classes at The International Center of Photography, where she found out she was interested in jewelry design by a process of elimination: she was a terrible painter, and while she loved drawing, she considered her work too personal to ever show or sell. But sculpting was something else entirely. On YouTube, where she frequently posts videos, Ms. Balyura gleefully shows off her welding studio like it's Willy Wonka's chocolate factory. Though she has 10 employees, she constructs every piece herself.
"You have to not pull away when you get burned," she said, citing a learned skill of her profession. "A drop of hot wax will fall on your finger: you draw it back, and all the sculpting you've done in it will fall. The whole piece will be ruined. You need to be wearing glasses, and gloves. You need to have a way of disposing toxic fumes. You can't be too careful, because you'll hurt yourself."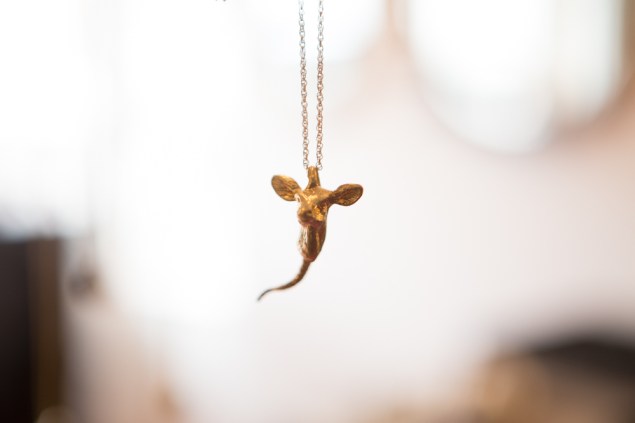 After a fine arts jewel friend in L.A. told her she shouldn't bother with college (a frequent theme in her life) and should start selling her pieces, she felt that magic in her gut telling her he might be on to something. Two weeks after selling to her first boutique, a fashion editor at Nylon called about featuring one of her necklaces in the magazine: a small, gold cosmonaut that she had made in homage to the work of Jules Verne.
As for the name: "It was a week into my business, and Nylon magazine said they wanted to feature me. I was craving steak, so I thought, 'Verameat it is!' "
The first Verameat store opened four years ago. Cosmically situated in Alphabet City on Ninth Street, Ms. Balyura's first store stands almost directly across from Enchantments, a "hobby shop" where a curious browser can still buy tarot bone runes and the complete works of Aleister Crowley. (In the back of the shop, potions and candles are made from scratch.) It's the sort of place I imagine Ms. Balyura's great-grandmother enjoying.
A year later, Ms. Balyura expanded her stores to the hub of Williamsburg, on the bustling streets of Bedford and North 5th Street. She has since expanded her East Village location to include a boutique outpost four doors down from the flagship: it focuses on original clothing, pillow purses and other designer wear from the artist and occasional co-collaborators.
When you go into one of Verameat's stores, the first thing that will probably strike you is the Lector-like decor: all disembodied hands coming from the wall, antler aesthetics and a waft of highbrow couture. Because she solders all the chains for her necklaces herself, they come in varying lengths (18', 24', 32') and tend to cost on the middle-to-high end of Williamsburg trinkets. (A vision of the Loch Ness monster, for instance, can cost anywhere from $180-$330, depending on the length of the chain and the metal chosen by the client.)

On her more affordable end are the "Vmoji" and stacker rings, which boast Verameat's own brand of emoji: the two butcher knives, a poop symbol, a hand making an "O.K." gesture while another finger slips kinkily through the middle. Her affenpinscher, Fred, a ubiquitous figure in both the shops and Verameat's frequent Instagram pictures, has been memorialized as a Vmoji, and is available for $30. She's also branching out into wider branding: T-shirts in ode to Bill Murray, temporary tattoos (think: a steak with a knife stabbing into it, a two-headed wolf, a buffalo skull, that sort of thing), and an app called Verameat Beast, a simple card flipping memory game that is surprisingly addictive. You can play the kitty version, dog version, the Bill Murray/celebrity version called "Handsome Sauce," or one starring Verameat herself, labeled "Power Animal."
The Power Animal is a core concept. Not to be confused with the spirit animals espoused by Coachella-attending hipsters, Verameat defines the difference as "your spirit animal is an animal you haven't chosen, it sort of just fits your personality. A power animal is something that you've designed."
My power animal is a recent purchase: a doe's head that tapers off into a windy spinal chord. I'm thinking of getting it oxidized, a service Verameat provides that chemically ages the appearance of some metals: turning a once-silver dual-barrel shotgun the color of gun smoke, a small biplane that looks straight from a WWI movie reel, and a robotic arm so charred it would give Sarah Connor nightmares for weeks.

One of Verameat's earliest pieces, a "T-Rex eating fried chicken wing" ring has been a staple since inception, and a celeb favorite. Aubrey Plaza and Zach Galifianakis rock the T-Rex, and so do I. "People said that was a silly idea for a ring, and now it's a best seller," Ms. Balyuru told me. "It's a dinosaur eating one of his species that has turned into a bird." A portrait of cannibalism in a temporal paradox: yours for only $100.
As for myself: On my left ring finger, I've replaced my wedding band so that the diamond of my engagement ring nestles perfectly in-between the two jutting silver antlers of one of her stag rings. (Don't worry, I've "stacked" the wedding ring on top.) I've got the same stags in earring form, as well as the butcher knife Vmoji rings. I've also got a femur bone next to the T-Rex. But it's still not enough.
My sister's birthday is in a few months. I've bought her an oxidized bronzed elephant charm, but am considering a minotaur to hang near my diaphragm, a mermaid sword that reaches my clavicle, or a spiny ear cuff that changes my two appendages into the dangerously sharp vertebrae of sea horses.
I might not have made the pieces, but l can't help butchering Will Graham's Hannibal catchphrase on perpetual loop as I fondle each piece in the East Avenue locals with my mother, in town for the day. I drag her piece by piece, "THIS is my design…er."