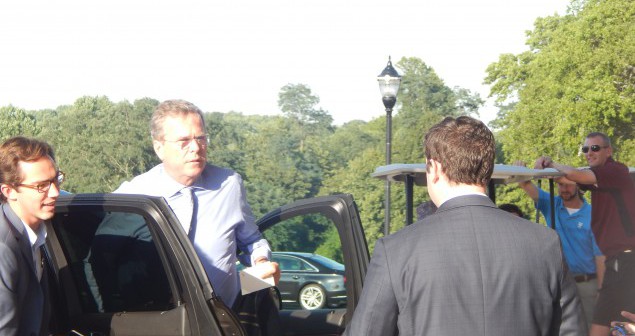 WINNERS
Jeb Bush
The former Florida Governor came into New Jersey this week and raised $500,000.
Peter Murphy
Having been convicted and served time for mail fraud, the former Passaic County Republican Committee Chairman received clearance by the executive membership of the committee this week to return to have a seat at the table.
Anthony Salters
The new chairman of the Hillside Democratic Committee pulled players from around the state to his fundraising event Thursday night.
Richard Berdnik
The Passaic County Sheriff's Department received accreditation after the chiefs association completed a top-to-bottom review of all policies and procedures, according to this story by Richard Cowen on NorthJersey.com.
Bob Gordon and Kip Bateman
The Democratic and Republican state senators from Bergen and Somerset respectively won unanimous senate approval for their bill that would alleviate hardships on the families of the developmentally disabled.
Albio Sires
The veteran 8th District Congressman had a very successful fundraiser this week in which he demonstrated broad alliances across multiple North Jersey countis and gave every indication that he plans to run again next year.
LOSERS
Scott Garrett
Another week of hard luck headlines assailed the elusive U.S. Congressman from New Jersey's 5th District, whom POLITICO last week reported as having refused to pay dues to the National Republican Congressional Committee (NRCC) because the organization supports gay candidates.
Edward Gore
The councilman from Hamilton was forced to explain and apologize for a hateful Facebook post of his in which he referred to "Muslim scum."
Pat Stanley
The Franklin Board Member looked stupid when she disseminated a message demanding that Franklin Board of Education President Ed Potosnak resign over public comments Potosnak made expressing his support for the U.S. Supreme Court's decision to make same-sex marriage the law of the land.
Scott Rumana
The empowerment of old foe Murphy dealt a loss to the veteran Republican Assemblyman from Wayne, who fought the good fight to try to prevent his adversary's reemergence but came up short this week. In the words of one Passaic insider, with Murphy back, "Scott had better try to find a judgeship."
Hudson County
The bad news hit Thursday that a financially reeling Jersey Journal will lay off veteran columnist Agustin "Augie" Torres, author of the paper's can't-miss
"Political Insider" column. That paper has reported on a lot of bad news over the years but for political junkies who prize Hudson politics broken down as no one else can do it, this tidbit was nothing short of devastating.
Robert Torricelli
The bosses slapped (here and here) the former U.S. Senator, saying he crossed over the line by showing up this week at Sires' fundraiser and making statements to the media about wanting back in the game as U.S. Senator Bob Menendez (D-NJ) dangles from a thread in his ongoing corruption case.
Click here to subscribe to the Politicker NJ Wake Up Call