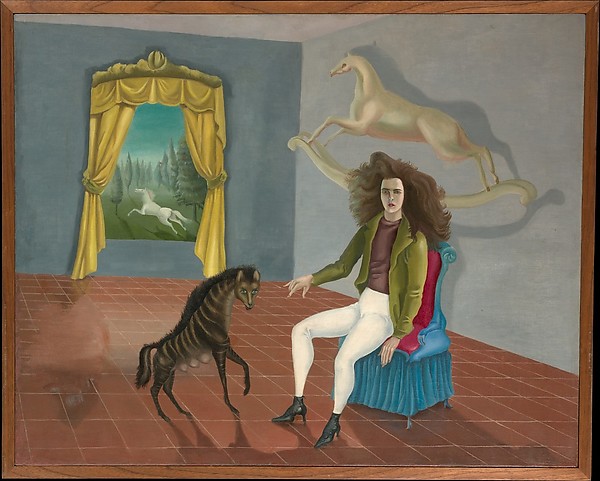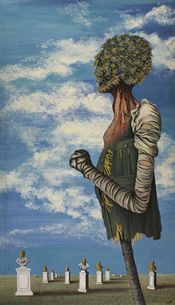 Contrary to popular perception, Frida Kahlo was by no means the only woman in the Surrealist movement. While male surrealists like Salvador Dali, Rene Magritte, and Max Ernst have long held the spotlight—known for painting wild imagery inspired by subconscious thoughts and dreams—in fact, they had female peers who are only now being recognized widely.
This fall, Sotheby's will host a selling exhibition of works by women artists associated with Surrealism. "Cherchez la femme: Women and Surrealism" will shown at the house's York Avenue galleries from September 15 through October 17, and include 50 pieces by artists such as Dorothea Tanning, Leonora Carrington, Toyen, Remedies Varo, and more. The price point for works will range from $5,000 to over one million.
Their stories are "sadly under-told" noted a Sotheby's expert.
It's not the first such exhibit, but may be the first one of significance in New York City.
In 2012, the Los Angeles County Museum of Art mounted the first major exhibition of female surrealist artists with "In Wonderland: The Surrealist Adventures of Women Artists in Mexico and the United States," featuring 170 works from 48 artists. And in March, the Tate Liverpool hosted a retrospective survey for Mexican painter Leonora Carrington.
Some of the artists in the Sotheby's exhibition are already familiar to collectors, and have sold with strong pricing at auction. In 2014, Carrington's The Temptation of St. Anthony sold for $2.6 million, and Varo's Hacia la Torre nabbed $4.3 million. Perhaps the biggest rising star has been Kay Sage, whose auction record has risen from $72,000 in 2007 to $7 million in 2014, when her work Le passage sold at Sotheby's London.
Two of the best known artists in the exhibition are Tanning and Carrington. American painter (and later poet) Tanning, who was married to Ernst for over 30 years, lived to 101. She showed with influential art dealer Alexander Iolas in the 1960s and 1970s, and is known for her haunting compositions combining realistic figures rendered with thickly textured but precise brushstrokes. Meanwhile, the canvasses of British-born, Mexican Carrington (who was also romantically involved with Ernst for a time) are more gestural and watery, harkening to the bush styles of Bosch or even Chagall, weaving fantasy and mythology into otherworldly scenes.
Collectively, female surrealists still sell for significantly lower than their male counterparts. A work by Tanning's husband and Carrington's former lover, Ernst, sold for $16.3 million in 2011 at Christie's, and a work by Magritte sold for $11.3 million at Christie's London the same year.
Currently, the New York Botanical Garden's is hosting a blockbuster exhibition of works by Frida Kahlo, along with recreations of the artist's Mexico City home and studio, Caza Azul. The NYBG told the Observer in January it hoped to see one million visitors by the show's end.