Makerbot is hiring. Further, the company looks forward to hiring a lot of Brooklynites over the coming years, and CEO Jonathan Jaglom repeatedly emphasized the company's pride in being in Brooklyn, at today's event at its new space in Sunset Park's Industry City.
The old image of factory work, as dark, smelly, dangerous places does not carry over at all to this new facility. The work space was bright, well ventilated and well organized. While parts of the floor were bustling, its underused capacity was evident (which isn't surprising for a new facility, looking forward). Most of the workers in the space that day were at work on the Makerbot's largest and smallest models (primarily the latter).
"For many years, the folks in this community, instead of making screws, have felt like they were being screwed," Brooklyn Borough President Eric Adams.
Mr. Jaglom estimated that the company has about 40 positions open in Brooklyn now. For jobs assembling 3D printers in its factory, workers don't need any higher education to join the team. Some work experience and a high school diploma is enough for a candidate to be considered for assembly jobs, according to Diana Pincus, the plant manager.
Ms. Pincus and Mr. Jaglom spoke to reporters following a tour of its new factory, occupying 170,000 square feet of one of Industry City's buildings. Its prior space in the same complex is now devoted to testing new products.
The company is only running one shift now, but it could go to three shifts. Currently, 80 people work assembling the devices, with 140 in Operations. The company is busy enough that the factory has been recruiting workers from other departments to help with assembly. Mr. Jaglom plans to log part of his day on the floor this Friday. Assembly could one day reach more than 200 positions, Ms. Pincus estimated.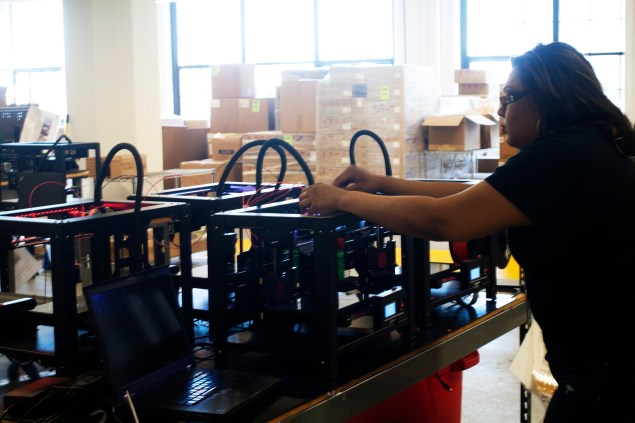 Ms. Pincus emphasized that the work style at Makerbot is dynamic. As a company that's still iterating on its products and process, the work continues to evolve from day to day. Workers can look forward not only assembling the products, but contributing ways to improve the work.
Ms. Pincus said, "One of the advantages of working in a 3D printer factory is we have 3D printers everywhere."
Those machines help them to improve their work quickly. Manufacturing is made more efficient with what she referred to as fixtures and jigs. Special additions to furniture (fixtures) or highly specialized tools or accessories (jigs) can assist in the process. Often, when someone on the floor has an idea for one that might help, the company can design it and print it in house, and then remake it when the team iterates on the idea.
In other words, workers should not look forward to excessively repetitive factory work. Odds are, their work will be a bit different every day.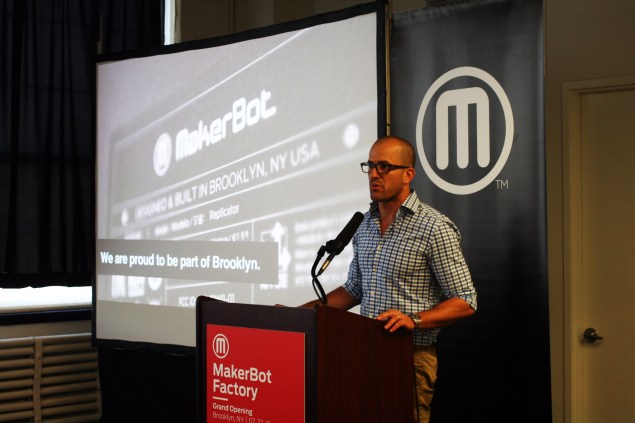 In fact, that's one of the reasons that robots are unlikely to replace many workers in the factory any time soon. They are simply iterating on their assembly process too fast, right now, she said. Robots work best when a company has a process down and there are no further improvements to make. The company sees that day as a ways off, especially as it keeps rolling out new products. The big emphasis there, now, are smart extruders, that can be swapped in and out of a given Makerbot, allowing it to work with different kinds of filaments.
Mr. Jaglom emphasized how the company's strategy is strongly focused now on getting the devices into schools. He says Brooklyn will soon be the place with more 3D printers per primary and secondary school student than any place in the world. Randy Asher, the principal of Brooklyn Technical High School spoke about how 3D printers in his school has allowed the school to redesign its curriculum from one focused on design to one that goes from desing, to prototyping to manufacturing. Makebot is also pushing universities to start deploying the devices. In the short term, it is a business vertical, but, obviously, the company hopes that in the long term it will generate demand for the devices in more homes and businesses.
As he is at most public tech events, Brooklyn Borough President made an appearance at the ceremony. He spoke of the lack of opportunity that had been the status quo in Sunset Park for a long time, expressing his excitement for its residents' opportunity to be part of the tech economy.
"For many years, the folks in this community, instead of making screws, have felt like they were being screwed," he said.
Makerbot was founded six years ago in Brooklyn's Carroll Gardens. It is now a subsidiary of Stratasys, a Minneapolis 3D printing company.