You might not know the name yet, but if you watch TV you've very likely heard X Ambassadors' music—a lot. At least one particular song, the crazy catchy "Renegades," which is the driving force behind a certain TV car ad.
The Brooklyn band's debut record, VHS, released at the end of June, revealed "Renegades" to be part of an autobiographical concept album that includes spoken-word interludes taken from family tape recordings, hence the record's title.
Produced by Brit Alex da Kid who signed the band to his KIDinaKORNER imprint, VHS tells the story of four friends growing up together in Ithaca, N.Y. Those four are Sam Harris and his elder brother Casey, Noah Feldshuh, Sam's best friend since they were 5 years old, and Adam Levin, who joined the camp 10 years ago.
It isn't only "Renegades" that's earning X Ambassadors kudos, though—frontman Sam Harris co-wrote Rihanna's recent single, "American Oxygen," with Alex da Kid. On a recent sweltering day in Bushwick, the Observer chatted with Harris just before the band launched its lengthy summer tour, which returns them to New York City this week.
[youtube https://www.youtube.com/watch?v=1u-niluB8HI&w=560&h=315]
So there you are at home in Brooklyn watching TV and on comes the Jeep commercial. What did you think when you first saw it?
It was crazy. I thought, like, damn, they're really showcasing the band. It didn't seem like it was about Jeep at all. We all had trepidations about having our song in a commercial, but a lot of the taboo thing of musicians collaborating with companies is sort of gone. But it's still a little… you've got to be wary. But I thought it really captured us: a bunch of dudes on the road together.
Did your mom ever call and say, "Hey, you're on TV"?
Oh, my god. I still get phone calls. My entire family called me whenever it came on and they all asked if we're getting Jeeps.
The record's spoken-word interludes take you into this private world. Did you want the record to be so personal?
Absolutely. Part of my ethos as a songwriter has always been that whatever makes you uncomfortable to show the world, you should probably show it. It's important to seek truth. I wanted to show the personal connection we have in this band: Casey and me are brothers, and we all grew up together. That's what I wanted to get across.
'Whatever makes you uncomfortable to show the world, you should probably show it. It's important to seek truth.'
Did the concept come before the songs and did it influence all the songwriting?
Kind of. I started to think about where I was coming from as a songwriter and who I am is shaped by growing up in this small town: Ithaca. That seeps into everything I do. A lot of the songs were just written without the concept in mind. We just picked the best songs and they inherently spoke to this concept. They were the most honest and true to myself.
Did "Renegades" fit right in?
Yes, that's how I felt growing up. It think a lot of kids do. More and more I really appreciate where I grew up though. It made me who I am and who we all are. What I love about that song is that it's about growing up and feeling different, and getting into trouble and being young.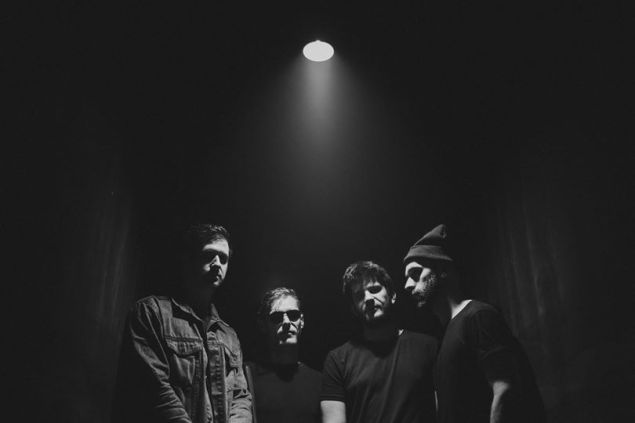 How did you come to co-write Rihanna's "American Oxygen"?
That was an incredible labor of love. It took about a year to write. I wrote the chorus first and Alex loved it, and encouraged me to keep working on it. Then, Rihanna heard it and loved it, too, so the three of us collaborated and came up with the concept. It's one of the best things I've written, I'm really proud of it.
That's some major league stuff, working with one of the biggest pop stars.
Yeah. I didn't meet her. I was working with Alex and he would take it to her.
Did that take the pressure off?
Yeah, it did. I like working like that. I don't have to deal with egos and I can just write. I can be in my own world and write something that's true to me. If I was the artist, I wouldn't want something that's a pale imitation, I'd want something that's genuine and unique. Those things that are really genuine have to come from inside of you. It was a good way to work.
So are you former ambassadors or are you ambassadors of an unknown quantity?
We are former ambassadors. You've got it, dude! We were ambassadors for so long and then when we signed with Interscope there were so many other bands with the name. It was either pay a load of money and keep the name, or change it. We picked X Ambassadors because it looked cool. Then I was like, "Oh, that's clever, because we were Ambassadors."
X Ambassadors opens for Milky Chance at the Central Park Summerstage in Manhattan, July 22.
[youtube https://www.youtube.com/watch?v=ZT6AteXChA4&w=560&h=315]