In recent days, a powerful short film titled "You Look Disgusting" has been lifting the self-confidence of men and women all over the world.
A young woman known as Em, an ex-model and beauty blogger behind the site My Pale Skin, uploaded the video to YouTube just over a week ago. Already, it's gone viral, seeing more than 10 million views and a heap of amazingly positive reactions.
The Observer chatted with Em to learn more about the film and the woman behind it.
Why should you have to expect and accept abuse to a level that would never take place offline?
When did you start feeling like you needed to wear makeup everyday? In general, I think girls start to feel this at a pretty young age.
I was 11 years old. An accident left me with a facial scar that shattered my self confidence and led to me being picked on in school. After taking an interest in a family member's makeup collection, I was gifted my first drugstore concealer. Looking back, I'm pretty sure it did nothing for me; It was likely the wrong color and didn't cover my scar in the slightest, but mentally, it certainly made me feel better about myself at a difficult point in my life.
You're extremely skilled at applying makeup. How did you come to be so good at this and why?
In 2013, I made a decision that I wanted to improve my self confidence, make friends and learn to become better at makeup. I knew I wasn't wearing makeup in a way that was flattering for my face or skin type (relatively clear at the time), but I didn't know how to improve my skills. I spent months looking at submissions from makeup enthusiasts on an online forum. I relished rushing home from work every day, or popping to the drugstore to buy something new to experiment with. I spent hours practicing my makeup every night before photographing it to see how it looked.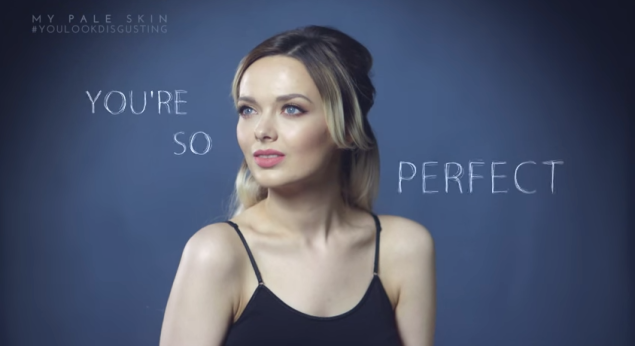 Tell me about your gig as a beauty blogger? How did you get into that?
I actually fell into it by request. In 2013, I'd actually never read any beauty blogs and had no idea beauty videos on YouTube were a thing. After posting a few of my own makeup looks on Reddit, I had requests from people to start a blog, and in late January 2014, My Pale Skin was born.
What has the experience blogging and testing makeup been like for you?
It has been life changing for me. I've gone from zero social life and hobbies to making some incredible friends and improving my self confidence and personal happiness. I've learned so many new skills too, from makeup and photography and even writing. I'm always trying to improve my skill set, which blogging has helped with. There are so many incredible bloggers in the world that I look to for inspiration and who motivate me to learn and progress.
What inspired you to post the photos of yourself without makeup?
I wanted to share my experience in how makeup can not only make a difference physically, but mentally too. There's such a stigma in showing your natural face and revealing any imperfections—especially online—but there shouldn't be. I didn't suffer from acne as a teenager; It only started to develop in 2014 (in my twenties). I wanted to say that if you're fighting this too, it will get better one day, so try and stay positive and we can talk about it and fight it together.
Did you post the photos with your film "You Look Disgusting" in mind, or did that come after you received the hateful comments?
The idea only came to mind after receiving hateful comments. I wanted to create a video or blog post that addressed the abuse I was receiving but also supported the messages I'd received from others around the world who heard similar comments on their appearances both on and offline. Social media can be an incredible tool for spreading positivity, but it can sadly also be used to spread negativity and affect the self confidence of another person you've never met before.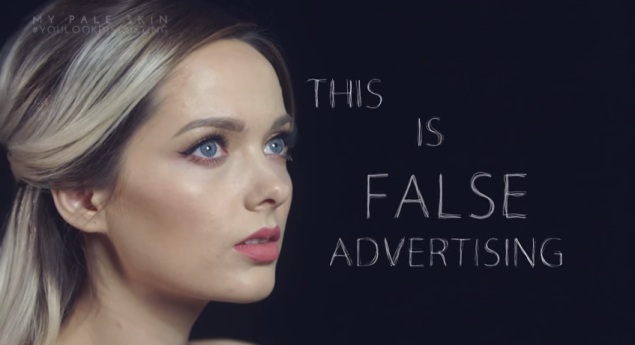 Is the hypocrisy of makeup shaming an issue you've wanted to bring attention to for a long time?
With 'You Look Disgusting,' I wanted to bring attention to the fact that nobody has a right to make you feel inferior because of the way you look. Whether you choose to wear makeup or not, it's your choice, and how you feel about yourself is all that matters. It seems there's a consensus that, on the Internet, it's acceptable to be abhorrent to others because 'it's not real life' and 'nobody will get hurt'. Why should you have to expect and accept abuse to a level that would never take place offline? I wanted people to be more mindful of what they are typing online. You never know what that person is battling on a personal level.
Your video has gone viral and resonated with girls and women everywhere. Several people I know personally have even spoken out about their own struggles with acne after being inspired by your video. Has the video achieved what you wanted it to? What's your response to the reactions it's seen?
The response to 'You Look Disgusting' has been incredible. I wanted people to watch, share and discuss using #youlookdisguting, but I had no idea it would be watched by so many people or would have the reaction it has around the world. I feel so proud to see others stand up and acknowledge this as an issue in society that needs to change.
I've received so many incredible emails, tweets and messages from both men and women all around the world that are starting to accept themselves. It is truly moving. It took me too many years to realize that true beauty is so not what you look like on the outside; It's about how you act, treat others and most importantly, how you feel inside too. That's what I hope people felt after watching the film