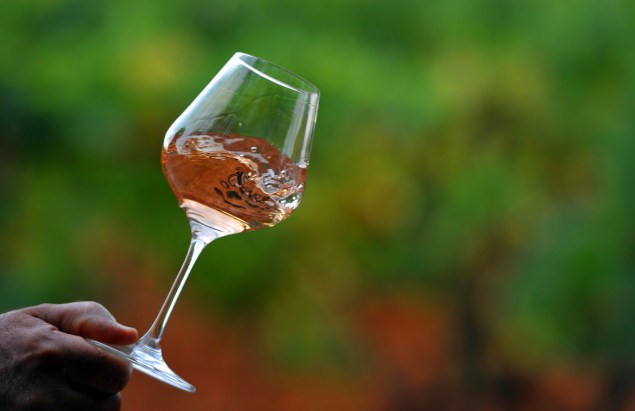 "The glass is as important as the wine itself," Aldo Sohm, wine director of Le Bernardin (15,000 bottles), told the Observer. It's 10pm at Aldo Sohm Wine Bar (200 bottles; 40 by the glass), the exquisite, casual spot he opened with chef Eric Ripert last fall. And it's lively, to say the least. Chef's here, wine bloggers and writers there, work friends and couples in between, cared for by expert staff, and –tonight only- holding glasses filled by Jean-François Ott. Yes that Ott. Jean-François is a great-grandson of Marcel Ott. He's circulating a double magnum (four bottles and a giant party in each one) of his family's 2014 Chateau Romassan Rose ($26 per glass). And everyone's in.
If you haven't been to the Hamptons lately, or are in some sort of fog, Domaines Ott* is the wildly popular, quintessential dry rosé from its de facto capital, Provence. It's light in color yet it's a serious, complex wine. You're not saving it for your children, said Mr. Ott, but this is no red wine byproduct.
"You can make an easy-drinking rosé very easily; you don't bother about the grapes. But if you want a high quality rose with the taste of the terrior, " he said, leading us through a mourvèdre, grenache, cinsault (the grapes they hand-harvest and lightly press) cultivation lesson, "it can be as high quality as a red wine."
Great-grand-père Marcel wanted to do rosé. That was 1896. They've been exporting wine to the U.S. since the late 1930's. See: you are in a fog, above. According to the Provence Wine Council rosé exports to the U.S. were up 29 percent in 2014, following a ten-year upward, double-digit trend. The U.S. consumes 13-percent of the world's rosé, nearly 20-percent of it happening in New York City.
We're not going to mention that rosé is not exclusive to summer imbibing, but we're compelled to mention you're likely drinking it wrong. Just ask any glass manufacturer. Last spring Waterford introduced a rosé glass, part of its hand-made Elegance collection. You can buy them now, $60 for two, and may be using one soon at The Knickerbocker hotel. In June Riedel unveiled its new Vinum Extreme Rosé Provence glass, designed for enhancing the flavors and aromas of rosés from the region, $69 for two. It's all about the shape, "confirmed by producers from the region and sommeliers as the best shape for Rose de Provence through Riedel's traditional sensory workshop," Maximilian Riedel, CEO and 11th generation glassmaker, told the Observer via email.
To put it simply, without regard to brand, "When drinking any wine it is always best to have a stemmed glass so your hands don't change the temperature of the wine too rapidly, changing the aromatics," Patrick Allen, a wine importer who specializes in boutique French wines, told the Observer. When it comes to full enjoyment of a rosé, he said, look for a glass with a tulip-shaped bowl and sides that taper towards the top, which helps focus the wine's aromas: the bulk of taste is rooted in aromatics. "Given the many variables in tasting a wine the basic principal of a stemmed glass with a tulip bowl is about all you really need. It is worth the small effort to have a decent glass so you can get the most out of the wine."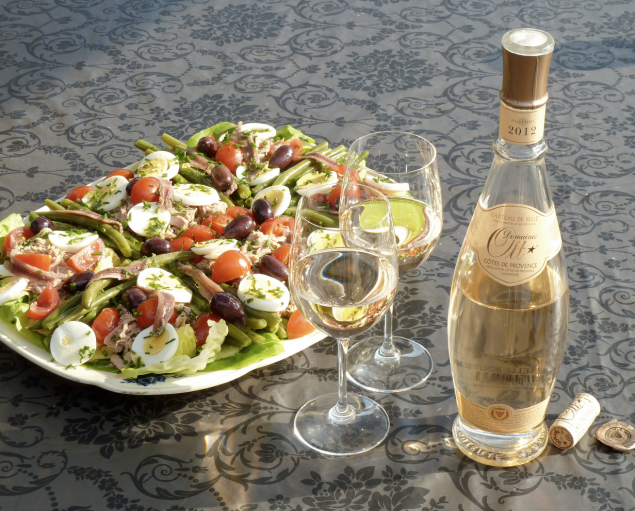 Which brings us back to the table with Mr. Sohm, who has just gently reprimanded us for sticking our nose in our glass without keeping our mouth open (to smell more). He's showing off a wood mold used to make the gorgeous, delicate yet dishwasher-friendly (he said) Zalto glassware. They're Austrian. He's Austrian (and the brand ambassador). You'll easily be seduced.
"The glass quality is very, very important because the wines show better," Mr. Sohm told the Observer. "You notice immediately why." The conversation goes from sex appeal (these glasses, about $50 each, are stunning and practically weightless) to history and sociology (Bohemian Austria as ground zero for glass manufacturing) to science to hand-blowing prowess. "Only the best people are able to blow it that thin. If you go there and try it, you'll have a nightmare. There's a talent to that."
We happened to have another glass in our bag, which we brought out to compare. All week we'd spoken to sommeliers and other wine industry folk. Had we never held or drank from a Zalto (Mr. Sohm likes the white wine glass for rosé) we'd have been content with a machine-blown alternative or the Picardie tumblers used all over France. Damn.
"If you're sitting somewhere and there's nothing else to do, why not? But if I have the option I go for the option," Mr. Sohm told the Observer.
And you don't have to be a self-proclaimed nerd, who has tasted and tested for years, to appreciate why. The season of better rosé drinking starts now.
END NOTE: Want a rosé besides Domaines Ott*? Look for Château Virgile, Costières de Nîmes Rosé 2014. "Each time I pop open a bottle I wonder why they don't charge more, said Mr. Allen. "Their Grenache dominant rose is simply delicious and serves as the perfect quaffing wine. Distinct aromas of strawberries and cherries float from the glass. The palate offers more ripe red fruits with accents of tart raspberry."
Want a killer, unique wine experience? Aldo After Dark is Mr. Sohm's nightly opening of something special, 9pm, Aldo Sohm Wine Bar, 151 West 51st Street, Manhattan.