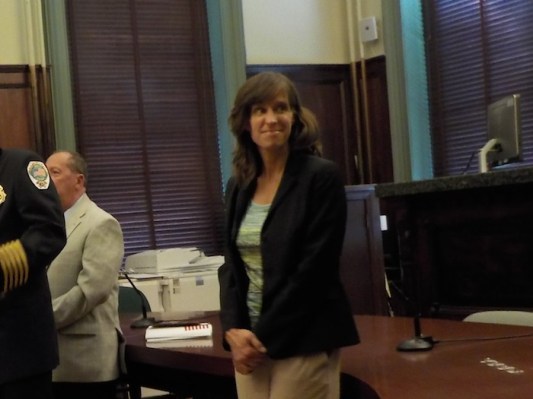 HOBOKEN – Mayor Dawn Zimmer declined to comment on the upcoming and potentially contentious Hoboken Ward races during an event at City Hall for promotions within the city's fire department.
According to Zimmer, the fire promotions event was about "celebrating the achievements of the firefighters" and not about politics.
Though Zimmer did not choose to make a statement, races in Hoboken's 4th and 6th Wards include candidates with whom Zimmer has a significant history.
In Ward 4, Ruben Ramos is looking to take the council seat from incumbent Councilman Tim Occhipinti. In 2013, Ramos and Occhipinti challenged Zimmer in a Hoboken Mayoral race. Neither succeeded in winning the position over the incumbent. According to 4th Ward challenger Dana Wefer, she has the Mayor's support in that ward.
In Ward 6, Carmelo Garcia is challenging incumbent Councilwoman Kim Giattino, a known Zimmer ally. Garcia is a former member of the Hoboken Housing Authority. He was fired, sparking him to file lawsuits against the city and against Zimmer.
At today's event, Captain Brian Crimmins was promoted to the rank of Battalion Chief and firefighter Sam Torres was promoted to Captain.
Fire Chief Anton Peskens thanked Mayor Zimmer during his remarks for her support of the fire department and dedication to making sure that there is "funding and support" for Hoboken's firefighters.
Earlier in the day Zimmer recognized members of the Hoboken Police Department at an awards ceremony at Stevens Institute of Technology.