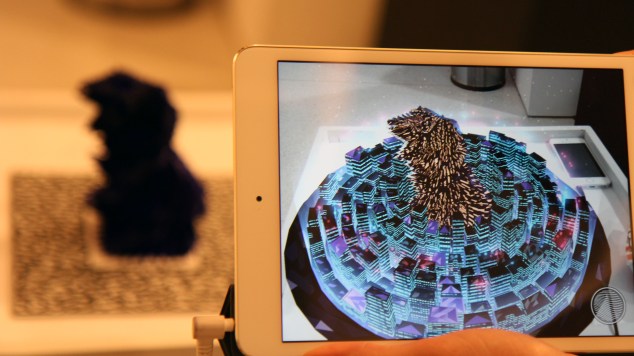 Music is hard to quantify. It's an intangible, ephemeral experience, evoking emotions and feelings set in time. We find ways to bring our music into the physical realm—be it the screen-printed, limited-edition concert posters that remind us of a special show, or the purists' vinyl, with its uncompressed sound waves and gate-fold album sleeves. Something special happens when a turntable needle locks into a groove, you forget to turn that amplifier off, and can still hear the record's music being ever-so-softly generated in real time.
But just like everything else in the physical world, such tangible representations of music don't often last. Vinyl warps, scratches and chips. Posters rip and fade. And with the ever-present onslaught of digital streaming services and low-resolution MP3s, music is fast becoming background noise, a veritable lifestyle accessory. Technology seems to be pulling music fans further and further away from the physical, tangible album of yore.
'There was always this physical artifact that brought people to a physical location to experience their favorite music,' said Allison Wood.
This is where the startup REIFY sees a new opportunity for music fans. Borne from the NEW INC. technology incubator backed by New Museum, REIFY wants to transform music into something you can "hear, see, and hold." At the core of this idea are 3D-printed "totems," tabletop-sized sculptures, designed with encoded sound and visual cues that react to specific songs. When you look at these totems through REIFY's app, they come alive, pulsating with synchronized colors and movement, a psychedelic panoply of augmented reality. Picture the iTunes visualizer crawling out of your screen and you're not even close.
"We call these 'totems' because there was always a physical artifact for us to gather around," REIFY founder Allison Wood told the Observer. "I was investigating this idea between form and meaning. What is the meaning of this object? Why is the form that way?"
"And there was always this physical artifact that brought people to a physical location to experience their favorite music."
Right now the totems are still prototypes, and have only been manufactured for a handful of artists. Among them, REIFY designed a totem for the L.A.-based industrial noise rockers HEALTH. The sculpture maps out "Dark Enough," a track off of HEALTH's first LP in six years, DEATH MAGIC, out Friday on Loma Vista Records.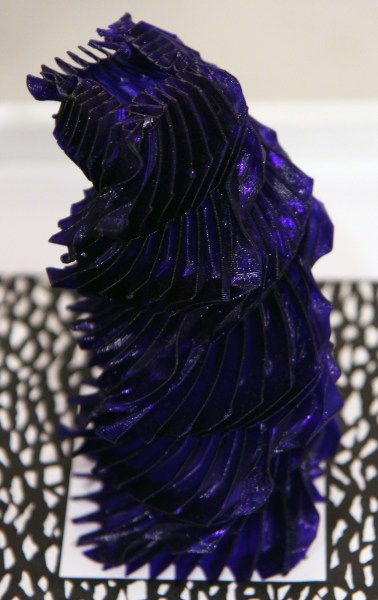 HEALTH has always toyed with the idea of the real versus the synthetic, the analog versus the digital. While the band rose in popularity after their remix of electro-goths Crystal Castles' "Crimewave" in 2007, listeners were astonished to find that a gratingly noisy, tribally percussive, adventurous band of scientists was behind the composition. Over the subsequent years HEALTH released two LPs, each with an accompanying remix album called Disco (the first remix album could only be accessed via computer,) and those remix albums were often met with more acclaim than the originals. Then, in 2012, they composed the soundtrack to the video game "Max Payne 3," which was released to much acclaim. Such is the paradox of HEALTH.
The band translates this ever-present struggle between real and manufactured noise into their live performances, and during their set at Red Bull Studio New York's preview for REIFY's totems, front-man Jake Duzsik extolled the virtues of this new technology. "It's interesting to think of the idea of re-personalizing music," he told the Observer. "Wanting to have a continuing relationship with it that's beyond it sound-tracking your daily life."
HEALTH's experimentation with form is completely in line REIFY's raison d'être—the sound totems are a logical way for HEALTH to take the artistic dichotomy underscoring their music and express it in a new dimension. "We want people to be involved in the show, we want there to be a cathartic, tangible relationship with the music being made," said Mr. Duzsik said. "It's made by people, even though it sounds mechanistic or robotic in some way."
REIFY uses technology to make something real, and similarly, HEALTH remain committed to creating mechanized sounds with real instruments and real people.
The personalization of these totems allows a band like HEALTH to communicate their artistic aesthetic through the sculptures, too. "We went back to [our album] artwork, which is almost all taken from the natural world and then vectored to be sort of simple," Mr. Duzsik said. "When you look at the total discography of the band, without having to look to see the name of the record you would know that there was a consistent and overarching aesthetic. Whether or not it's like microscopic zoomed-in wood cells or broken glass, all of it is a graphic representation of something taken from the real world."
"When we worked with Allison we came back with our artwork and figured out a way to make it work in our aesthetic—the way we envisioned presenting the band."
REIFY uses technology to make something real, and similarly, HEALTH remain committed to creating mechanized sounds with real instruments and real people. DEATH MAGIC succeeds because it embraces popular electronic music's rote sonic hallmarks—audible vocals, warm synths and, god forbid, hooks—while still keeping enough of their trademark pummeling low-end, piercing treble and drum-circle tribalism to assuage the noise kids. The track "Life" may come awfully close to EDM, but we defy you to not nod your head and tap your feet when that chorus comes in. Then, when "Salvia" plays next, HEALTH is back to business.
Though he is by no means a member of REIFY's research and development, Mr. Duzsik saw endless applications for the totems and their visualizations. "It could be a gift, an object that physically personifies that album to you, and you could be part of how you physically design how you want it to look," he said. "They can print in all kinds of different materials, too, so if it's your favorite album of all time, you can say, 'I'm going to put this in a case.' "
"I want this shit printed in bronze."