The first half of 2015, the economy added an average of 211,000 total non-farm jobs. July's data suggests we remain on a steady pace of job growth for the rest of the year.
1) Job Growth
This month the economy added 215,000 total non-farm (TNF) jobs, and we are averaging 211,000 TNF jobs/month in 2015. If this monthly pace continues, we will add 2.5 million jobs by the end of the year, behind last year's growth but still better than any other year since 2005. Last year's pace of 260,000 jobs/month played a significant factor in an improving labor market, but this year's pace, though slower, still enough to lower unemployment (albeit slowly) if the pace continues.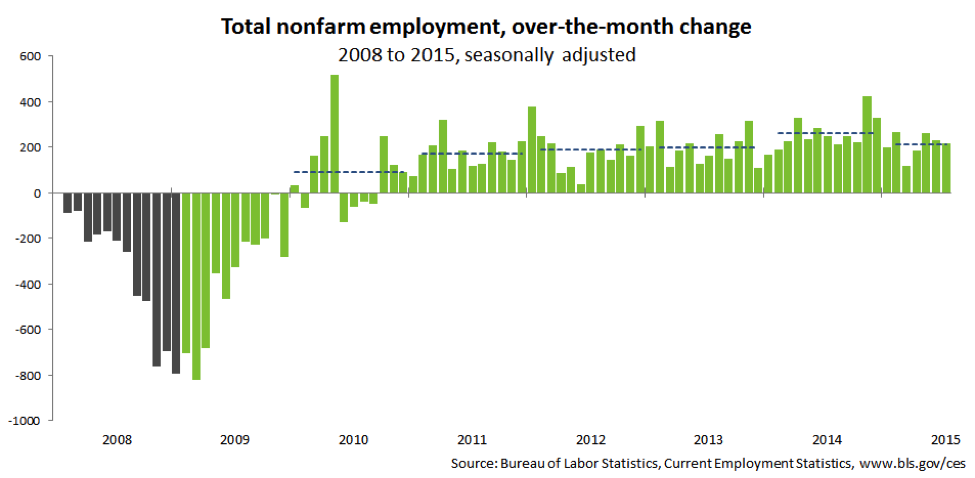 2) Industry Growth
The employment gains this month were lead by Professional and Business Services, Education and Health, and Leisure and Hospitality industries. Over the year, those industries are averaging 56,000, 48,000, and 36,000 jobs per month. Leisure and Hospitality growth is a good indicator of consumer spending, people are eating out more and going on vacations, but those jobs are not typically high paying hence we would like to see the Construction and Manufacturing jobs grow at a more robust pace. Although manufacturing appears to be on par with their growth over the year, the slowdown in Construction could be a cause for concern.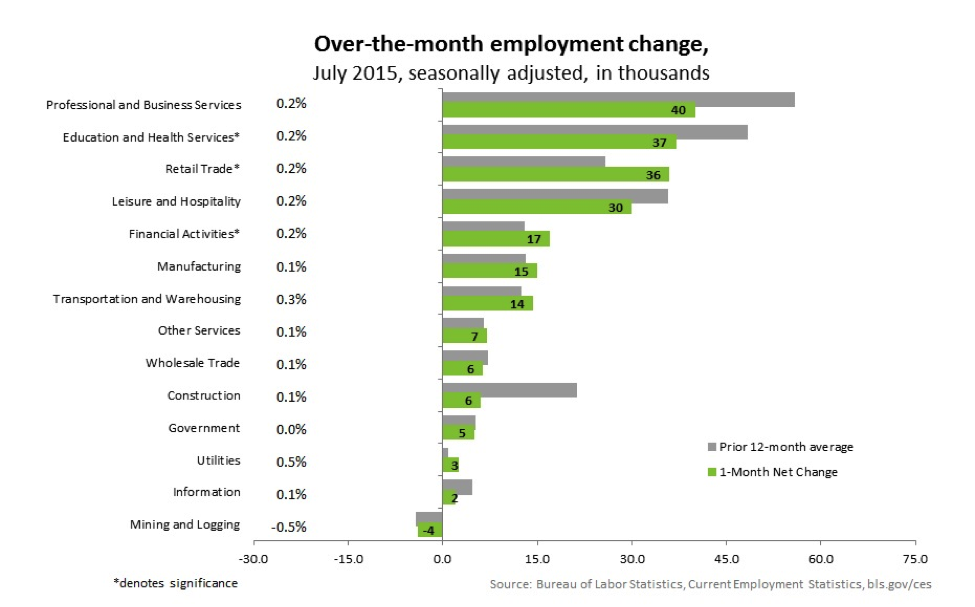 3) Unemployment Rate
Unemployment remained flat this month and remains at its lowest level since April 2008. The Congressional Budget Office projects the unemployment rate to hover around the 5.5% to 5.3% range for the next year. Although an important indicator, the Federal Reserve Chair Janet Yellen, has stated many times that the Board will look at more than just the unemployment rate to determine whether to raise interest rates.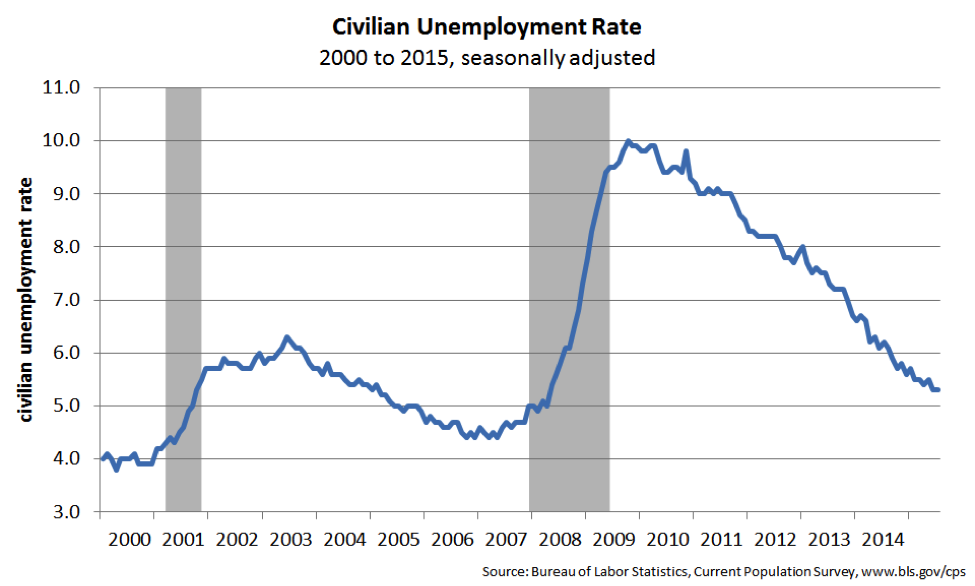 4) Men and Women and Employment to Population Ratio (EPOP)
One way to gauge the strength of the labor market is looking at the total employed as respect to the population or the EPOP. Sometimes, it's helpful to look at workers age 25-54 as a gut check of the health of the broader labor market that avoids the impact of Baby Boomers leaving the labor force as they retire. Here we are comparing EPOP's of men and women ages 25-54. It is evident that the recession had a greater effect on Men than it did Women, but Men are recovering at a faster rate. The lose of Construction and Manufacturing jobs were particularly harsh on Men during the recession, as those jobs bounce back, so does Male employment. Prime Age working women seems to have leveled off as of late. One factor we believe that could help the prospects of working women and bring more back to the labor force are increasing family friendly policies. On the heels of the major parental leave policy announcement by Netflix, we hope more companies lead the way as the U.S. remains the only developed country not to offer a paid leave policy.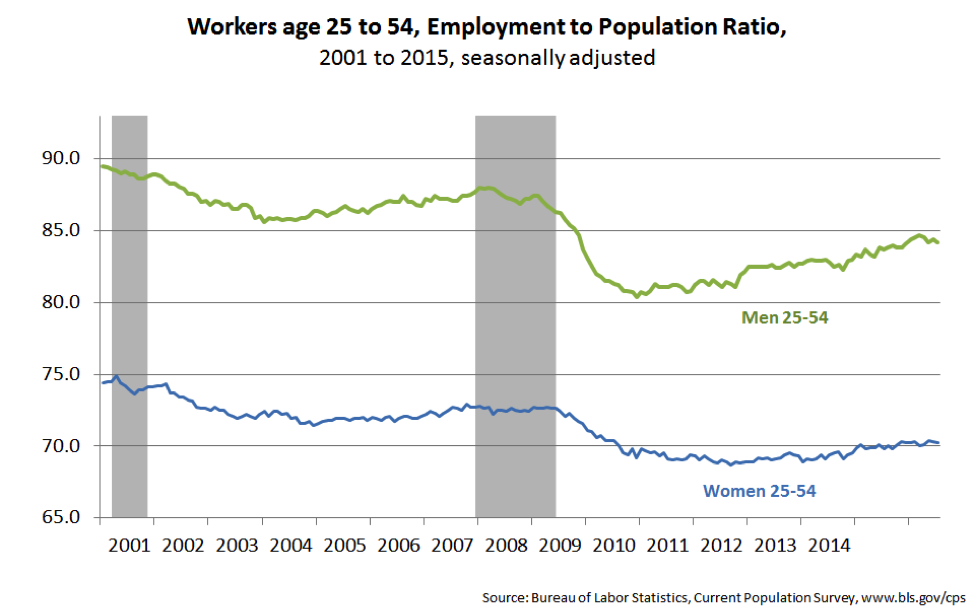 5) Part-time employment
Those employed Part-Time for Economic Reasons fell by 180,000 this month. Many people have tried to argue that part-time employment is too high. Part-time employment always increases in the immediate aftermath of a recession, and slowly part-time jobs are replaced by more full-time jobs as the recovery continues. So far in this recovery, the share of workers who are working part time is consistent with the recoveries after the recessions in 1991 and 1982. Overall since the end of the recession, the economy has added 8.8 million full-time jobs and 194,000 part-time jobs.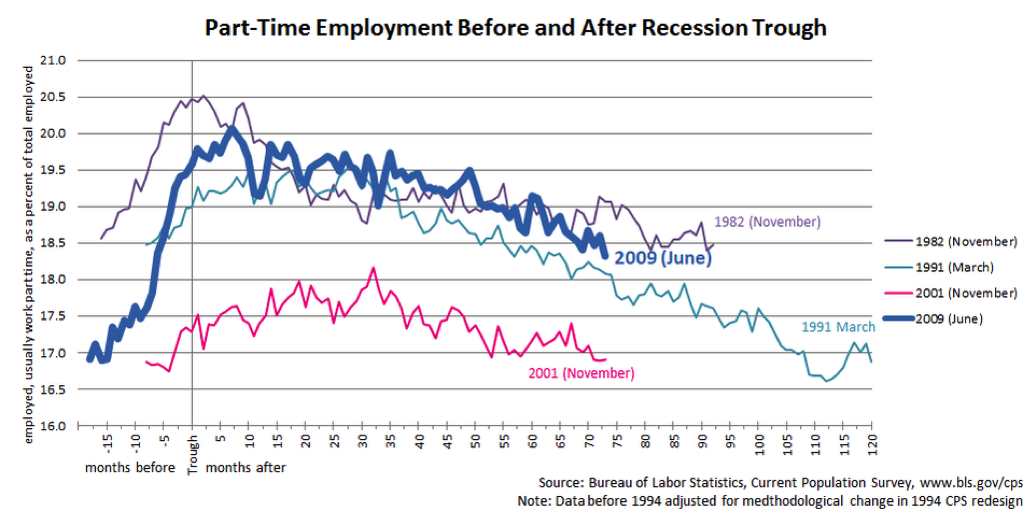 Harin J. Contractor (@harincontractor) & Charles Carson (@CharlesC1983) are former economic policy advisors to the U.S. Secretary of Labor.