German online art auctioneer Auctionata is treading into new territory with its first ever sale of Erotica next week. (Buyers beware, most of the content is likely deemed "not safe for work," so be careful scrolling the lots on offer during your lunch hour.)
Organized by independent curator Kathleen Cullen, the sale will feature over 100 artworks across a variety of media, including painting, sculpture, works on paper, photography, and even ephemera, such as a unique series of Swiss vintage erotic pocket watches.
The vastness of the sale's offerings are as wide as the genre itself—there's something for everyone. Imagery varies from playful spins on corporate advertising to intimate portraits of friends and lovers, from raunchy cartoons to an exploration of the underground BDSM scene. There are also more formal studies of the human body, depictions of ancient mythology and the down right raunchy, such as this piece, Untitled #230, Docking.
Works by Hannah Wilke, William Kentridge, Paul McCarthy, Keith Haring and Pablo Picasso are up for grabs along with pieces by Robert Mapplethorpe, Nobuyoshi Araki, Peter Saul, Betty Tompkins, and many more.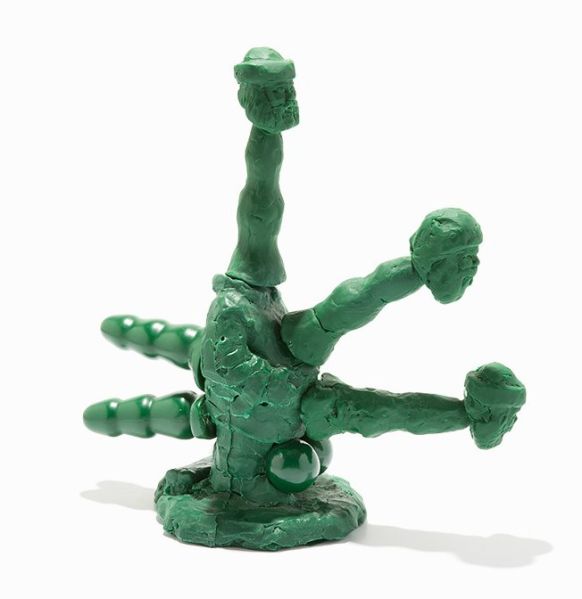 A green sculpture by Paul McCarthy, comprised of not one but five phallic, butt-plug-eque appendages, titled Santa Octopussy, leads the Erotics sale with a starting price of $30,000.
Mr. McCarthy's butt plug-themed sculptures are known the world over. In October 2014 the artist erected a 79-foot-tall inflatable green sculpture titled Tree that drew controversy for its resemblance to the sex toy (it also ultimately deflated). Nevertheless, Mr. McCarthy's butt plugs are highly coveted, and the sale includes two. His Santa with Butt Plug, a work sculptured in chocolate, is one the more affordable end of the sale's offerings, accepting bids starting at $500.
The sale also features standout pieces by Tom of Finland, a Finnish art director named Touko Laaksonen who worked McCann Erickson for many years and is best known for his playful, cartoonish homoerotic imagery. His recent survey exhibition at Soho's Artists Space has been extended through September 13, and has been a highlight of the summer gallery shows.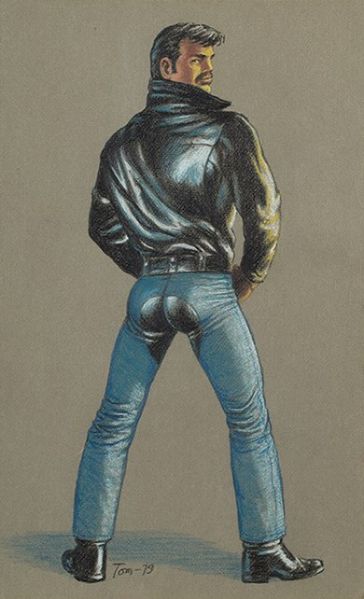 One drawing by Tom of Finland, from 1986, titled Untitled (Locker Room), depicts a locker room sex encounter prominently featuring larger-than-life body parts, and comes directly from the exhibition. Bidding begins at $8,000.
A complete X Portfolio of black and white photographs by Robert Mapplethorpe is on offer, starting at $16,000. The consignor bought the 1978 collection of photographs directly from Mapplethorpe, Ms. Cullen told the Observer.
"It's very rare to get the whole portfolio," she said. "They're so hard to come by complete."
In the same price range, starting at $18,000, is a collage by Keith Haring created as a gift for fashion photographer Herb Ritts, which incorporates sexually explicit yet romantic images of men embracing nude. It was made in 1989, after Haring was diagnosed with AIDS, and includes an inscription to Ritts.
And for all the contemporary pieces in the sale, there are older works a plenty. An etching from Pablo Picasso's last major series of graphic imagery, his "347 Series" of erotic images made between 1968 and 1969, features a full-on orgy. Ms. Cullen attributes the artist's obsession with the erotic in his later years to his known impotence.
"There wouldn't have been Picasso erotica if there had been viagra."
Auctionata's Erotica sale begins online at 12 p.m. Thursday, August 27.