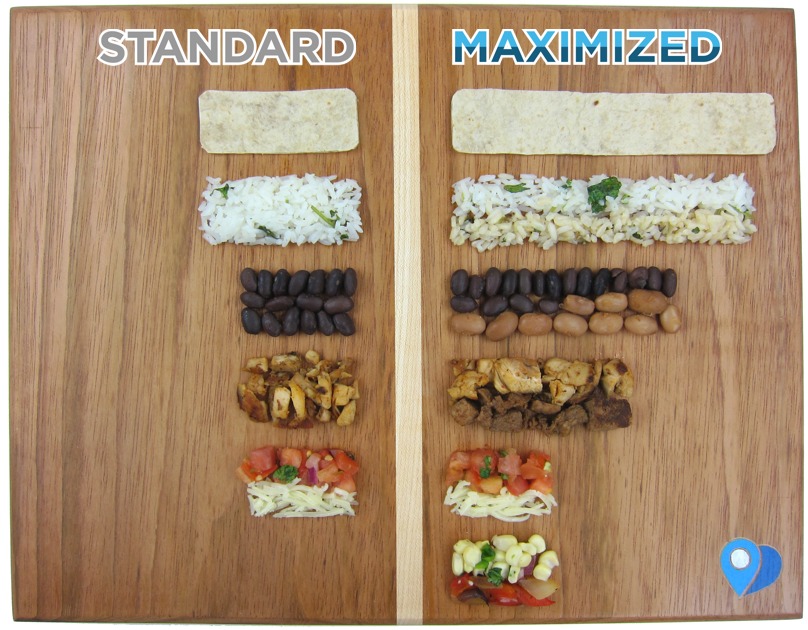 When you eat at Chipotle often (like this guy who's ordered a sofritas bowl for over 100 days straight), you start wanting to make sure you're getting the best bang for your buck. It turns out there are a few tricks burrito lovers can use to almost double the size of their meals.
One man named Dylan Grosz designed a scientific experiment to discover how to get the biggest burrito at no extra cost. His final burrito weighed almost 32 ounces—86 percent more than the original control burrito. He wrote about his experiment on Apartment List—a site that has nothing to do with food but apparently employes a lot of Chipotle lovers—and shared his results with us.
"I always tried to get more at Chipotle for the same price, but then when I started interning at Apartment List, some coworkers and I started talking about 'what if we just scientifically tested methods that we've read about or tried ourselves?'" Mr. Grosz told the Observer.
He went to Chipotle every day for two weeks to test different methods and, in total, ordered and deconstructed 35 burritos. After meticulously separating and weighing the contents of five orders each day (and providing lunch for a few friends), he was left with one huge burrito and a few hacks for getting the biggest possible burrito:
Order a bowl to get 15 percent more food than a burrito.
You can order two tortillas on the side for free. Use them to roll your XL bowl into an XL burrito.
Go half and half on the meats. Ordering half chicken/half steak increases your meat allotment by 54 percent.
Ask for both types of beans to get 92 percent more beans.
Do the same for rice as well. Ordering both white and brown will get you 94 percent more rice at no extra cost.
Order fajita veggies and corn salsa. They rarely ask if you want these, but adding both will increase the size of your bowl by 15 percent. (Plus, they're delicious).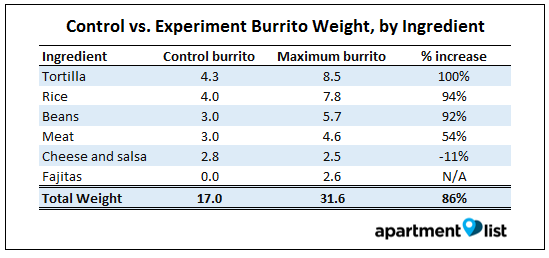 Mr. Grosz's methodology simply consisted of ordering a lot of burritos, slightly adjusting the way he ordered each ingredient, weighing the differences, developing a trick for each ingredient and then combining them all for the ultimate Chipotle hack. Sounds simple enough—maybe someone can do the same for the rest of the fast-casual assembly line eateries.