TUESDAY, SEPTEMBER 1
Opening: "Melvin Edwards: Five Decades" at the Zimmerli Art Museum
This traveling exhibition takes a looks at 50 years work of sculptures and works on papers by Melvin Edwards, the first African-American sculptor to have a solo show at the Whitney Museum of American Art. Featured are Edward's abstract, yet evocative, metal works—known as Lynch Fragments—that incorporate tools, chains, locks and axes, along with his early barbed-wire sculptures, which were shown at the artist's Whitney show in 1970.
Zimmerli Art Museum, Rutgers University, 71 Hamilton Street, New Brunswick, NJ, 10 a.m.-4:30 p.m.
WEDNESDAY, SEPTEMBER 2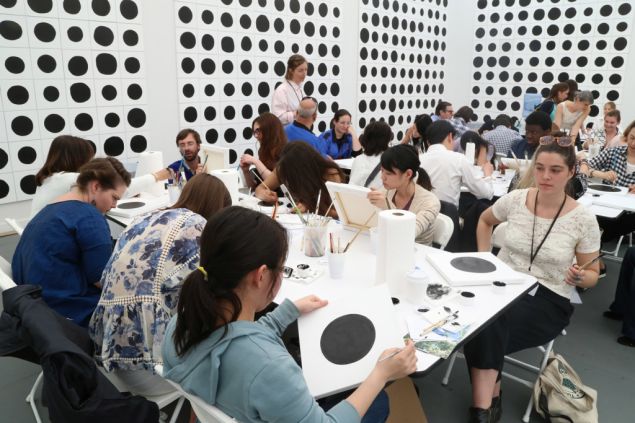 Project: "160 Dots with Jonathan Horowitz" at Swiss Institute
After staging one of the most talked about projects at Frieze New York this spring, Jonathan Horowitz has conceived a new version of his popular venture, wherein participants are paid to paint dots on canvases later mounted by his gallery. In this iteration, a response to Swiss conceptual artist Niele Toroni's 50-foot painting with 160 evenly spaced individual brushstrokes, on view at the Swiss Institute, participants will be instructed to paint 160 similar dots on a bolt of fabric. Then, "through a discussion on the sale of the resultant work, participants and Horowitz will decide together upon the disbursement of its proceeds," according to a press release.
Swiss Institute, 18 Wooster Street, New York, 7 p.m., RSVP requested
Opening: "Charles Swedlund: Buy Photographs – Not Gold! and Other Works, 1970 – 1975" at Higher Pictures
A photo-conceptualist who studied with legendary photographers Harry Callahan and Aaron Siskind at Chicago's Institute of Design, Charles Swedlund made photo-objects, toys and games that incorporated his playful imagery. Works in the exhibition include 1973's Pyro (Burn) Matchbook, a book of matches with instructions inside to burn the photo on the cover, and '73's Photographic Gumball Machine, a coin-operated device that dispenses wooden gumballs with different parts of a nude figure.
Higher Pictures, 980 Madison Avenue, New York, 6-8 p.m.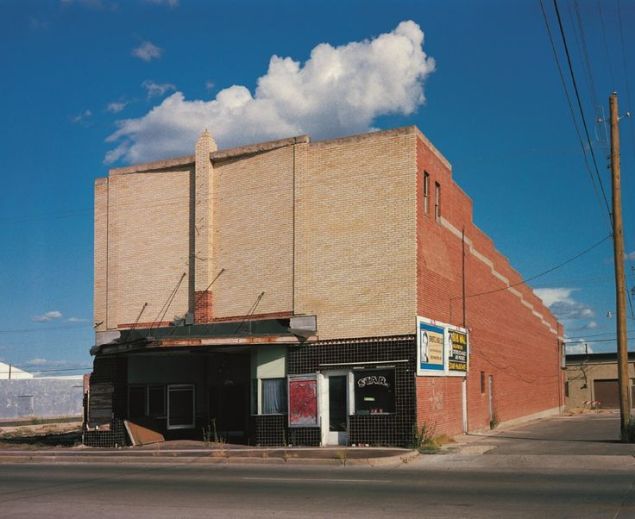 Screening and Book Signing: "Wim Wenders" at IFC Center
As part of the retrospective "Wim Wenders: Portraits Along the Road," IFC screens the director's 2008 film Palermo Shooting, about a photographer who journeys from Dusseldorf to Palermo in search of a new life but instead finds trouble. The film stars Andreas Frege (also known as Campino and the lead vocalist of German punk band Die Toten Hosen) as well as Dennis Hopper and features cameos by Lou Reed and Milla Jovovich. Join Mr. Wenders afterward for a Q&A and a signing for his enchanting new book of road photography, Written in the West, Revisited.
IFC Center, 323 Sixth Avenue, New York, 7:20 p.m., $14
THURSDAY, SEPTEMBER 3
Talk: "First Look: Brushes" at the New Museum
In conjunction with the online exhibition "Brushes," part of Rhizome and the New Museum's series "First Look: New Art Online," artists Laura Brothers and Andrej Ujhazy as well as art historian Alex Bacon discuss the process of digital painting for online circulation. The panel looks at the formal and social possibilities related to the screen-based display of this exciting new medium and how it differs from conventional gallery distribution.
New Museum, 235 Bowery, New York, 7 p.m, $8
Opening: "Eric Meola: Storm Chaser: New Photographs" at Bernarducci Meisel Gallery
For his first solo show with the gallery, photographer Eric Meola exhibits large-scale color prints of tornadoes, storms and supercells in the Great Plains. Traveling up to 500 miles a day with a group of storm chasers, Mr. Meola captured the dramatic beauty of this deadly force of nature. Dark clouds swirl above wheat fields, dirt roads and tranquil herds of cattle in his dynamic pictures, while lightening and rainbows illuminate others.
Bernarducci Meisel Gallery, 37 West 57 Street, New York, 5-7 p.m.
Opening: "Eduardo Paolozzi: Horizon Of Expectations" at Clearing
Rarely exhibited in New York, British surrealist Eduardo Paolozzi's work was a precursor to the Pop Art movement of the 1960s. Working after World War II with found materials, Mr. Paolozzi made whimsical collages and sculptures from cobbled together print elements from magazines and books and objects from the junkyard. The gallery exhibits two of his Pop portfolios—Z.E.E.P. (Zero Energy Experimental Pile), from 1969, and Calcium Night Light, from 1974-76—along with three cast-aluminum sculptures from the 1970s.
Clearing, 396 Johnson Avenue, Brooklyn, 6-9 p.m.
Screening: "Bomb Film Night: Josh & Benny Safdie's Daddy Longlegs" at Roulette
As part of "Bomb Film Night," Bomb magazine's quarterly evening of cinema and conversation, performance and events space Roulette screens Josh & Benny Safdie's 2009 feature film Daddy Longlegs. The independent film follows a Manhattan movie projectionist and divorced father's annual two weeks with his young sons, where he must decide whether he wants to be their irresponsible friend or adult role model. Stick around for a Q&A with the filmmakers and drinks after the screening.
Roulette, 509 Atlantic Avenue, Brooklyn, 7 p.m., $5 advance, $10 at the door