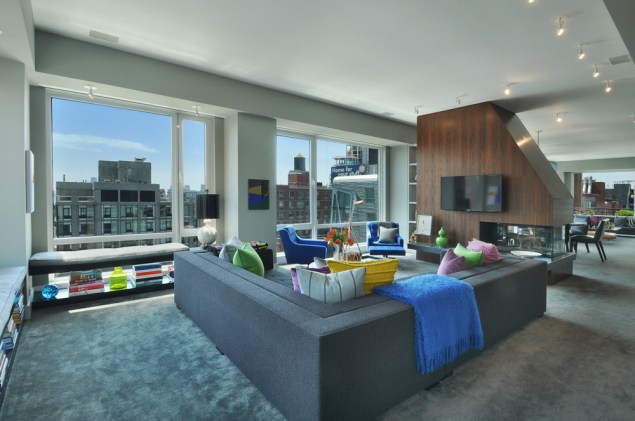 In summer's humid heat, there would seem to be little appealing about a wood-burning fireplace, extensive carpeting and fabric walls. But to our surprise, we found ourselves entirely charmed by the interiors of Penthouse 4 at 231 10th Avenue.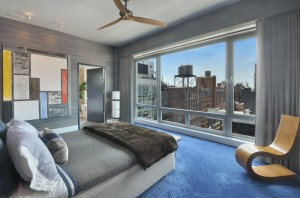 It helped, of course, that the apartment's central air was blasting away, and the abundant textiles offered a pleasant counter-balance to the 60-foot expanse of windows providing city and river views to the south and west, and overlooking "one of the few sections of the High Line that has grass," according to Corcoran broker Greg Stephen, who has the $8.35 million listing.
The two-bedroom, 2.5-bath "was made for entertaining," Mr. Stephen opined. There are, for example, black cork floors in the kitchen for maximum comfort during cooking marathons. And a sliding wooden partition shuts off the kitchen from guests if said cooking marathons are not followed by cleaning marathons.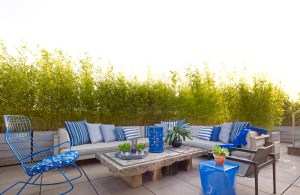 The three outdoor spaces are equally welcoming, with a total of 1,500 square feet spread out over the lower level's two terraces and as well as an expansive rooftop spread, with separate areas for cooking, eating, sitting by the outdoor fire pit, or lounging, post-hot tub. And lest one dread chlorine on the chaise: there's even an outdoor shower.
"I don't want to get too risqué, but this is like a bed. You could get out of the hot tub, shower off and lie down," Mr. Stephen said, lifting the chaise's protective cover up. He admitted, though, that buyers of more modest persuasion may find that the rising crop of nearby West Chelsea penthouses calls for a swimsuit.