What does Anna Wintour do in her spare time, when she finally gets a break from editing Vogue, attending fashion shows and sporting a tough-to-read facial expression behind a pair of large, dark sunglasses? She attends tennis matches, of course (where she continues to tough-to-read facial expressions behind a pair of large, dark sunglasses).
Nearly as much so as Serena Williams or Rafael Nadal, Ms. Wintour has long been a fixture at tennis tournaments and other tennis-related events. But do not think Ms. Wintour leaves her style at the entrance to Arthur Ashe Stadium; even in the stands of the U.S. Open, the fashion icon is as impeccably dressed as she is in a Fashion Week front row. For those in need of fashion inspiration for the upcoming Open—or for those curious to see what Ms. Wintour looks like when she's cheering excitedly at a sporting match—here is a decade's-worth of Ms. Wintour's tennis tournament attire.
Ms. Wintour made a rare sunglass-less appearance at the quarterfinals of the 2005 U.S. Open. On what looks to have been a somewhat chilly day, she wore a mint green cardigan, buttoned at the neck.
Here is Ms. Wintour at the USTA Serves' OPENing Gala at the 2008 U.S. Open, in a belted turquoise dress. The sunglasses are back.
Ms. Wintour supplied a refreshing pop of color next to her monochromatically-dressed companions at the 2009 U.S. Open, actors Stuart Townsend and Charlize Theron. In contrast to their grey-and-black get-ups, Ms. Wintour sported a red cardigan over white dress with a red aquatic-inspired print.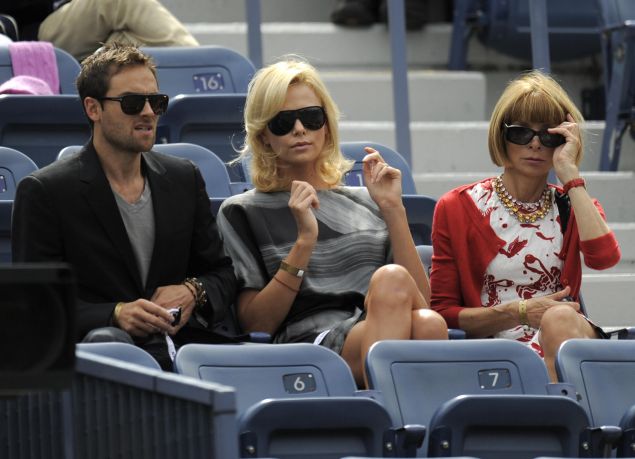 Attending another match at the 2009 U.S. Open, Ms. Wintour traded in the whimsical look for this nubby tweed dress with cap sleeves.
Attending the Opening Ceremonies for the 2010 U.S. Open, Ms. Wintour paired a sleeveless pleated dress with open-toed white heels.
Later on, attending a match on day 10 of the tournament, she wore a black-and-white jacket with epaulets and a chunky metal necklace.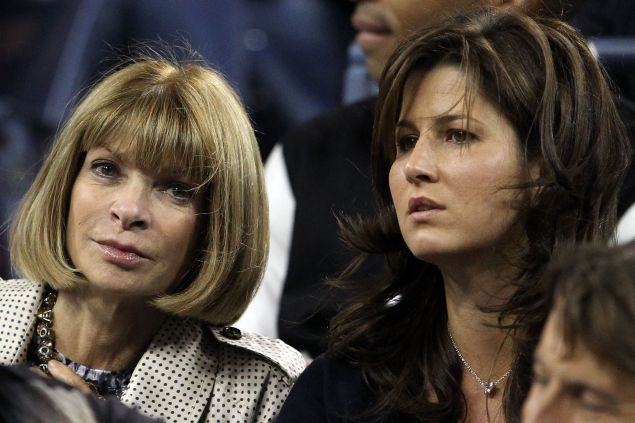 Ms. Wintour was all over the 2012 U.S. Open. On Day 10, she wore a diamond-printed blazer, accessorized with a brown leather wristwatch. But perhaps the most notable element of this U.S. Open look is Ms. Wintour's gleeful expression and enthusiastic cheering, including an aggressive clapping motion.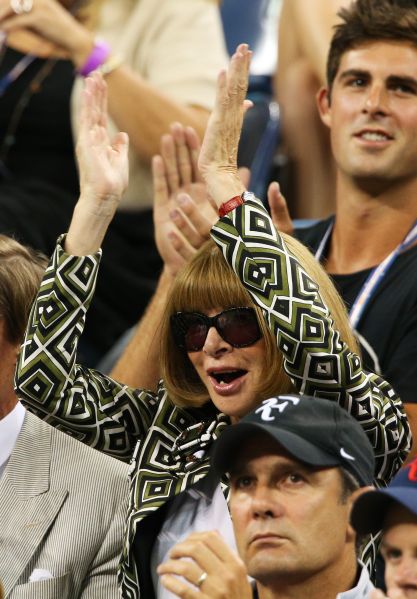 So much for the joyful cheering of three days ago. Here Ms. Wintour is in a black and white dress with cap sleeves (and her hands clasped in her lap, as opposed to raised over her head).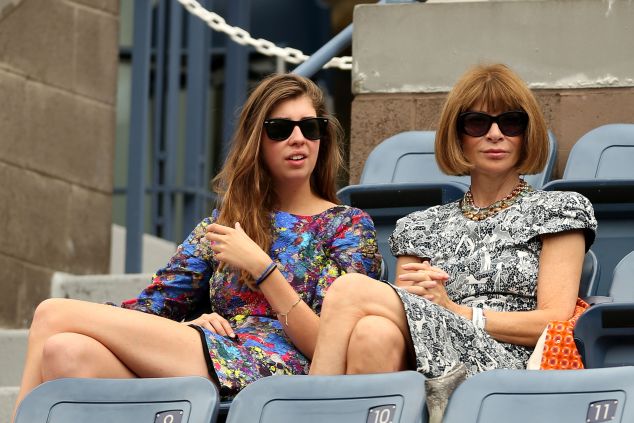 Ms. Wintour wore another black and white dress the next day, this time paired with a bubblegum pink cardigan.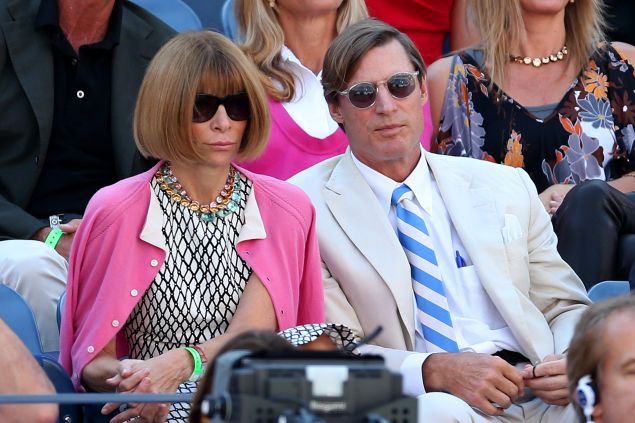 Skipping forward to 2014, Ms. Wintour kicked off the U.S. Open by looking pensive in a vibrant red short-sleeved dress.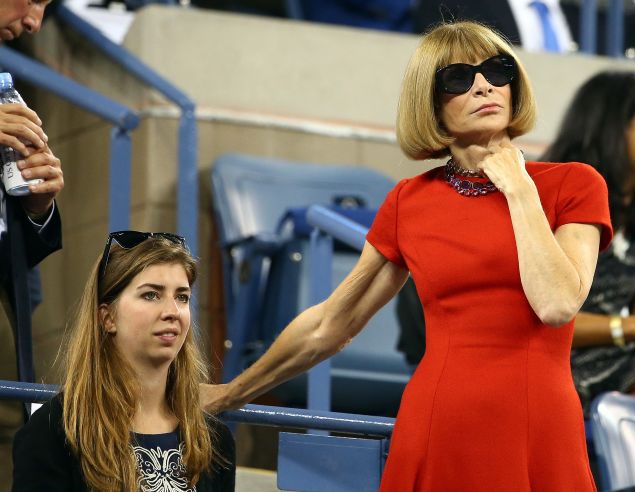 The bright colors kept coming for Ms. Wintour, who wore a blue and white floral print for Day 14 of the 2014 Open.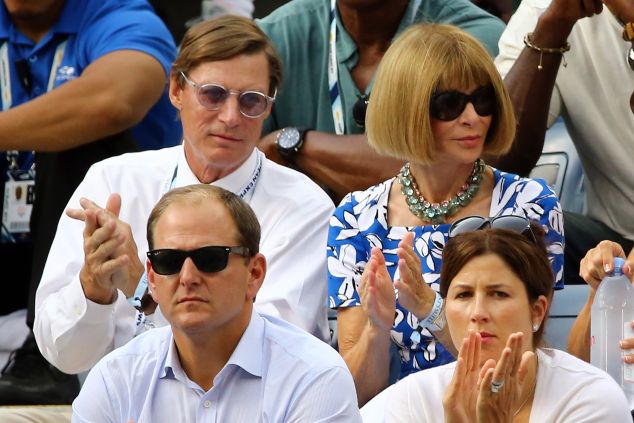 Earlier this year, Ms. Wintour headed across the pond to attend Wimbledon, of course. On Day 13 of the London tennis tournament, she wore a fun floral print dress that was not exactly echoed in her expression.
Ms. Wintour stuck to the same color scheme on Day 13 of the tournament, this time coupling a bright red cardigan with a black and white dress.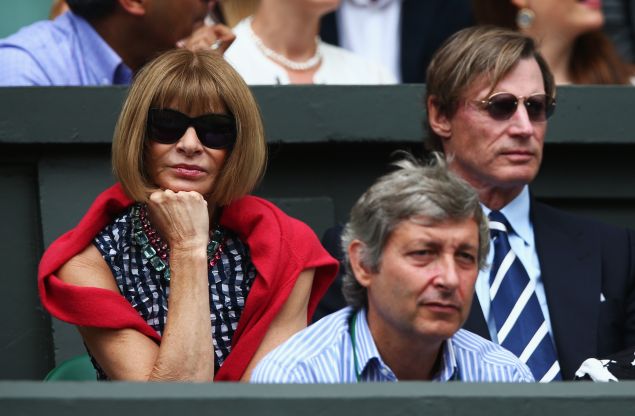 Those who are not pre-occupied with watching Mr. Nadal play tennis with nearly-nude supermodels can surely keep their eyes peeled for Ms. Wintour at this year's U.S. Open. Anyone who spots her, however, should be sure not to make eye contact.