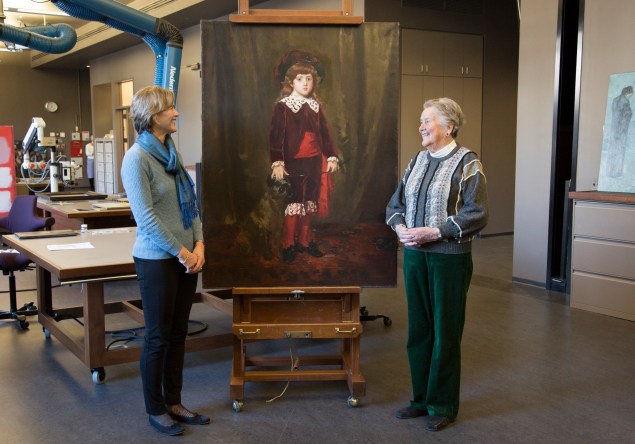 The National Gallery of Art is beefing up its Impressionism holdings with a very special family heirloom, gifted to the museum by the great-grandniece of the American Impressionist painter Mary Cassatt.
The painting, a portrait of Col. Edward Buchanan Cassatt as a child, titled Eddy Cassatt, has been in the possession of Julie Thayer Vehr and Cassatt's extended family since it was painted in 1875. Now, after a year of negotiations, and many years hanging in Ms. Vehr's dining room, The Washington Post reports that the portrait of her grandfather (who she refers to as "Grandpa") has joined the museum's already rich holdings of works by Cassatt.
The picture depicts the painter's nephew wearing a red velvet suit and sash, which Ms. Vehr described to The Washington Post as his "Little Lord Fauntleroy" suit, accompanied by his dog. It also features an inscription from Cassatt to her young nephew that reads, "To Eddy From Mary."
The NGA's associate curator of French paintings, Kimberly A. Jones, told the Observer that the acquisition puts the museum's collection of Cassatt paintings at an "even dozen," but is especially significant when compared with a later work by the artist already in the collection—her first known Impressionist work—titled Little Girl in a Blue Armchair (1878).
"What is wonderful about this painting is that is our only family portrait, and our only male portrait, by her," Ms. Jones said.
"In 1860s and '70s, she was finding her real direction and voice and was primarily working in large scale formal portraiture," she said. "This is one of the largest easel canvasses she's ever produced, and it is believed she did this to show off her skill in that technique."
Cassatt is best known for her imagery of women, as well depicting the bond between mothers and their children.
Eddy Cassatt was put up for auction once, in 1983, but went unsold after another Cassatt portrait went for $1 million. Ms. Jones explained that talks to acquire the painting came shortly after Ms. Vehr viewed the museum's 2014 exhibition "Degas/Cassatt."
Ms. Jones told the Observer that the painting had been removed from its original frame to a larger one while it hung in the dining room, but the original was recovered in a barn on family's farm.
The frame is currently being restored, and the museum plans to rehang the painting in the original frame, alongside Little Girl in a Blue Armchair and Young Girl at a Window (ca. 1883-1884), which was acquired from the Corcoran Gallery of Art, sometime in early fall.