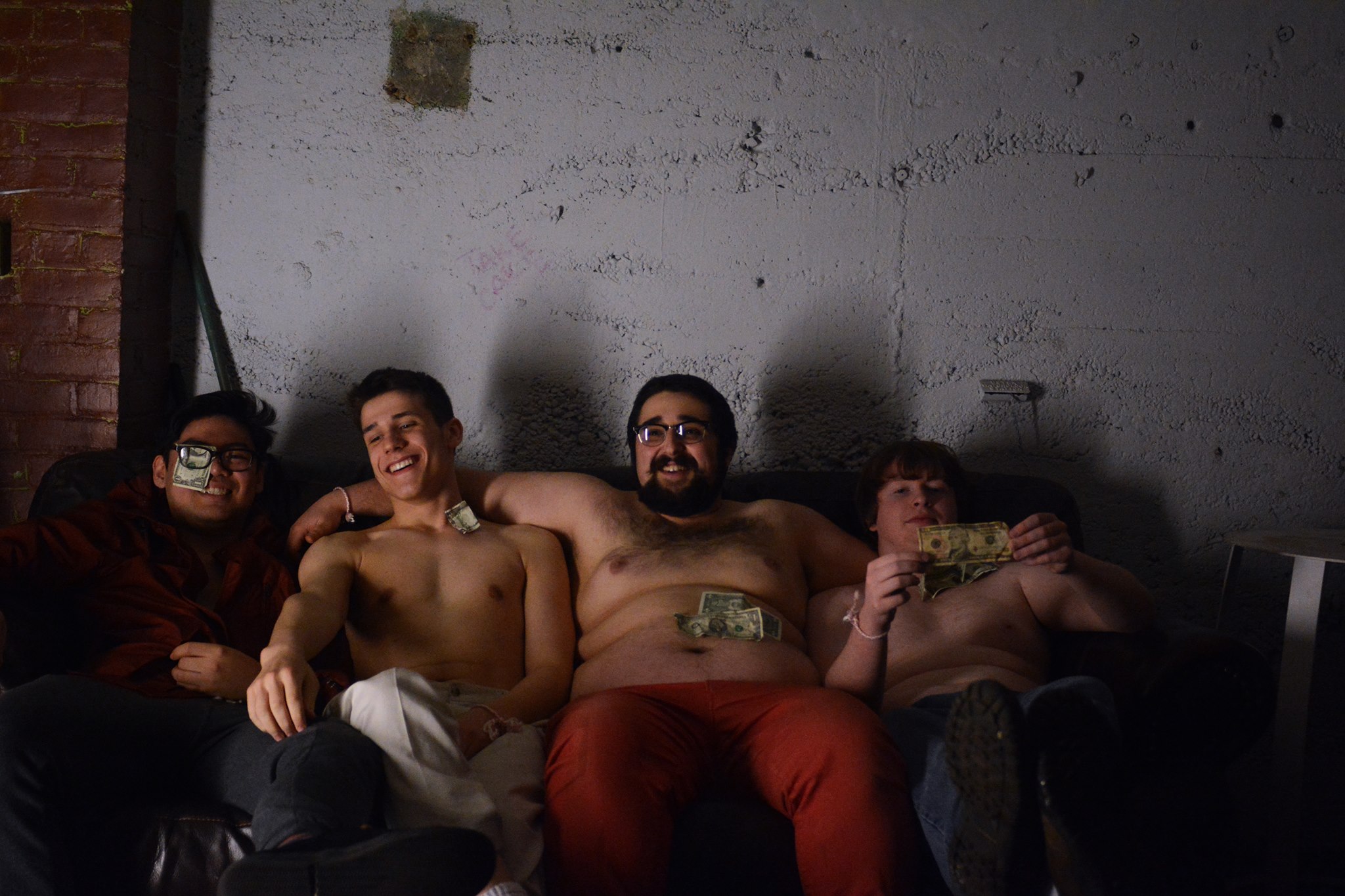 "I would say it didn't get serious until December 19, 2013, actually," said Tim Erbach. "Not sure why I can remember that, but I basically stopped going to school that day and we went to the Coach House and planned everything out on a paper place setting."
'All our friends and the entire New Brunswick scene and community really helped us out and we are eternally grateful.'
That Erbach's memory of the day he and friend Marcel Rudin started brainstorming Mulberry Sound Recordings takes place at Union City eatery Coach House is perhaps not quite fate, but the meeting couldn't have happened in a more fitting location for the New Jersey-based record label, in a diner that's a predominate waypoint on long tours and road trips, their plans mapped out on one of those rectangular paper place mats.
While Mulberry would grow over the next two years into a flourishing DIY label with a diverse roster of local artists, the initial concept for the label served another purpose. "We were already playing in a bunch of different groups when we were in high school, and I remember approaching Tim with the idea of what was originally going to be a compilation of all our bands and friends' bands before we all went to college," said Rudin. "The comp never happened, but we both figured it'd be best to consolidate the bands we were all in and have a central spot for people to check everything out."
[bandcamp width=100% height=120 album=1961387771 size=large bgcol=ffffff linkcol=0687f5 tracklist=false artwork=small]
Much more bountiful than a single compilation, Mulberry's catalogue offers a multitude of ensembles, ranging from soloists to giant studio projects. Erbach recorded his entirely solo effort The Grass Flawless; Everything Flawless last year under the moniker Din Strange Dresses, an album of spacious folk in the vein of Feels-era Animal Collective. When I first met Erbach, back in May 2014, he was in his basement studio fine-tuning the authentic country, roots rock-imbued Delta '88 Band. Their single "Air Conditioning, Alcohol" features Erbach and 14 other players, including Rudin on drums and backing vocals.
[bandcamp width=100% height=120 album=2666416068 size=large bgcol=ffffff linkcol=0687f5 tracklist=false artwork=small]
Mulberry also includes bands with more traditional set-ups, one eminent act being Rudin's quartet Morus Alba, which had recorded material before Mulberry came about (their first release was the 2012 EP Adultnescent). With Morus Alba, Rudin is at his busiest and most productive: "We have an album completely recorded, just needs to be mixed and mastered, we have an EP almost completely recorded and I've been writing songs for another album." Their latest is "Skyscraper," from that almost-completed album. The song is sunlit, airy indie with complex qualities like tempo shifts and gnarly guitar solos.
[bandcamp width=100% height=120 track=4263669842 size=large bgcol=ffffff linkcol=0687f5 tracklist=false artwork=small]
Another prominent Mulberry band, Perennial Reel, for whom Erbach is the bassist, is currently finishing its sophomore LP, following their 2013 debut full-length Silver Plane Crucifix. The trio's Americana and psych influences often suffuse long jams like the intimate, colossal seven-minute track "Explosions," off of Silver Plane.
[bandcamp width=100% height=120 album=3759160097 size=large bgcol=ffffff linkcol=0687f5 tracklist=false artwork=small track=2693569953]
In May, Morus Alba and Perennial Reel headlined the Sound of Spring Festival, curated by Erbach and Rudin, the New Jersey DIY equivalent of SXSW: three days-worth of basement shows at different homes around New Brunswick, with gigs stretching throughout each day. The Sound of Spring lineup featured many Mulberry artists, but it also included non-label acts whom Erbach and Rudin have become acquainted with and invariably revered.
"Tim and I have been performing for a little while now in our respective groups and along our travels we've met so many amazing groups and artists in and around New Jersey," Rudin told the Observer. "Groups like Lake Effect, Eagle Daddy, Professor Caveman and Turnip King are all great friends of ours. We've also met so many great groups playing in New Brunswick that some of the choices for performers came easily to us. Some of the other bands we admired greatly, like Forth Wanderers, and [we] wanted to take the shot of having these people we admire play at our tiny festival."
Although Rudin and Erbach struggled while organizing the festival ("We had a couple hiccups here and there with some landlord issues at some of the houses and some last-minute band cancellations," said Rudin, "both of which were pretty much out of our own hands"), the two's knack for organizing shows benefited the festival exponentially. This stemmed from the days of Lincoln Continental—a prosperous DIY venue run by Erbach, Rudin, Evan Dibbs and their friend Adam Mathieu. The performance space was an incubator for some big N.Y. indie artists early on in their careers, such as Frankie Cosmos and Krill. "Then of course we had [Mulberry acts] Perennial Reel, Morus Alba, Rest Ashore, Diplopia, [and] Din Strange Dresses," added Erbach.
Erbach and Rudin couldn't get Cosmos or Krill on for but Sound of Spring, but the pair still pulled off a successful no-frills fest. Post-festival, along with upcoming albums from Perennial Reel and Morus Alba, the label has plenty more fun to deliver. While reflecting on Sound of Spring, Rudin also perfectly summed up the ethos of Mulberry Sound Recordings: "All our friends and the entire New Brunswick scene and community really helped us out and we are eternally grateful. For us there's nowhere else to go but up. We're taking what we've learned this time and tweaking and expanding for the next big event we're working on."
[bandcamp width=100% height=120 track=1755423232 size=large bgcol=ffffff linkcol=0687f5 tracklist=false artwork=small]