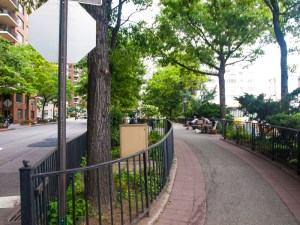 When Dieter Seelig became president less than a year ago of Sutton Area Community (SAC), a neighborhood watchdog group on and around Sutton Place, he expected to deal with such items as the placement of benches and the pruning of trees. There would be housebound elderly residents who required assistance, and the occasional aggressive panhandler to shoo. These were the sorts of tasks with which SAC presidents had mostly concerned themselves since 1976, when the group was founded. Mr. Seelig had arrived in New York from Berlin around that time and settled in a rental apartment he took over from a friend on East 52nd Street, where he remains. But since April, when word got out that the Bauhouse Group, a developer responsible for a flashy forthcoming building near the High Line, also had plans for an "ultra-luxury," Norman Foster-designed skyscraper on East 58th Street, between First Avenue and Sutton Place, he has found himself unexpectedly harried.
Hearing the news, neighborhood residents stirred themselves promptly into a tizzy of protest. Hundreds turned out to raise a fuss (and learn more about the facts) at meetings of Community Board 6—whose jurisdiction encompasses the neighborhood—SAC and the East River 50s Alliance, a group organized for the express purpose of blocking the tower. Nearly 1,000 people have signed a petition opposing construction circulated by Councilman Ben Kallos, who represents the Upper East Side.
On a recent morning, when we met Mr. Seelig at Sutton Court, the extended stay hotel on East 57th Street where he is general manager, he carried with him a worn manila folder that was beginning to lose control of its contents. "You see," said Mr. Seelig, regarding tentatively the fat sheaf of printed emails, news clippings and other miscellanea pertaining to the brouhaha, "everybody sends you something. And then you send something back. And then something is published." A tall, kindly, gray-haired figure with a mild German accent and striking blue eyes, Mr. Seelig appeared slightly overwhelmed. "When you ask about [the tower], you get a vitriolic expression from people on the street," he said. "They don't know anything about zoning. People just want to know how they can oppose it. They don't care if it's legitimate or not."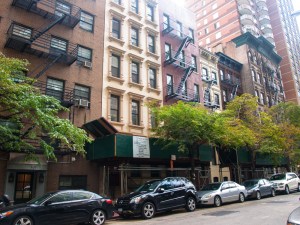 "Imposing something like this that's completely out of character, totally out of context from anything that has ever existed here—we felt that it was a devastating insult," said Lisa Mercurio, communications director for the East River 50s Alliance, who has lived in the neighborhood for 20 years. "We really couldn't even imagine how such a thing would happen, that New York City zoning laws would not provide stronger protections."
The trouble is that Bauhouse, which acquired the parcel—three mid-block lots containing 22 rental apartments, some of them rent-controlled—in January, for $32 million, seems at the moment to have a clear path to construction. Zoning in the neighborhood has been left largely unchanged since 1961, when so-called "super-scrapers" of the kind embodied by 432 Park Avenue and 157 West 57th Street figured in no one's calculations. An adjustment made in the '90s capping the height of mid-block buildings did not address the area east of First Avenue, a loophole that would appear to permit the Bauhouse condo to rise to its intended 900 feet, making it the second-tallest building on the Upper East Side, behind the 1,400-foot 432 Park.
It's not clear whether Bauhouse will sell the assemblage, which currently includes 268,000 square feet of buildable space and air rights, to another developer, or if it will hire a builder and look to shepherd the structure to completion itself. (Joseph Beninati, the founder and managing member of the Bauhouse Group, declined the Observer's request for an interview.) But as a brochure about the assemblage created by Cushman & Wakefield notes, the project is "as of right," meaning that any plans filed with the Department of Buildings do not need to go to Community Board 6 for review. Intending, no doubt, to highlight the project's economic viability, the brochure also emphasizes how much it will stand out from the rest of the neighborhood, which is, of course, precisely what has everyone so upset: "Due to numerous restrictive co-ops, historical townhouses, and parks, Sutton Place has seen virtually no new ultra-luxury residential development and will see no comparable opportunities in terms of size, scope, impact, or luxury."
'When you ask about [the tower], you get a vitriolic expression from people on the street. 'They don't know anything about zoning. People just want to know how they can oppose it. They don't care if it's legitimate or not.'—Dieter Seelig, president of Sutton Area Community
At this point, Councilman Kallos told us, the only option for the super-scraper-opposed is to try to have the zoning changed before Bauhouse gets a substantially completed foundation in the ground, an effort he's initiated. "We're using the only remedy available to us under the law," he said. "It's a classic 'race the clock' scenario."
Though the Sutton Place area, which is generally considered to run from 52nd Street to 59th Street between the east side of Second Avenue and the East River, is often regarded as a stodgy and imperturbable bastion of old money, it has actually been through as many ups and downs as other Manhattan neighborhoods. In the mid 1700s, the riverfront remained sufficiently rural that wealthy New Yorkers could defensibly call the estates they built there "country" homes. (That they could reach said homes only as fast as a horse would bear them along surely made visits seem like significant vacations.) But such bucolic spreads proved impractical for the German and Irish immigrants who manned the new coal yards and breweries established in the mid-19th century, and tenements replaced them. Originally part of Avenue A, Sutton Place got its tonier title in 1875 courtesy of Effingham B. Sutton, who'd amassed a fortune in the California Gold Rush of 1849, and who sought to revitalize the area with a development of brownstones between 57th and 58th Streets. The venture didn't take, however, and the area descended into neglect. Roving youth gangs became common—known as the Dead End Kids for their preference for the ends of neighborhood streets, areas which have since become vest-pocket parks along the river.
It was not until the 1920s, when Morgans and Vanderbilts started showing up, moving east from Fifth Avenue to reside in stately neo-Georgian townhomes on Sutton Place and Sutton Square—a fingerling that extends east from 58th Street toward the river—that the Sutton Place of current stereotype had arrived. And no building better embodies it than the famed, esteemed, occasionally resented 1 Sutton Place South, designed by Rosario Candela and erected in 1925. Home over the years to entertainers, socialites and relations of robber barons—Sigourney Weaver; Marietta Tree, granddaughter of the founder of the Groton School; Amy Phipps, daughter of Henry, who was partner to Carnegie and Frick—the co-op's grandeur and punishingly snooty board rival Park Avenue's finest. The building to some extent set the tone for the modern neighborhood, which is perhaps more densely populated by co-ops than any other segment of town, an arrangement that fosters both community and exclusivity.
In the years after 1 Sutton's construction, Candela gave his name to several other area buildings, including 14 and 30 Sutton Place South and 447 East 57th Street, all of which offer less daunting prices than their forebear, where the most modest current listing, a four-bedroom, asks nearly $10 million. But for those with adequately deep pockets, a yen for history and a desire for even greater privacy, there is also presently on the market one of the neighborhood's not-very-numerous townhouses, a 3,919-square-foot Victorian at 13 Sutton Place that once belonged to Elisabeth Marbury, asking $10.9 million. A descendant of Anne Hutchinson, co-founder of Rhode Island, Marbury was a prominent literary agent and theatrical producer who, with Elsie de Wolfe—author of 1913's The House In Good Taste, a book credited with founding the profession of interior design—made up half of what was perhaps her era's most visible lesbian couple.
Speaking in 1920 to the Evening World of a planned renovation, Marbury said, "Living rooms, dining rooms, drawing rooms and master bedrooms will be in the back, facing our delightful garden and river view," a total reorientation. "What is now the front of the houses will be devoted to service entrances, kitchens and maids' bedrooms. In this way the houses will be isolated from outside surroundings so far as owners and guests are concerned."
Rear gardens and river views (and isolation from outside surroundings) remain dear to residents living on the east side of Sutton Place, though the occasional high-priced newcomer isn't necessarily out of luck, even if it's further removed. The Sutton, a Toll Brothers condo still under construction on the west side of First Avenue, between 52nd and 53rd Streets, is about 40 percent sold, having come to market in February, David Von Spreckelsen, Toll Brothers' president, told the Observer. The Sutton's interiors will be slick, replete with the sorts of modern luxuries of a building where a studio fetches nearly $1 million. But the developer has been careful to ensure that the condo, which stands just 29 stories (the Bauhouse building is slated for 90), strives to blend into the neighborhood, eschewing steel and glass in favor of brick. "We wanted to do something that's contextual and didn't overwhelm the other buildings on that block," Mr. Von Spreckelsen said. "Theoretically, we could have done some gymnastics and stretched to be several stories taller, but we didn't think that made a lot of sense." Many early contracts, he said, have been signed by people from the neighborhood.
'[Sutton Place] really hasn't changed. It still has that enclave-y feel. I'm sure that's one of the reasons people are distressed about the enormity of the proposed tower. It does kind of feel like a part of town that has not been much encroached on.'—Frederick Peters, president of Warburg Realty
"I think one of the things that distinguishes it is that it really hasn't changed," Frederick Peters, the president of Warburg Realty, said of the area. "It still has that enclave-y feel. I'm sure that's one of the reasons people are distressed about the enormity of the proposed tower. It does kind of feel like a part of town that has not been much encroached on."
There's rarely a reason to cut through Sutton Place on the way to anywhere else, and the streets are quiet, even hushed. Leslie Axman, a broker with Douglas Elliman who is in the process of buying a co-op there, to which she'll move from her place at 68th and Second Avenue, told us that she was drawn by its peacefulness. "My heart was set on Sutton—the tranquility of it," she said. "As I get older, I find that I need more peace at the end of the day, without the barrage of noise and sirens." Ms. Mercurio, of the East River 50s Alliance, an avid runner, values the uncrowded sidewalks and the five parks, where she has often brought her dogs. Residents gush over small businesses like Simchick Meats and the Ideal Cheese Shop, on First Avenue, and lament the recent closure of Piscane Fish Market—though objections are scarce to the Whole Foods that's opened on 57th Street. The dry cleaner knows your name, people say. For $43, you can get Alaskan Black Cod at the Sutton Inn, on East 54th Street, and Morso, on East 59th, does farro, raw artichoke and fava bean salads, $16 each.
Of course, this all makes it easy to roll one's eyes at residents' NIMBYism, the more so that they have—at least in part—assumed a populist stance. "This development is the equivalent of a safety deposit box in the sky," Ms. Mercurio told us. "This is not intended for people who really want to live in and contribute to the existing community." Councilman Kallos indicated much the same, albeit with greater gusto: "It's a bright and shining example of everything that's going wrong with our city planning," he said, likening the building to 432 Park, "a symbol of our growing income inequality."
To cast the citizens of Sutton Place as primary victims of New York's exorbitant cost of living is certainly too much. (It was, after all, from Sutton Placers in finance and real estate, which are not in short supply, that Mr. Kallos first heard about the Bauhouse tower.) But it's true that the neighborhood has become less prohibitive since the heights of the '20s. In Ms. Axman's estimation, it never regained its footing with Park and Fifth Avenues after the bankruptcy scare of the late 1970s, though she can't quite say why. Now, it offers discounts of perhaps 20 or 25 percent versus comparable homes in Carnegie Hill. The late '50s and '60s saw the area's last spate of development, adding co-ops including 25 and 45 Sutton Place South. Mr. Peters told us that today such buildings draw empty nesters from Westchester and other parts of Long Island, who are attracted by bargain prices, and proximity to the Queensboro Bridge and Grand Central Station. "I remember telling one couple that with the money they'd save buying here, versus on Park, they could hire themselves a chauffeur," Mr. Peters said, chuckling.
Ellen Farrell and her husband, who works in finance in Midtown, have been looking since January for a two-bedroom pied-à-terre, focusing, on the recommendation of their broker, Linda Maloney of Stribling, on Sutton Place. "We've lived in Rockville Centre for almost 30 years," Ms. Farrell said. "Until six months ago, [Sutton Place] was not a neighborhood I was familiar with. But you do get a little bit more for your money, and it's attractive to us because it's kind of a quiet little enclave." The Farrells have children living in Tribeca and in Murray Hill, and a third child who intends to move to New York upon graduating from college. Walking to the nearest subways, on Third and Lexington Avenues, can be a pain in inclement weather. But Ms. Farrell looks forward to the completion of the Second Avenue subway.
Ms. Axman pointed out, though, that in the meantime, technology has given us more than the means to build towers that thrust 900 feet into the air. Like Uber, for example.
CORRECTION: A previously published version of this article incorrectly stated that Nathanael West, the author of "The Day of the Locust," was once the manager of Sutton Court, an extended-stay hotel on East 57th Street. In fact, West was the first manager of the Sutton Hotel, on East 56th Street, which is today known as AKA: Sutton Place. The Observer regrets the error.