"Morning Moty et. al…Daughter coming for lunch. Better start thinking about what to feed her. "
"Hi Mel! Weather still cool and variable; not good enough to sit outside—and it's still August!…"
This chit chat is just the beginning of the friendly morning banter a few old friends engage in each morning over coffee. They discuss their grandchildren, their boats, their weekend trips—and the answers to the day's crossword puzzle.
The pals know each other only virtually and communicate solely through the comment section of The Guardian's daily crossword puzzles. They've gotten to know the day to day of each others' lives—all through their love for word puzzles. It seems they've developed the type of friendships my grandmother has with the servers and other regulars at the diner where she's been grabbing breakfast for 15 years, making it clear the puzzles have transformed into a virtual hangout of sorts, complete with like-minded individuals, friendly conversation and some entertainment on the side.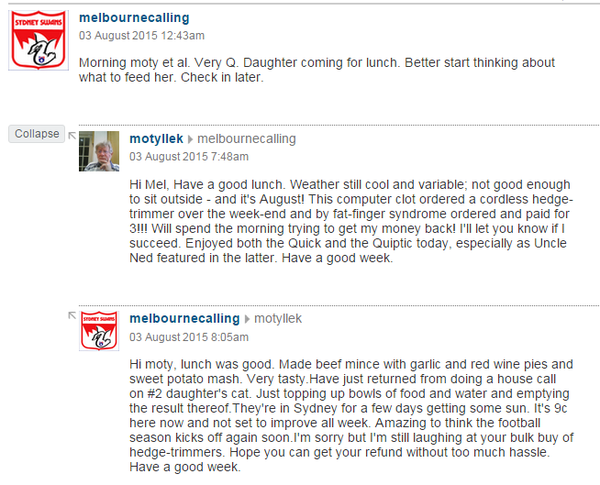 The Guardian crossword club seems to have some history, but it came to light recently when a screenshot of some of the morning banter made its way to Twitter. Word of the community's "exposure" has since made its way back to the comment section, where some regulars are overjoyed and hoping for good publicity and new members.
"Having started as usual with the comments, I haven't even got to the crossword due to the excitement of our exposure in Twitter, "a user named Spanishcot commented this morning, adding, "I'm not an old man, I'm an extremely glamorous woman d'un certain âge."
Others, however, became worried their morning hangout would be overrun with rubberneckers from Twitter. It hasn't happened, and the crossword beginner (envgen) claiming responsibility for the tweet jumped in this morning to sincerely apologize:
I'm a crossword beginner, I've been doing the quiptics for a few months, during which time I'd noticed the community of regular commenters. It was quite remarkable to discover such a friendly community in an unusual place, especially when other social networks are notorious for their narcissism and negativity. I posted a screenshot to Twitter, which I mostly use to keep in touch with friends, so I only expected one, two, maybe three people would see it and be heartened by the existence of such a community.
It turns out, Twitter users were touched by the friendly online community that appears free of the negativity and focus on "likes" that we see on other social networks. Over the past two days, the tweet has seen more than 5,000 RTs.
We're sure these regular commenters aren't just the cute old men we're envisioning, and most of them surely want to go about their clues and conversations without being swooned over. They might not understand the reaction, but that's because they've clearly found online socialization that is nothing but friendly and actually mirrors "real-life" conversation. Most of us spend our time on social media hate-reading half the Facebook statuses on our newsfeeds, passive aggressively "liking" posts and debating if we should unfollow people on Instagram because we are tired of their narcissistic selfies.
And we don't dare read the comments. With the exception of The Guardian's crossword comments, the comment sections are the most hellish depths of the Internet.
I myself even tweeted the following once: