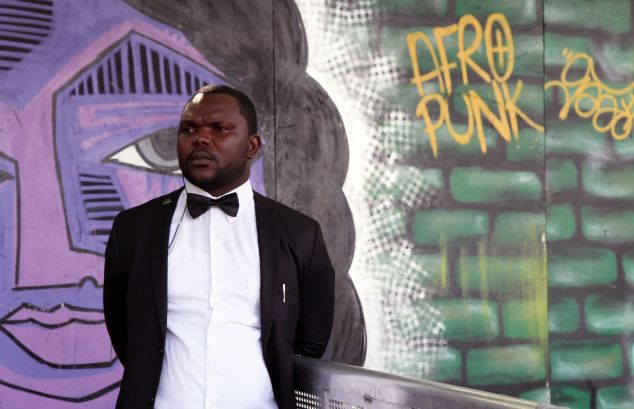 It's no secret music festivals are rarely about the music anymore. Never mind the artists—the big news at this year's Coachella was Justin Bieber getting forced out by security. Back in New York, Björk poured her heart out at Governor's Ball in a set described by many as criminally unattended, while concertgoers reclined in the grass, blowing bubbles. How can any set, let alone a set by an artist of her caliber be "criminally unattended" at festivals with 55,000 in attendance? If such ornamental music fans are really just people-watching, can't they just keep doing it at the fucking mall? Is such music culture, packaged and sold as lifestyles by purported journalists, ultimately just becoming brand PR?
Afropunk 2015, held in Brooklyn's Commodore Barry Park, had the potential to change such disengagement from the music. Espousing a mission of bringing together groups of all races, genders and sexual orientations, 30,000 attendees made the 11th annual festival's first year charging for tickets a success. The organizers seemed genuinely invested in creating a sense of inclusiveness, acceptance and appreciation—an engagement­­­­­ between audiences and artists who share their values.
Fans who couldn't pay were given tickets after completing a few hours of community service for a pre-vetted cause on the festival's list, which was pretty cool. The "Activism Row" collection of tents, tucked in a corner, were a seeming declaration that the festival's organizers were genuinely interested in engaging and educating the community about the work of social justice nonprofits. Large banners even flanked the sides of the main stage that read, "NO SEXISM, NO RACISM, NO ABLEISM, NO AGEISM, NO HOMOPHOBIA, NO FATOPHOBIA, NO TRANSPHOBIA, NO HATEFULNESS." All maxims to live by, for sure.
Afropunk's politics felt cloyingly insincere, focusing primarily on fashion and the hipness of having a social conscience in order to assuage brand awareness.
Those affirmations are also printed on T-shirts at the merch stations, and have become part of the Afropunk brand, which has expanded beyond the titular documentary and Brooklyn festivals to include festivals in Atlanta and Paris, too. On paper, these towering stage-side affirmations, Activism Row and grassroots viral marketing behind a sign-waving "#standforsomething" campaign portrayed an Afropunk that had a socially-responsible pulse. But in Brooklyn that weekend, such facets of the festival felt cloyingly insincere, focusing primarily on fashion and the hipness of having a social conscience in order to assuage brand awareness.
Let's start with that hashtag viral marketing thing. Right before California thrash legends Suicidal Tendencies took the stage, a small group of transgender activists came on, waving signs with #standforsomething largely printed and shouting "Trans Lives Matter!" They said they were hijacking Afropunk, bringing a message of the media's failure to actively cover acts of hatred and violence against the trans community that was not only heard loud and clear, but also embraced by the audience. There was something subversive and righteous about the scene, when a seemingly grassroots organization had managed to find a microphone in front of thousands. But as it turns out, their campaign wasn't actually "hijacking" anything. It was a stunt, planned all along and sponsored by Dr. Martens shoes.
Does that matter? Well, if the campaign's intention was enacting some real dialogue about transgender rights, or increasing awareness about the specific issues of violence and inequality that affect the community, than of course it doesn't matter. This stunt, however, was ultimately a marketing tool for a brand of shitkicker boots with deep roots in the skinhead scene, a brand trying desperately to reinforce the image that their brand still stands for something. The very idea of #standforsomething as an all-inclusive platform for turning values into a trending tag is self-defeating—in such general all-inclusiveness, the saliency of any single movement's ideas for protest is lost, the various causes instead blended together in a sort of ideological merger. Which is to say, there was no #translivesmatter hashtag on those signs. Dr. Marten's logo was nowhere on the signs, either—as if they knew that staging a faux protest/takeover was a bad look.
But let's get to the music.
We only found out that Dr. Martens was behind the #standforsomething campaign when their press team sent us an unsolicited email with photos to run, proudly boasting the brand's "dedication to empowering the pride and passion of free-thinking individuals that stand out from the crowd and stand for what they believe in." Do you buy it? Would the #blacklivesmatter movement ever be given the same platform to speak at Afropunk, were there no money changing hands? Punk's not dead, but it is severely injured, and might be hemorrhaging internally.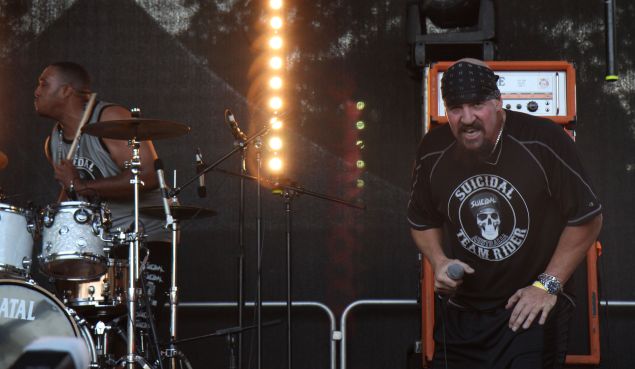 Suicidal Tendencies brought a genuine "dedication to those who stand out from the crowd," a palpable, old-school energy to the stage after those Dr. Martens protesters took over. Since 1983's eponymous album, the band has been fusing hardcore punk with thrash and metal, intent on breaking down the institutionalized barriers of authority. The Observer banged heads along with the sweaty throngs, only deciding to abstain from the giant circle-mosh instigated by singer Mike Muir for fear of damaging our camera.
Even though Mr. Muir is the sole original member, the band still plays with a genuinely empowering, pummeling energy. Songs off that first self-titled record got the best response, like "Two Sided Politics," which finds Muir singing, "Fascist state, no freedom/ Unless you control yourself/ Use self expression, lose your freedom/You're undesirable, you go straight to jail." The song brought to mind the surveillance-state paranoia embedded in the words of Death Grips, who took to that stage later and also brought with them a pressing urgency to question the normative structures of society.
Twice Mr. Muir invited members of the crowd onstage to mosh, proclaiming, "This is your moment!" Watching kids from so many different races and creeds moshing together with huge smiles across their faces, listening to music inherently intense but nonviolent, was a much more positive image of black culture than either the evening news or the festival's sponsors were hip to portray.
The whole idea of curating sponsors based on ideology seems messy in general, but when your festival purports to be about bridging community ethics and values, that kind of thinking matters. So let the fact Coors beer sponsored Afropunk this year sink in for a moment.
If you didn't know Coors was an official sponsor beforehand, as this writer did not, the woman making introductions between acts on the main stage would surely remind you (she would also continuously remind us that she was wearing Dr. Martens.) After the second or third "Coors!", this writer made a note of their heavy sponsor presence. Something seemed off.
Some light research reveals the Coors Brewing Company's backward efforts to repress the rights of Black America. A suit filed by a former employee through the Colorado Civil Rights Commission in 1972 amidst claims that their hiring practices were discriminatory cited claims like William Coors' open opposition to the Civil Rights Act of 1964 as proof of the company's bigotry, and Coors successfully appealed. In 1975 the federal Equal Employment Opportunity Commission then charged Coors with discriminatory hiring practices, suing the company before the case finally settled out of court.
After the second or third "Coors!", this writer made a note of their heavy sponsor presence. Something seemed off.
Two foundations established by Coors family members, The Heritage Foundation and The Adolph Coors Foundation, further show anti-minority track records that not only stain both organizations to this day, but the Coors Brewing Company by association.
The Heritage Foundation is a Washington think tank co-founded by Joseph Coors, grandson of brewery founder Adolph Coors, in 1973. It too has a history of supporting discriminatory agendas, the most publicized being in 2013, when the foundation published an "Immigration Study," which claimed Immigration reform would cost a whopping $6.4 trillion. Troubled by the legitimacy of this report, a Washington Post reporter looked into its author Jason Richwine, and found the graduate doctorate thesis he wrote at Harvard in 2009.
In that thesis, Richwine wrote: "The average IQ of immigrants in the United States is substantially lower than that of the white native population, and the difference is likely to persist over several generations. The consequences are a lack of socioeconomic assimilation among low-IQ immigrant groups, more underclass behavior, less social trust, and an increase in the proportion of unskilled workers in the American labor market." Later in 2013, after that scandal, Heritage member Brian Brown said at a "Values Voter Summit" that gay marriage goes against "the very meaning of what it means to be a human being."
Meanwhile, The Adolph Coors foundation was started two years after the Heritage Foundation, in 1975, by Adolph Coors, Jr. It focuses on statewide programs in Colorado to accompany his son's Washington-based think-tank, and it largely funds that think-tank, too. The foundation states it's goals are to "enhance understanding of the free-enterprise system" and "uphold traditional family values." Could those possibly be coded mission statements?
We're really not sure, but it's sure as hell not afro and not punk.
Coors has since been noticeably stepping up its PR outreach to minority communities, including Hispanic, LGBT and black organizations, in efforts that many have stated are directly contradictory to their Washington track record. Could their sponsoring of Afropunk fit into such attempts at image rebranding?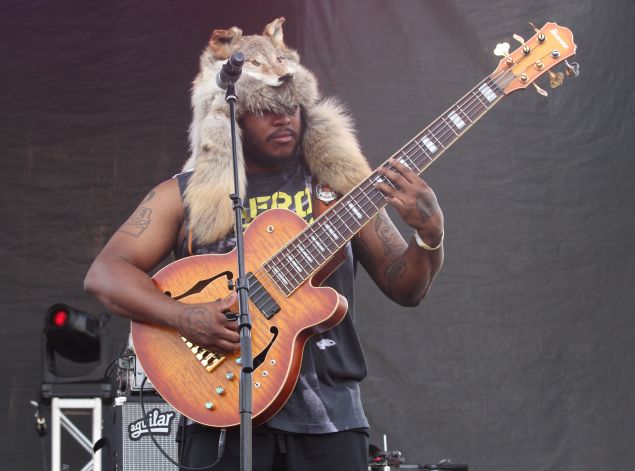 If this piece has become too much about the ideologies behind brand sponsors, well, such histories feel worth discussing openly. But back to the music—bass-guitar virtuoso Stephen Bruner, better known as Thundercat, was truly as cool as the Rocky Mountains on day two. Mixing free jazz, fusion, funk and soul to transcendently heady effect, Thundercat's thick bass leads and frequent sonic freak-outs into celestial realms of jazz sound like George Clinton's mothership travelling through Sun Ra's spherical vision of the cosmos. Working with the aforementioned Suicidal Tendencies, Erykah Badu, Kendrick Lamar, and likeminded Brainfeeder founder Flying Lotus, Thundercat carves out a unique and storied reputation as avant-garde torchbearer to a litany of Afrofuturist musical genres.
Highlights were many, like Thundercat's new single "Them Changes," a bouncy groove suggesting that his upcoming songs will hone an even funkier focus than they used to, which hopefully also features his incredibly talented live drummer Justin Brown. Meanwhile, Thundercat's rendition of "Complexion (A Zulu Love)" off Kendrick Lamar's epic To Pimp a Butterfly, reminded us just whose bass is heard slapping on Mr. Lamar's album, and by stripping the tune down to focus on the bass-line that drives it, Thundercat's version put the song's lyrics front and center. When he sang, "Complexion don't mean a thing/ Complexion, it all feels the same," it didn't matter that he was straddled with an unfair 30-minute afternoon slot. Though his set was brief, it was no less poignant. Those lyrics alone said more than all the buffet activists ever could.
One can only imagine what good could come if Afropunk used its tremendous influence as cultural tastemakers to make sure all of the festival's finances are in line with the values it espouses­­.
You have to wonder where the priorities of Afropunk promoters lie, though, when Thundercat played a 30-minute set while Ms. Lauryn Hill, who is consistently late for performances, was given an hour and a half time-slot (not even headliners Grace Jones or Lenny Kravitz got that long.) She may of showed up 40 minutes late for that set, but at least she didn't play her latest 2013 single "Neurotic Society (Compulsory Mix)," which features the lyrics "Quick scams and drag queens, real life's been blasphemed," and "Pseudo sicko anxieties, serial criminals dressed in variety, Social transvestism, Subliminal dressed up as piety." She might have looked hypocritical, then, standing between two banners that read "NO HOMOPHOBIA."
Of course, any intrepid searcher for truth knows that correlation does not equal causality. Even though the Coors Brewing Company has a pretty long history of anti civil-rights accusations levied against them, even though Dr. Martens staged a fake "takeover" at a festival they themselves helped sponsor, even though the Black Lives Matter movement was conspicuously not present at the park last weekend—none of this means that Afropunk's organizers had any ulterior motives. Putting on a concert for 30,000 people does cost money, after all.
But one can only imagine what good could come if Afropunk used its tremendous influence as cultural tastemakers to make sure all of the festival's finances in line with the values it espouses­­. May the "Afropunk Global Initiative"  transparently list and be mindful those it partners with, especially as it claims, "Our vision is to push forward in these areas to produce dynamic gains that shift collective thought from a place of bias and biased policy making, to a landscape that fosters inclusionary practices celebrating a robust, gifted and diverse sector of humanity."
Perhaps then the Utopian harmony it fostered between people of different races, genders, ages and sexual orientations will legitimately exist, as more than just a brand.