After a summer filled with reports that Tompkins Square Park could be backsliding into an increase in crime and homelessness, one part of the park is bouncing back.
After being closed for nearly the entire summer, renovations on Tompkins Square Park's basketball courts are nearing completion. The courts' facelift—sponsored by YouTube, the New York City Department of Parks and Recreation, and BeCore NYC (the production company hired to oversee the renovation)—cost an estimated $300,000 and is expected to reopen today.
The renovation, which was announced during a free outdoor basketball and fitness event in the park in early May, far outlasted its initial timeline. YouTube representatives, local city officials, and members of Dude Perfect (a popular YouTube channel with over 5 million subscribers that is the public face of the renovation) initially promised the construction would be complete in late June. Now, several weeks after the expected completion date, the courts and surrounding area is set to reopen this week.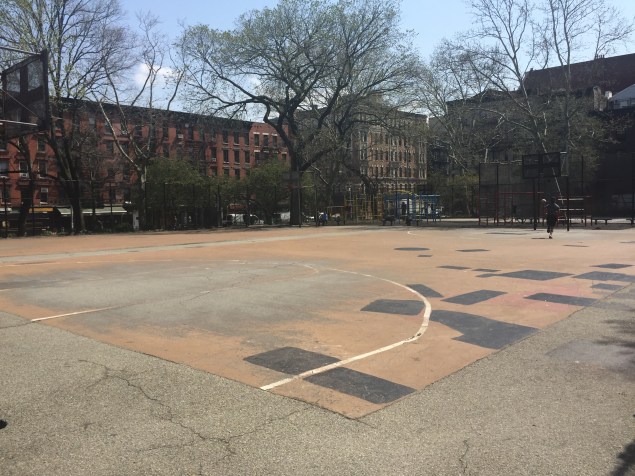 "Initially, in conversations with the contractor, we thought this would be done much faster," said Stephanie Zellhoefer, BeCore NYC's business director. Because it was such a fast and furious start to the job, the anticipated timeline has grown by about four weeks due to the fact that it's the busiest season of the year for the parks to be refurbished. A lot of it has to do with the weather." The park's upgrade includes the renovation of two basketball courts (including fresh asphalt, repainted court lines, and replaced backboards and rims) and two additional half-courts in the back.
Though neither has an official connection to the neighborhood, Tompkins Square Park was selected as the site for YouTube and Dude Perfect's community engagement effort after the much-needed renovation was brought to their attention by the city's parks department, Ms. Zellhoefer said.
Online, some of the park's East Village neighbors have expressed skepticism about the project's corporate sponsorship. "For the most part, the community was afraid that with the funding coming from someone outside of the city that there may have been some sort of long term arrangement for some sort of park branding or rights to the park," noted Ms. Zellhoefer. "But it really is just a community give back that was an opportunity,"