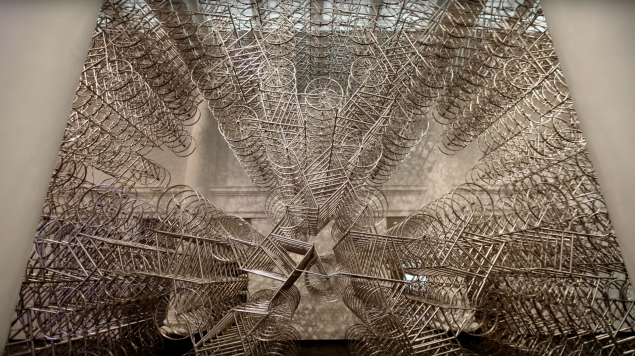 A towering sculpture made of stainless steel bicycles is headed for London's iconic Gherkin building. The installation is the newest iteration of Chinese artist and political dissident Ai Weiwei's ongoing sculpture series Forever. 
The works are created using stacked bicycle frames, and named for the ubiquitous bike brand that has been mass-produced in Shanghai since 1940. Mr. Ai has done similar installations at the Brooklyn Museum, the Venice Architecture Biennale in 2014, and Toronto's Scotiabank Nuit Blanche annual art night, among other locations, since beginning the project in 2003.
"These are mostly objects that relate to my small world," said Mr. Ai in a statement. "For example, the Forever bicycles were a brand from when I was growing up. In our village there were no real roads and we always had to ride bikes to carry things."
The Gherkin building installation is the latest project to be launched by London's Sculpture in the City initiative. Every summer, the program mounts new contemporary artworks for the public within the Square Mile Business District.
This year, 13 artworks have been installed by 13 notable artists such as Damien Hirst and Folkert de Jong. Mr. Ai's Forever bicycles will coincide with the artist's much anticipated exhibition at the Royal Academy of Arts, opening September 19.