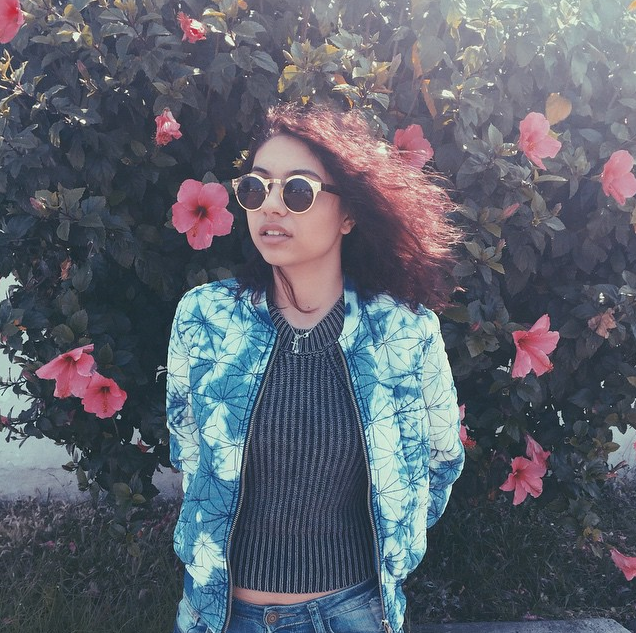 An otherwise quiet 19-year-old from Ontario, Canada, Alessia Cara didn't know what hit her when "Here," a song she recorded after feeling alienated at a party, suddenly went viral earlier this year. An ode to the outcasts, "Here" is now regarded as one of the best songs of the year so far, making Alessia music's latest break-out star. Alessia spoke to the Observer about the track that launched her career, from the party that inspired the song to what it's like navigating her newfound fame.
Alessia! You're a break-out sensation, how does it feel?
Oh yeah, it's really cool! I don't actually see the people actually talking about me, so it's crazy when I see people and they say they know about me and have heard of me. It's really hard to understand, I don't realize what's really happening.
Let's talk about "Here." People are saying it's the best song of the year so far. The interesting thing is, if most teenagers sat down to write a song, it'd probably be about how dope and cool they felt at a party. But "Here" is not about that.
Not at all.
[youtube https://www.youtube.com/watch?v=UKp2CrfmVfw&w=560&h=315]
I know it's based on an actual party, so can you take me through the real party and your creative process after that?
Well, I went to this basement party that was at my friend's house. I thought it'd be cool to go, since there were other parties that I'd gone to and were fine. This one, though, was the most uncomfortable thing I ever experienced. It was so awkward for me; it was not my scene. I didn't know how to talk to people, everyone was sweating and drinking and there was music playing that I never listen to. It just so happened I had a studio session the next day, and we typically start off by talking about what we want to write about that day and I just couldn't stop thinking about that party. I was telling everyone there about it and how much I hated it, so we decided to write about it and it turned into a song. That's kind of how it started.
That's absolutely incredible, you flipping this awkward situation around into something amazing. When a lot of people write or talk about you, they refer to you as an outsider. I was wondering if you consider yourself an outsider, and whether you think that's a good or bad thing?
I don't necessarily think I'm an outsider. In that situation I definitely was. You could have definitely saw that I was a loner and alienated in the corner. So at those types of parties or social situations when I don't know how to act, I am an outsider. But in real life, I don't think I'm an outsider, except that maybe I'm quieter or a little more awkward in social situations.
[youtube https://www.youtube.com/watch?v=zU-2vudvTSA&w=560&h=315]
A lot of people have been comparing you to Lorde in that both of you broke out in a big way rather quickly, and the subject matter of each of your debut songs, "Here" and "Royals," are similar. I was wondering if you were ever inspired by her and if you're a fan?
Well, first off all, I'm a huge fan of Lorde. I love her. She's such a huge artist and the fact that people are comparing me to her is a huge compliment. But when we made "Here," I didn't really try to make a controversial song or a huge statement—I really didn't. As much as I would love to say that this was intentional, I really just wanted to rant about what I was feeling. I didn't even know anyone was going to hear it, so I didn't even try to make a song like "Royals" and hope that it'd become huge, because I didn't think other people really related to what I was saying. It wasn't until after the release that I realized other people felt the same way. Initially, I wanted to make a song about it because that's how I was feeling and that's how it was. I didn't try to do this; it was a happy accident.
The other interesting part of all of this is that I understand that there was some opposition about releasing "Here" as your debut single. Other people wanted you to release a different song, but you stuck to your guns and released "Here." Why were you so set on "Here" and not another song?
You know, I think as a new artist it's really hard to pick that first song. The first song is like a first impression; it's the one track that will define you. There was a couple other songs thrown around, but I think "Here" kind of got lost in the whole thing because it was one of the older tracks, so it didn't really stick out to a lot of people. My gut was telling me to go with that one—not that the other songs weren't good, but for people's first impressions, I wanted it to be different. So I went to my label with my team and when we explained it, a lot of them agreed that this is the one to go with. So we thought to release it just online and not push it as a single, and it got to where it is on it's own. We didn't do anything. We didn't have to market like crazy, we didn't go to radio, it all just started coming to us. It was something that traveled completely on its own and the people kind of pushed and made it what it was. We threw it out there because we felt like it could be something, and I mean, it worked.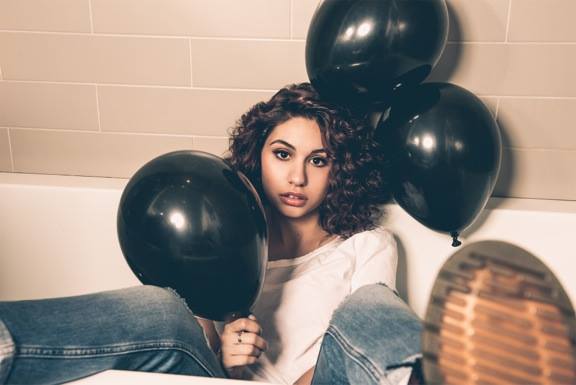 Hell yeah, it worked. A lot of people consider you an overnight success, but in reality you've been posting on YouTube for a long time. I'm wondering what made you keep up with that?
I really don't know what it was. I really liked performing covers and my own renditions of songs, so I'd just post videos and didn't really have a huge following. As I went on, more and more people started watching and people just liked it. I was doing it just because. The last thing you think about is that you'll get discovered and signed to a label from that. I didn't think that would happen at all.
What has been the coolest moment of all of this so far? Is there one thing that jumps out at you?
Overall it's insane. I didn't think this would happen to me, especially that it's happening so fast. Everyday there's something new. Even the fact I'm doing interviews and talking to you, and people care what I have to say about my opinions and thoughts. That alone is really cool, that people are taking the time to get to know me. It's slowly growing everyday.
Tell me about your appearance on The Tonight Show With Jimmy Fallon. I read that Jimmy personally found "Here" randomly, and then reached out to you?
Yeah! He told me that he was scrolling through Tidal and came across my song. He said he was such a huge fan and asked his booking agent who I was and if they could do some research on me. They didn't find much and his booker said that I was really new and maybe I wasn't ready to be on the show. But he kept insisting, saying it doesn't matter, saying she has a great song and the whole point of TV is to do new things and break new artists. He was so on board with having me on, and he did and it was amazing.
Alessia Cara performs at the Bowery Ballroom on August 26 and her debut EP, Four Pink Walls, comes out August 28. A full album is slated to drop later this year.